Top 5 Best Strains for CBD Oil - 2023 UPDATE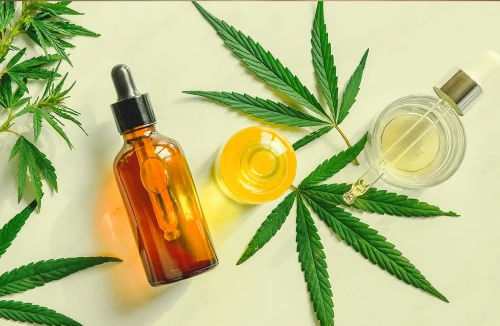 In recent years, CBD has become immensely popular. The active component comes from cannabis and is also known as cannabidiol. Although it was discovered as early as 1940, knowledge of its uses has spread to the general public only recently.
With more and more countries and states legalizing (medical) marijuana, more research is being done on its beneficial effects on our health and well-being. There is some good evidence that cannabidiol can be useful in treating epilepsy and other seizure disorders. Although more research on other effects needs to be done, many people also use CBD for general relaxation, to counteract aches and pains. It could also be beneficial for skin health when applied topically.
Grow your own strain for CBD oil
If you would like to experience the benefits of CBD for yourself, you could of course buy some CBD oil, tea or capsules. They are generally quite pricey though, and since the production is not well-regulated, the quality can vary greatly. Furthermore, tests have shown that some CBD products also contain a considerable amount of the component THC, which is responsible for the 'high' that cannabis is known for.
Although some may welcome this effect, others may want to keep a clear head during their daily activities, while still benefiting from the mildly relaxing effect of CBD. In this case, it can be worthwhile to grow your own cannabis for this purpose. The cannabidiol/THC ratio can vary greatly per plant. That is why we have made a top 5 of the cannabis strains that are most suitable for making your own CBD oil.
Want to find out about the best strains for CBD oil and where to buy the seeds? Keep reading!
More information:
> High cbd strain seeds (suitable to grow strains for oil).
What is the best strain for CBD oil?
When you want to grow your own cannabis to make CBD oil, it is wise to choose seeds from a strain that is known for its high CBD content and low THC content. Since there are many different strains to choose from, finding the right one for this particular purpose can take some time and energy. If you lack either one of these (or both), just check the top 5 that our experts have made for you. This not only makes it a lot easier to find the best strain for CBD oil, but also helps you find a good seller and reviews from other buyers with useful information on which are suitable for home growing. So without further ado, here are the 5 best strains for CBD oil!
For beginners, we recommend choosing for either CBD Express autoflower or CBD Purple Kush autoflower.
1. ACDC
ACDC weed has some very special properties. It contains large amounts of CBD and only very little THC. People who use it report feeling more outgoing and cheerful, while at the same time being able to stay clear in their minds. This weed is popular for its medical benefits and is used for relieving the symptoms of conditions such as cancer, MS, epilepsy and Parkinson's disease. It can also prove useful for reducing stress, chronic pain and anxiety. Its flavor reminds of citrus fruits, with earthy, woody and spicy undertones. The plants are a bit susceptible to funguses, but with some extra attention and minerals, they are reasonably easy to grow.
Tip: check our feminized ACDC seeds
2. Cannatonic
This strain is basically made for CBD fans. It has become popular very quickly for its extremely high CBD content and low THC content. It smells wonderfully sweet and citrusy, while also containing some woody aromas. The plant is relatively easy to grow, but special attention is needed because it is sensitive to fungus. Its yields are highest when grown indoors, but it can be grown outdoors as well. Cannatonic has worked wonders for sufferings of all kinds of pain resulting from conditions such as migraine or fibromyalgia. Due to its calming and uplifting effects, it has also benefited people with sleep problems, anxiety and depression. It is also being used for relieving symptoms of epilepsy, OCD, OCS and schizophrenia.
Tip: check our feminized cannatonic seeds
3. CBD Critical Mass
If you are looking for a nice balance between CBD and THC, Critical CBD is the strain for you. It contains both components in equal amounts (both about 7%) and can give you a nice, relaxing high. Furthermore, it is appreciated for its sweet and fruity aromas, which include vanilla and citrus fruits. Critical CBD is used for general relaxation, but also for treating the symptoms of depression and chronic pain. Finally, it is easy to grow both indoors and outdoors, with a small risk of developing molds. The plants are known for their high yields, making Critical CBD an impressive all-rounder, suitable for both inexperienced and experienced growers.
Tip: check our feminized Critical CBD seeds
4. CBD Kush
CBD Kush is also a great multi-purpose strain, containing about 7% of CBD and the same amount of THC. It is a resilient plant that doesn't need very particular growing conditions or special attention to flourish. You can grow it indoors and outdoors and expect considerable yields. It can be used for both recreational and medicinal purposes and is suitable for treating all kinds of cramps and pains. It has a strong relaxing effect on the body and is often used to treat symptoms of MS, Parkinson's disease and cancer. When smoked, it stands out for its sweet aromas.
Tip: check our CBD Kush feminized seeds
Continue reading: