Top 5 Cannabis Ruderalis Strains (2023 UPDATE)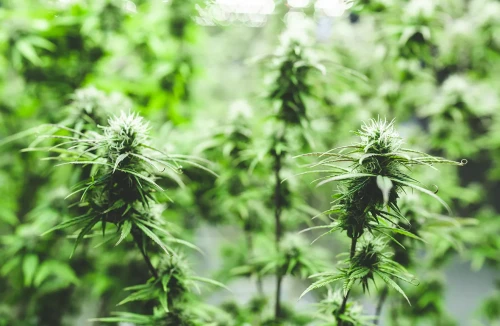 No longer the poor relation of the Indica and Sativa strains, in recent years Cannabis Ruderalis has gained an enthusiastic following among weed lovers looking for a somewhat subtler, more easygoing smoke.
With its autoflowering capabilities and high tolerance to adverse growing conditions, successfully cultivating Ruderalis strains couldn't be simpler. It's the ideal choice for novice growers, and those who simply don't want to bother with expensive lighting and feeding setups.
Ruderalis is also increasingly renowned within the cannabis breeding community on account of its potential to add its highly practical characteristics to the latest must-try crossbreed varieties. This has led to the development of weed varieties which offer both strength and delicious flavours and aromas, combined with the ability to thrive without the need for sophisticated cultivation techniques.
1. Gorilla Glue Auto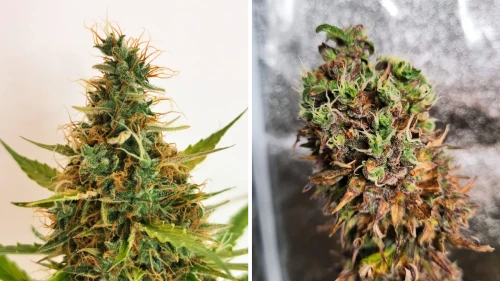 With a mix of 50% Indica, 40% Sativa and 10% Ruderalis genes, Gorilla Glue Auto is a finely balanced combination of Sour Dubb, Chocolate Diesel, Chem's Sister, and a Ruderalis strain.
It is renowned for combining a high THC content (up to a formidable 26%) with an ease of growing which makes it a popular choice for first-time weed growers. That said, as one of the most powerful autoflowering weed varieties on the market, Gorilla Glue Auto also has plenty of fans among the more experienced members of the cannabis cultivation community.
With an enchanting aroma reminiscent of fresh rain in a pine forest, and a deliciously rich, fruity flavour, Gorilla Glue is truly a treat for the senses. And that includes the high it produces, which is calm yet euphoric, with a happy vibe. Remember to treat the graceful creature with respect, however, as the high THC content means that over indulgence can lead to feelings of anxiety and paranoia.
While it will inevitably produce a little less bud than the non-autoflowering version, yields are respectable at 400 to 600 grams per m2 for indoor cultivation and between 50 and 300 grams per plant when grown outside. Gorilla Glue Auto's rapid flowering time more than makes up for this, with plants being ready to harvest in as little as 8 to 10 weeks.
Tip: check our autoflower gorilla glue seeds
2. Girl Scout Cookies Auto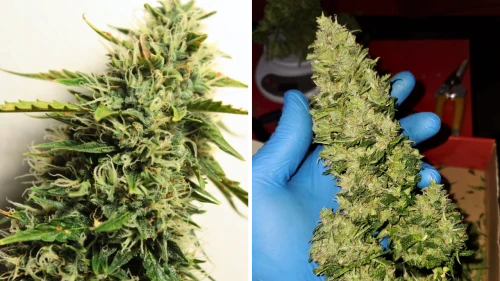 Created by crossing classic American weed variety Girl Scout Cookies with a Ruderalis strain, Girl Scout Cookies Auto is an Indica-dominant strain with a high THC content. While maintaining much of the abundant yields and all of the delicious flavours of the original variety, the autoflowering version adds a simplicity to the growing process which makes it ideally suited to novice growers who don't want to compromise on the final product.
Girl Scout Cookies Auto will flourish both indoors and outdoors, and as plants usually stay within one metre in height it is quite possible to cultivate a crop discreetly. A relatively short flowering time facilitates this even further, with crops often being ready to harvest after just 12 weeks.
When grown indoors yields are around 250 to 400 grams per m2, while outdoor plants can produce anywhere between 70 and 300 grams each. THC content is around 20% to 22%, so Girl Scout Cookies auto is no slouch in terms of potency either. True to its name, this highly enjoyable weed variety has an indulgent, candy-like flavour with notes of caramel and chocolate, and an understated mint aroma.
Tip: check our autoflower girl scout cookies seeds
3. Haze Auto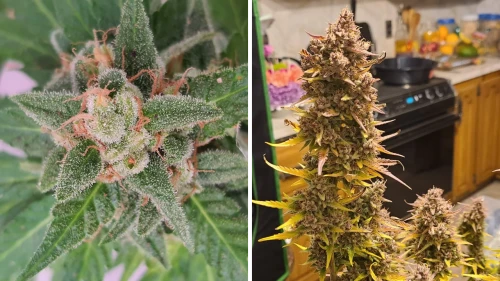 A combination of 70% Sativa, 10% Indica, and 20% Ruderalis genes, Haze Auto seeds produce larger plants than most other autoflowering varieties.
Alongside a good degree of resistance to mould and plant diseases such as top rot, fast harvesting times, and an ability to thrive in most conditions, this has led to Haze Auto becoming popular with both novice and more experienced weed growers.
Yields are comparatively modest at around 150 grams per m2, although what Haze Auto lacks in terms of quantity it more than makes up for with the sheer quality of the final product. Haze Auto buds are plump, and thickly coated with glistening THC crystals. Expect your plants to grow up to around 1.5 metres in height, which is perfectly manageable for both indoor and outdoor growers.
Producing an energising high underpinned by feelings of calm and contentment, Haze Auto is an excellent choice as a regular smoke to be enjoyed either during the day or to unwind in the evenings. Bearing all the hallmarks of a true classic weed variety, it has a refreshing, fresh taste which is complemented by an exotic, captivating aroma.
Tip: check our autoflower Haze seeds
4. Northern Lights Auto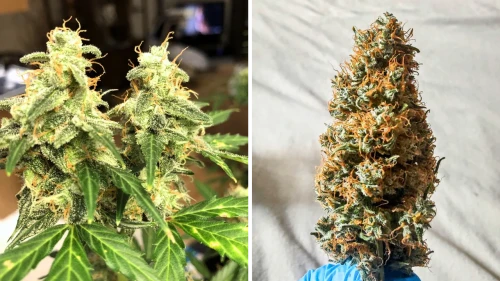 First developed in the USA way back int the 1970s, Northern Lights is a true icon of the cannabis world. Fast-forward to the 1980s, and this psychedelic, almost spiritual weed variety had made its way to the Netherlands, where it was crossbred with Ruderalis to create one of the most productive autoflowering weed types available anywhere.
Equally suited to both indoor and outdoor cultivation, Northern Lights Auto is a superb choice for both first-timers and more seasoned growers. This enduring popularity is rooted in the fact that Northern Lights Auto manages to combine a rapid and convenient growth cycle with the rich, intoxicating characteristics the original breed is so famous for.
Flowering times are around 9 to 10 weeks with crops ready for harvesting in 11 to 13 weeks, while the average Northern Lights Auto plant will reach heights of between 70cm and 1.2 metres if grown indoors and up to 1.7 metres if grown outside. In terms of yields, it is possible to achieve as much as 600 grams per m2 with the help of Screen of Green (SOG) techniques, a truly remarkable amount of bud for an autoflowering variety.
If you're familiar with the original, you'll be glad to hear that Northern Lights Auto weed has exactly the same taste, smell and effect as its non-autoflowering parent. It's a classic premium weed experience, with sweet flavours and aromas perfectly complementing a blissful, relaxing high.
Tip: check our autoflower Northern Lights seeds
5. AK 47 Auto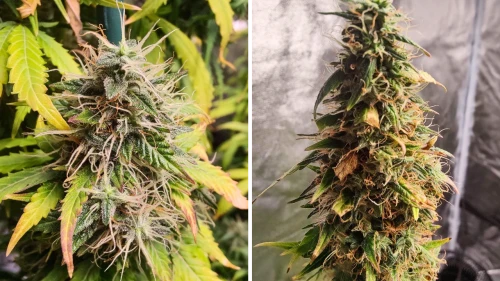 When the the original AK 47 weed variety hit the scene in the 1990s, weed lovers were impressed by how this expertly blended combination of Thai Skunk, Mexican Sativa and Afghani offered impressive yields of dense, THC-rich buds, and an intense, euphoric high. The autoflowering version succeeds in maintaining much of the original's attributes, while also offering growers the convenience and reliability of a Ruderalis strain.
Your crop will flower in around 9 to 10 weeks, and should be ready for harvesting in 11 to 14 weeks. AK 47 Auto plants are manageable in size, reaching around 60cm to 70cm indoors, with outdoor plants being a little taller at around 70cm to 1 metre. If you're cultivating your plants indoors, yields will be in the region of 425 to 475 grams per m2. Outdoor growers can look forward to a bumper crop of as much as 110 to 160 grams of sweet, sticky bud per plant.
Once you've harvested your crop you're in for a real treat, as AK 47 Auto offers an intense, cheerful high which is particularly suited to sociable settings. A feast for all the senses, this delicious, delicately sweet weed has a musky aroma with rich notes of pine and caramel.
Tip: check our autoflower AK47 seeds