15 Best Hybrid Weed Strains 2023 🏆 (Indica, Sativa, Balanced)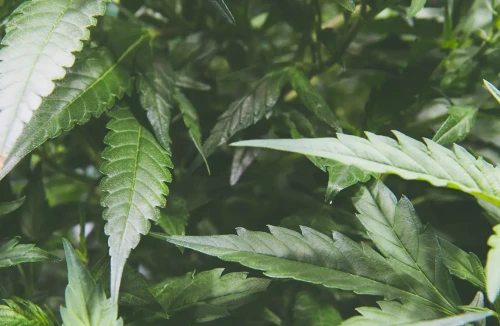 Hybrid strains genuinely give you the best of both worlds; that is why we have cultivated a killer list of heavy-hitting hybrids that are considered to be the best in the business.
From old-school OG's to modern creative crosses, check out our list of Best Hybrid Weed Strains so that you can head into the new season on a high note! 
Best Indica-Dominant Hybrids 
1. Do-Si-Dos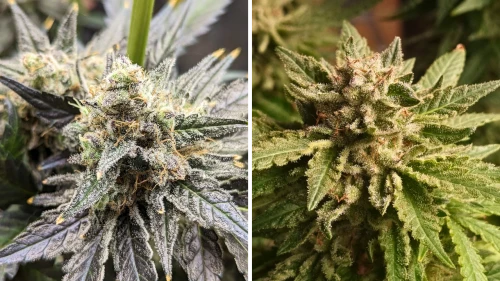 A classic contender for all the right reasons, Do-Si-Dos is also commonly known as "Dosi Doe," "Dosidos," or "Dosi." This Indica-dominant hybrid possesses similar qualities to its parents, the famed Girl Scout Cookies and Face Off OG.
With its skyrocketing THC levels delivering that immediate, in-your-face high followed by a serenely stoned point of relaxation, it is no wonder why Do-Si-Dos is perfect for those looking for less stress and more snoozing.
Do-Si-Dos is usually singled out for its good looks, funky floral and fruity taste, and ever-so-pungent aromas. Its striking lime green and lavender leaves resonate with its full-bodied, limonene-infused smoke and calming nature while its sweet, earthy aroma captivates your mind. 
2. Wedding Cake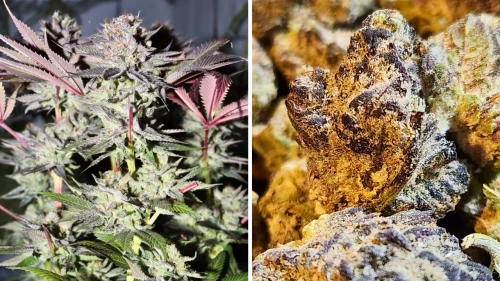 Perhaps given its name from the frosted trichomes encompassing every surface of the buds like icing, Wedding Cake is a beautifully bred Indica-dominant strain made by crossing Animal Mints and Triangle Kush.
Occasionally called Triangle Mints #23 or Pink Cookies, this strain provides a brilliant balance of relaxation and euphoria while channeling a sense of calm and warmth throughout the body.
A key ingredient to relieving symptoms surrounding insomnia, pain, and loss of appetite, Wedding Cake is a well-rounded powerhouse.
Potent with THC levels spiking between 19%-28%, we are not shocked at how quickly Wedding Cake has soared to the top….shelf.
It's a modern-day strain coveted for its upfront sweet and fruity flavor profile and creamy vanilla undertone with subtle hints of spice similar to its aroma.  
3. Gorilla Glue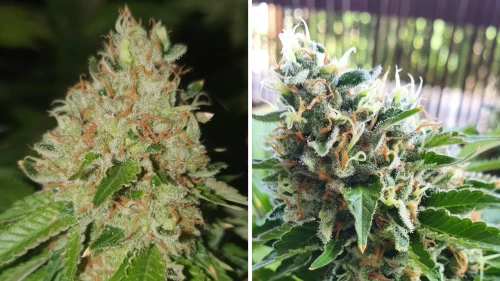 Who would we be if we didn't put Gorilla Glue on the list of Best Hybrid Weed strains? This Indica-dominant hybrid is hands down and bottoms up a game-changer when it comes to smoking cannabis.
A curious cross between Chocolate Diesel and Chem's sister, Sour Dubb, this award-winning strain will have you glued to the couch. Commonly called "GG4" or "Original Gorilla," its potent nature provides the mind and body with your much-needed daily dose of relaxation.  
Let the feelings of euphoria wash over you as you say goodbye to any stress, anxiety, and pain that ails you from a good night's sleep. A pleasant mix of pine and chocolate-covered earth, the aroma and taste are one with nature. 
4. Jealousy
As dramatic in looks as it is the name, Jealousy is covered in crystalline trichomes and ablaze with sunset orange hairs contrasting its intensely purple buds. Worshiped for good reason, this Indica-dominant hybrid is made by crossing Sherbert Bx1 with Gelato 41.
Jealousy is favored due to its balancing effects, making you feel mentally relaxed yet physically energized. Guaranteed to make you giggle, this strain ironically makes you feel anything but jealous.
The otherworldly flavors are footloose and fancy-free, from fruity and sweet to dank, diesel, peppery, and pine. The taste will have you reminiscing about your morning tea littered with mint, hints of honey, and tiny notes of floral Lilly.   
5. OG Kush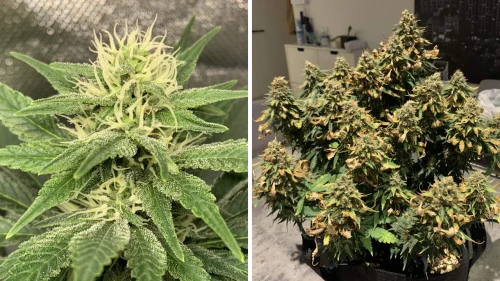 The "Original Gangster" called "Premium OG Kush" is a killer cross between ChemDawg, Hindu Kush, and Lemon Thai. This southern bell was originally cultivated in Florida in the early 1990s.
As a result, we cultivate OG Kush in our hearts and homes as one of the best classic Indica-dominant hybrids to date.
It must be noted that this famed strain has gone on to create some of the most iconic staples in the game, from GSC and Headband to favored phenotypes like SFV OG, Tahoe OG, and Ghost OG.
Expect to get a good night's sleep on a full tummy while you are relieved of the stress from your day with each potent hit. OG Kush has a unique terpene profile, creating a complex aroma of earthy pine, skunk, fuel, and spice.
Its subtle taste of fruity citrus keeps us craving more while we are encompassed by all the elements this classic strain has to offer.   
Best Sativa-Dominant Hybrids 
1. Bruce Banner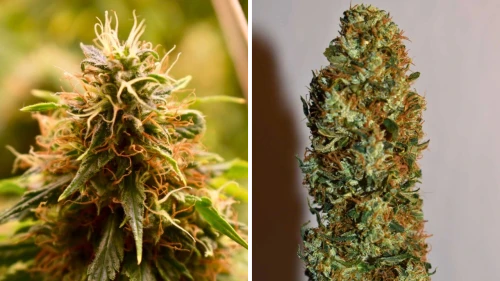 Coined after the alter-ego of The Incredible Hulk, Bruce Banner is a potent sativa-dominant hybrid strain that packs an incredible punch with its high THC content averaging 21%.
A cross between the beloved OG Kush and Strawberry Diesel, this strain is known for its potent effects, which can be ideal for managing stress, depression, and fatigue. Bruce Banner has a sharp citrus flavor with earthy undertones and a sweet diesel aromatic flare.
The effects of Bruce Banner are immediate and intense, with a cerebral rush followed by a calming, creative, and euphoric high.
This strain is also known to provide beneficial pain relief for users, so if you're looking for a potent yet flavorful strain, Bruce Banner might hit the spot and be a great way to start the day. 
2. Blue Dream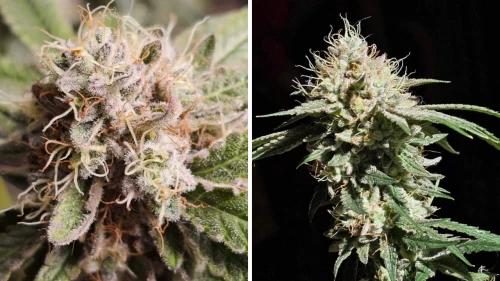 Blue Dream is a Sativa-dominant hybrid strain originating in California and effortlessly became an overachiever and fan favorite of both novice and veteran cannabis consumers.
It is made by crossing Blueberry with Haze and produces a balanced high, along with effects such as cerebral stimulation and full-body relaxation.
Blue Dream runs at about 18% THC with a low CBD percentage and is often used to treat symptoms of depression, anxiety, chronic pain, muscle spasms, and nausea. The strain delivers an uplifting high, with a possible boost of creativity and productivity.
Not known to induce excessive sleepiness or sedation, but instead, its effects are commonly characterized as a euphoric and cerebral high, offering a heightened sense of clarity and focus.
Courtesy of its myrcene, pinene, and caryophyllene terpene profile, Blue Dream's sweet berry aroma and taste make you feel like you are bathing in the summer sunlight.
3. Amnesia
Despite being called Amnesia, this sativa-dominant strain has made quite an unforgettable name for itself. An epic cross of Cinderella 99 and Jack Herer, Amnesia has a high THC and low CBD profile, which produces intense effects ideal for treating mood disorders.
Uplifting, creative, and euphoric would be a simple way to describe Amnesia's effects, although this strain is anything but ordinary.
Known to provide a burst of energy and be the ultimate form of stress relief, it is also singled out for its intense and distinctive taste and aroma. Amnesia could be described as earthy with striking notes of lemon and lime—the perfect combination of citrus and that fresh off-the-plant flavor. 
4. Pineapple Express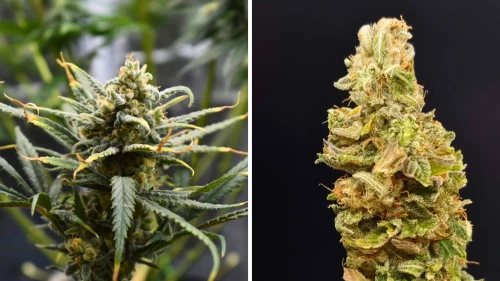 Making its Hollywood debut in 2008, Pineapple Express continues to be a showstopper in the homes and hearts of many.
As a Sativa-dominant hybrid created by crossing Hawaiian with Trainwreck, you can expect long-lasting energetic effects that you can feel immediately, making it perfect to smoke any time of day.
With a THC content of around 18%, Pineapple Express may make you feel lively, cheerful, aware, and creative. Reported to provide an almost endless amount of positive effects, such as euphoria, focus, and elevated mood.
It can also help relieve symptoms associated with stress, depression, anxiety, chronic pain, fatigue, loss of appetite, and migraines. Containing the terpenes caryophyllene, limonene, and ocimene, Pineapple Express expels lovely notes of citrus, earthy pine, and, of course, tropical pineapple!
A strain full of flavor and electrifying effects, Pineapple Express, is so much more than a movie. 
5. Ak-47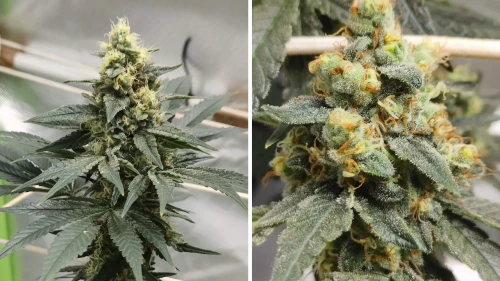 Delivering a complex blend of flavors and effects, AK-47 always begins and ends with a bang! Commonly known by "AK," this sativa-dominant hybrid's characteristics are courtesy of Thai, Mexican, Afghani, and Colombian varieties.
The high starts almost as soon as you exhale, bringing you to an increased level of focus with the right touch of stoniness.
The effects of AK-47 are commonly described as powerful but gentle, providing mellow feelings of relaxation and happiness and an uplifting cerebral buzz that elevates the user's mood.
It is a perfect daytime strain that can leave you feeling uplifted, peaceful, and euphoric, making it ideal for social smoking. AK-47 has a unique aroma, a mix of spicy skunk, pine, sandalwood, and citrus tones that can only truly be appreciated while experiencing its sweet and floral taste. 
Best Balanced Hybrids 
1. Runtz
Runtz or Runtz OG is a brilliantly balanced hybrid cannabis strain created by the Cookies family when breeding Gelato with Zkittlez. Beloved for its sweet and fruity flavor profile, which smells like a big bag of candy.
It is a 50-50 Indica and Sativa hybrid strain, providing users with both mental and physical effects. Runtz has been described as having uplifting, euphoric, and long-lasting effects, making users feel happy, relaxed, and at ease.
The strain is packed with three dominant terpenes – Beta-Caryophyllene, Linalool, and Limonene – which give it its distinct flavor, including the sweet-sugar excitement of candy and layered tones of woody and tropical citrus.
Runtz is a potent strain of cannabis, with a 24% average THC content that can reach up to 29%. It is perfect for relaxing and enjoying a good chill or body high for a few hours. Its welcoming and smooth smoke makes this strain a perfect everyday toke.
2. Apple Fritter
A deliciously balanced hybrid strain from Northern California with notoriously high levels of THC.
This strain is a clever cross of Sour Apple and Animal Cookies, resulting in an epic hybrid that combines the stoney nature of GSC with the energy and hype of a diesel.
It's an excellent option for those looking to unwind after a long day, as it provides a relaxing high that can eliminate pain, battle insomnia, and help stress, depression, and anxiety to vanish.
Apple Fritter is also known for sparking creative inspiration and can culminate in some innovative works of art.
Reported to give users a nice, warming buzz that spreads throughout the entire body, relaxing muscles and relieving tension while providing an overall sense of calmness and relaxation, it is clear why Apple Fritter is a fan favorite.
Not to mention the sweet and fruity aroma and flavor profile reminiscent of apple pastries. The scent mixes fresh-baked apples and vanilla-rich cake with an earthy undertone.
The taste is similar to the aroma, with apple flavors and hints of minty herbs like sage or rosemary, giving it that earthy finish to its taste profile. It also has notes of caramel and diesel, which are not overpowering.
The flavor carries thick notes of cheese and pine, with a fresh apple-lime twist that lingers after the smoke. Overall, Apple Fritter is a deliciously balanced hybrid strain with a complex flavor and aroma profile that will delight the senses.
3. Chiquita Banana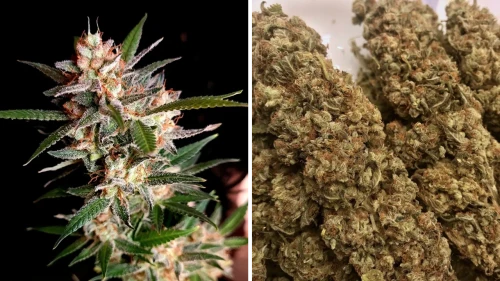 Chiquita Banana is an excellent choice for those looking for a potent strain with a unique aroma and flavor profile. Its relaxing effects make it a good option for those looking to unwind.
Chiquita Banana is a hybrid strain that crosses OG Kush and Banana. This strain is an excellent option for those struggling with chronic pain and nausea and can help in hurdling your tolerance barrier.
Chiquita Banana commonly makes the user feel relaxed, uplifted, and happy while stimulating their creative side and inducing a potent cerebral sizzle that transitions into a Kush-like body buzz that is relaxing but not sedative.
The buds are chunky, stacked, and covered from top to bottom in a heavy coating of trichomes. The sweet banana influence takes center stage in the smell, but the flavor leans much more toward its kush ancestry.
Each exhale coats the mouth with a mixture of earthy kush and spice and a lingering sweetness.
4. Gelato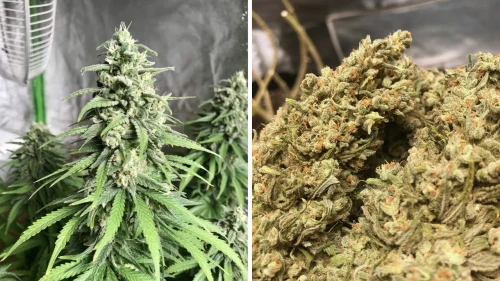 Gelato is a beautifully balanced hybrid created by crossing Sunset Sherbet and Thin Mint Girl Scout Cookies. Also known as "Gelato #42" or "Larry Bird," this strain has reached a superhero status among the cannabis community.
It's no shocker why this strain has been used to make a variety of other high-quality Gelato strains, from Gelato #33 to Purple Gelato.
This strain provides relaxing effects accompanied by a euphoric high, making it perfect for people suffering from muscle spasms, inflammation, chronic pain, and headaches.
Gelato has been known to alleviate pain, insomnia, anxiety, and symptoms associated with post-traumatic stress disorder (PTSD) and depression.
This strain has a unique and universally appealing flavor profile that combines sweet, fruity, and earthy notes reminiscent of a creamy, fruit-filled dessert. The aroma is just as sickly sweet, with a lavender scent and hints of citrus and berries.
The smoke from Gelato is smooth and leaves behind a soft and creamy sensation, perhaps going some way toward explaining its name. 
5. Mac #1
MAC #1, also known as Miracle Alien Cookies, is a hybrid marijuana strain that is quickly becoming a favorite option for top-shelf cannabis around the world. It is a cross between Alien Cookies F2 and Miracle 15 that indeed looks out of this world.
As a strain that offers a unique sensory experience, from its appearance to its flavor profile, MAC #1 has beautiful buds, incredible trichome production, and long-lasting effects.
Coming through with a smooth and funky terpene profile, you can enjoy any time of day while offering a solid one-two punch of both cerebral and physical effects that are best described as euphoric, uplifting, and happy.
The flavor of MAC #1 is sweet and gassy, with rich notes of berries and biscuits. The aroma is strong and pungent, with a noteworthy sour diesel flare accented by citrus and spicy herbs, adding so much depth to the flavor.
A hint of citrus fruits rounds off the experience, blending flavors like orange rinds, vanilla, and gas to create a completely unique culinary experience for smoking.
Of course, many strains come to mind, both modern and old-school, that are noteworthy even though they might not have made the list for Best Hybrid Weed Strains.
Don't get us wrong, we love smoking our Sunset Sherberts, GSC's, and White Widow's, too, and just because they didn't cut doesn't mean they aren't dank.