Growing cannabis is an exciting endeavor. Whether you are just taking your first steps in cannabis cultivation or have several years of experience, choosing the best weed strains to grow can make a world of difference. Novice growers benefit from cannabis plants that are easy to manage, resilient, and forgiving. On the other hand, advanced growers are usually not afraid of a challenge and enjoy putting their skills to the test.
When are you a beginner grower, and when are you advanced?
When can you consider yourself an advanced grower? Is it after five grows or ten, perhaps? It's not enough to have achieved several successful harvests. You must master the basics and be familiar with optimal environmental factors such as ventilation, temperature, light, water, and humidity levels. Furthermore, you know when to provide the proper nutrients, keep pests at bay, watch out for other health issues, and anticipate the unexpected. 
Every journey of a thousand steps begins with one single step, which is also true for cannabis cultivation. There certainly is something to say for learning through trial and error, like most advanced growers undoubtedly went through. It is understandable however you would like to avoid this situation to save money and time. Aside from a good grow guide to help you get started, selecting the right cannabis strains is one of the most crucial aspects of your success.
Marijuana strains vary in their ease of cultivation. Some of them flower very quickly or require fewer growing requirements, which makes it easier for novices to achieve a successful harvest.
Best seeds to grow for beginners - Top 5
So let's first look at the best cannabis seeds to grow for beginners.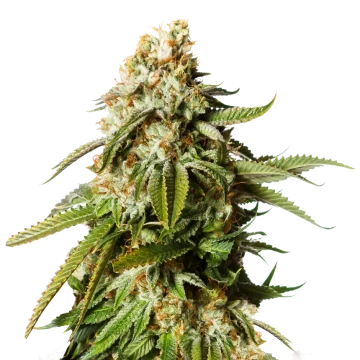 1. Gorilla Glue
Gorilla Glue is not just ultra strong (her feminized seeds can get up to 28% THC), but also surprisingly easy to grow! No wonder the cannabis industry is all over this strain.
Whether grown indoors, outdoors or in a greenhouse, this sturdy, resilient cannabis strain is highly forgiving regarding rookie errors. She will reward you with dense buds covered in a thick, almost gluey resin, to which she also owes her name.
The perfectly balanced genetics induce an unforgettable sensation that mesmerizes the body and mind.
Do you want to make it even more effortless? Then opt for the autoflowering variety, which does not depend on any light cycle or hours of daylight for flowering.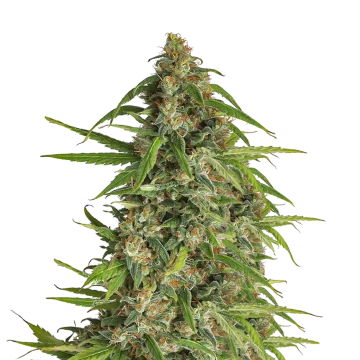 2. Runtz
From its home base on the US West Coast, the popular strain Runtz represents the next generation of candy-flavored and potent genetics!
This easy-to-grow strain is tolerant to changes in her environment, a wide variety of growing conditions, and relatively resistant to mold.
Grow this popular strain in a temperate or warm climate, and she will provide you with impressive buds, outrageous taste, and impressive THC levels without too much fuzz.
The Sativa properties of this evenly balanced hybrid provide a euphoric head high, while the profoundly relaxing Indica characteristics will treat you to a profound body buzz.
A trip to your expensive local dispensary? No need, since you can now simply grow this top-notch weed at home!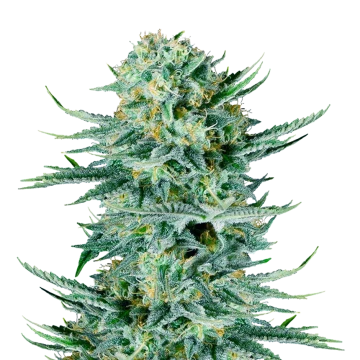 3. Blue Dream
Sativa dominant strain Blue Dream thrives in most climates and tolerates cold nighttime temperatures well, despite her sunny California origins.
Thanks to her effortless vigorous growth and a large margin for error Blue Dream is an easy strain to cultivate.
Besides having a high mold resistance, Blue Dream marijuana plants can take high nitrogen levels without burning. So you don't have to worry about ruining your crop should you slip up.
Are you looking for a marijuana strain that can provide you with high yields of quality weed that offers a powerful and all-encompassing high that impacts both body and mind? Then Blue Dream is the strain for you!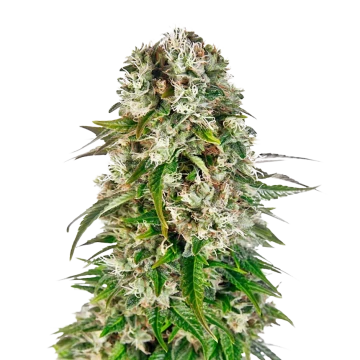 4. Big Bud
Beginners looking for a resilient plant will love growing Big Bud cannabis seeds.
Originating from the US, this Indica-dominant strain made its way across the Atlantic in the early '80.
The Big Bud marijuana strain is super easy to grow due to her manageable height and high resistance to mold and pests.
She is known for her trademark massive, crystal-covered, sweet, Skunky smelling buds. Her potent effects will leave you feeling happy, stoned, and utterly relaxed.
Combined with a brief flowering time that results in impressive high yields, the Big Bud strain truly has everything you desire as a new grower.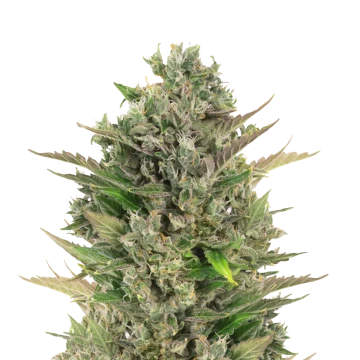 5. CBD Critical Mass
CBD Critical Mass cannabis seeds are the "therapeutic" version of Critical Mass, a legendary Indica-dominant hybrid, and offer all the classic skunk aromas without the strong psychoactive effects.
The CBD Critical Mass strain is very easy to grow, making her one of the best marijuana strains for beginners. She can be grown indoors and outdoors and even survive in colder climates.
This high mold-resistant strain only requires sufficient sunlight, water, and protection from rain and humidity to provide abundant yields.
Her balanced CBD to THC (1:1) levels contribute to the excellent potential for medicinal use of this marijuana strain, like relieving chronic pain.
Want to grow a well-balanced medicinal/recreational weed with ease? CBD Critical Mass is the way to go!
Best cannabis strains to grow for advanced growers - Top 5
Got your basics down and already have an impressive track record for completing successful harvests? If you are up for a new challenge, here are the top 5 cannabis strains to cultivate when you would like to incorporate some more advanced growing techniques.
1. Jack Herer
In the mid-1990s, the Jack Herer cannabis strain was created in the Netherlands to honor the legendary activist and author.
It didn't take long before the enticing flavor, and versatile effects of Jack Herer gained worldwide popularity. The high provides a superb balance between physical and cerebral effects, putting the user in a deep state of relaxation.
Jack Herer can be more challenging to grow than other marijuana strains, especially if you grab the feminized seeds version. During the flowering phase, the Jack Herer strain grows very bushy. Therefore, you need to support the branches early on to prevent any branches from snapping as the large and heavy buds develop.
To enjoy this fantastic weed, you will have to put in a decent amount of effort. But the result will be so worth it!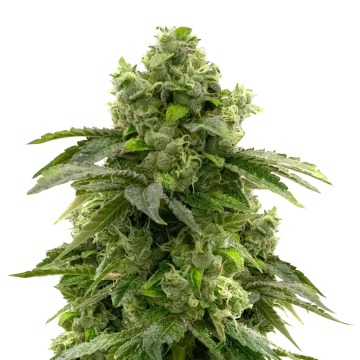 2. Bruce Banner
Bruce Banner is a perfectly balanced hybrid with extremely high THC levels and one of the strongest strains available today.
Due to her vigorous growth, Bruce Banner requires an advanced skill level. Especially at the beginning of the flowering phase, she shows explosive growth. This makes these versatile plants highly suitable for various growing techniques.
Bruce Banner's structure lends itself perfectly for ScrOG and can also deliver excellent results in a SOG setup. Additionally, the sweet berry and diesel flavors of Bruce Banner can be enhanced by using organic fertilizers.
Would you like to expand your expertise in growing high THC strains? Experience the potency of Bruce Banner for yourself!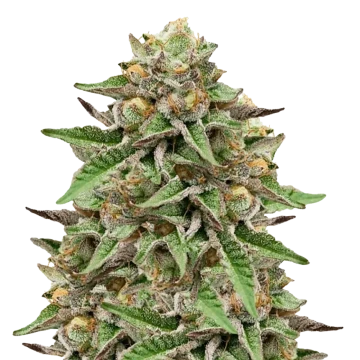 3. Gelato
Descendent from the best Girl Scout Cookies genetics, Indica-dominant hybrid Gelato delivers both a delicious sweet taste and powerful high.
While the Gelato cannabis strain is not the easiest to grow, her diversified genes make Gelato fairly resistant to pests. However, she requires regular trimming due to the ample space between the branches.
Outdoors, Gelato feminized seeds prefer temperate Mediterranean climates without too much humidity. She is sensitive to over nourishment, which will damage your plant. Use only half the dosage prescribed, and rinse the roots ten days before harvesting.
If you tend to her needs, you will be rewarded with a bountiful harvest of exceptionally high-quality buds.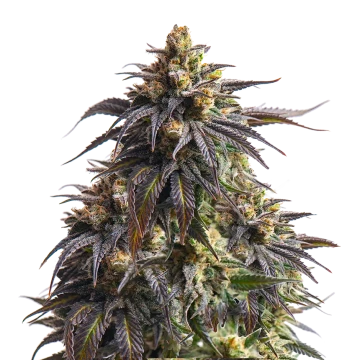 4. Do-si-Dos
Do-si-Dos is an Indica dominant high THC strain that originated in the US around 2016. She is the result of the brilliant idea of crossing two OG Kush relatives: Girl Scout Cookies x Face Off OG.
Do-si-Dos effects consist of a potent but smooth high, followed by a rapid surge of euphoria that lasts for a short time before fading into a happy, stoned state of mind.
Growing this indica heavy variety requires advanced grower skills. Knowledge of defoliation techniques might come in handy to improve yields. This strain is rather susceptible to stress caused by strong lights, excess heat, and over-nourishment. Managing humidity is another crucial step since she is also sensitive to humidity.
Put in your advanced proficiency, and Do-si-Dos will treat you to an abundant batch of delicious spicy, sweet, and earthy weed.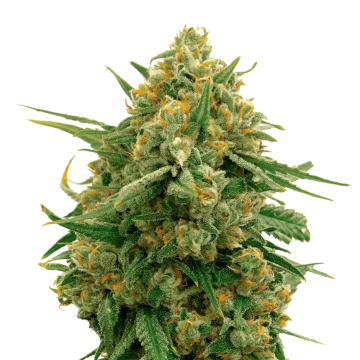 5. CBD Express
CBD Express is an extremely high CBD sativa heavy strain. She offers a perfect combination of sensations and flavors thanks to her ancestors, an Asian CBD-rich Sativa, and a historic Italian variety.
Her ultra-relaxing effects and distinguished palette of natural flavors make her the ideal strain for therapeutic purposes.
The massive buds are round, airy, and beautiful, but you will be overwhelmed by the intense aromas as she grows, so that is definitely something that requires your attention.
With her unique qualities and outstanding yield potential, this strain will surprise many experienced growers!
Choose your favorite best strain to grow
Can't wait to get started or to put your skills to the test with these fantastic strains? All these strains (and more) are available in autoflower and feminized varieties.
Did you choose your favorite strain but still would appreciate some guidance to get you on your way? Check out these articles on how to grow autoflowering seeds, applying ScrOG training techniques, or browse our extensive learning center to learn more about the wondrous world of cannabis cultivation. And, most importantly, have fun growing!