10 Best Tasting Weed Strains of All Time 😋 (2023 Update)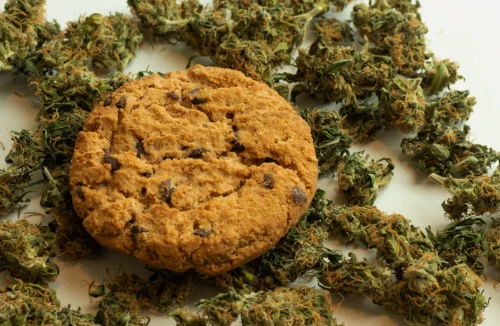 While cannabis is mostly popular thanks to its psychoactive effects, serious cannabis enthusiasts enjoy exploring the diverse flavors that different strains can offer.
In this article, we look at some of the best-tasting cannabis strains ever created.
From sweet and fruity flavors to earthy herbal notes, there's a strain to appeal to every palette. 
If you need help choosing or growing tasty cannabis, our experts can guide you. Email us at [email protected] with your questions. We're happy to assist you and help you maximize your grow.
1. Blue Dream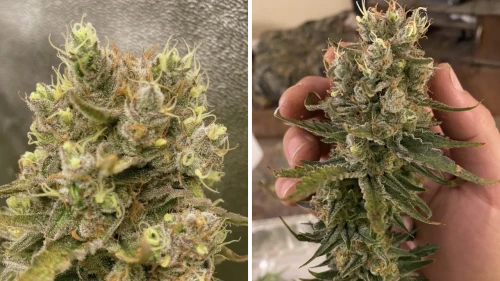 The flavor of this bud blows your mind, tasting like a straight-up blueberry candy explosion in your mouth. Serious blueberry and lemon notes are clear on every tasty toke.
It's like smoking a giant fruity blueberry candy with a nice smooth exhale from that sweet vanilla and mango aftertaste. The myrcene brings out even more of that mouthwatering blueberry flavor, too. 
If you want maximum discretion, try our Autoflower Blue Dream strain instead. 
2. Girl Scout Cookies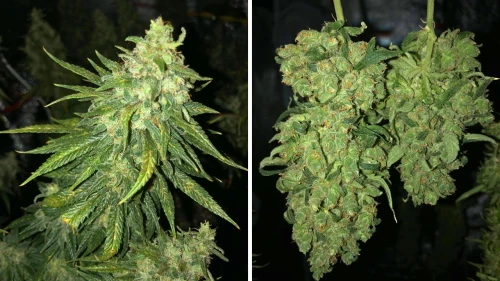 GSC, aka Girl Scout Cookies, packs a super tasty punch that lives up to the hype. Every hit of this dank bud tastes just like you're inhaling a freshly baked batch of cookies straight from the oven.
It's got that perfect combo of sweet and spicy, with a nice smooth minty aftertaste on the exhale. The flavor totally reminds me of Thin Mint cookies, with that classic cookie dough and mint combo that Girl Scouts are known for.
This is one strain that 100% tastes as good as it smells! 
For maximum stealth and speed, try our Autoflower version of Girl Scout Cookies.
3. Pineapple Express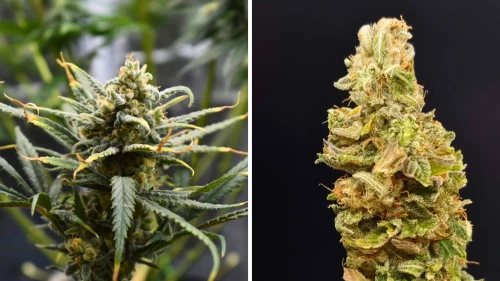 Pineapple Express lives up to its name with the most delicious pineapple flavor! Right from the first hit you get that crazy sweet and tropical pineapple taste exploding in your mouth.
It's like you're biting into a fresh, juicy pineapple. As you keep toking, you'll notice some nice hints of mango and cedar come through, too, giving it an awesome fruity flavor mix.
If you want a shorter, stealthier grow, check out our Pineapple Express Auto.
4. Granddaddy Purple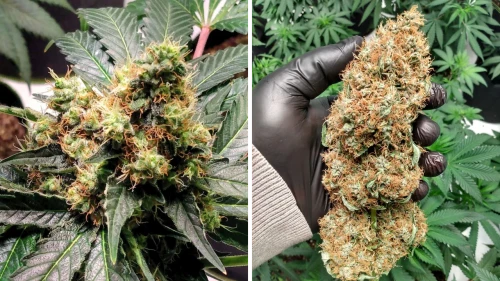 This bud packs a super tasty punch of sweet berries and earthy herbs that dance on your tastebuds. You get hit with those dank, fruity flavors up front, tasting like you just popped a handful of mixed berries in your mouth.
As you exhale, the subtler notes of pine and citrus start coming through, giving it a crazy complex taste that keeps you guessing. This strain covers all the bases - it's sweet yet earthy, fruity yet herbal.
Our Autoflower Granddaddy Purple allows for a quicker, more discreet grow than the photoperiod version.
5. Gelato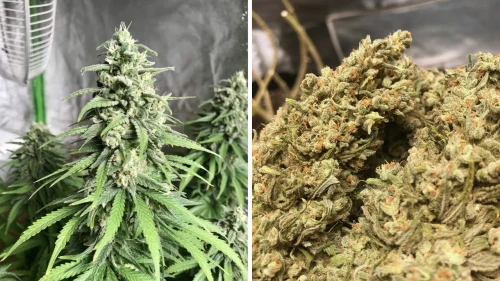 This stuff tastes just like its name - fruity ice cream all the way. You get that super sweet cookie taste up front with some dank mint and citrus vibes. It's like every puff puts a scoop of fruit-flavored gelato on your tongue.
Those subtle lavender and earthy notes make it taste crazy complex too, adding something extra to the flavor profile. Gelato has that perfect combo of sweet and floral with a creamy exhale that lingers.
It really reminds me of smoking a bowl of freshly baked cookies and berries.
If you want a super sneaky grow, check out our Gelato Auto.
6. Super Lemon Haze 
Super Lemon Haze packs a super tangy and tart lemon punch that hits your taste buds right away. It's like smoking pure lemon candy in bud form.
You get that intense zesty lemon up front, with a nice sweetness on the exhale to balance it out. And that subtle haze aftertaste gives it a really nice complexity, too.
This strain captures that lemon essence perfectly. Every toke tastes just like you squeezed fresh lemon juice into your mouth.
If you want a shorter, more hidden grow, check out our Autoflower Super Lemon Haze.
7. Zkittlez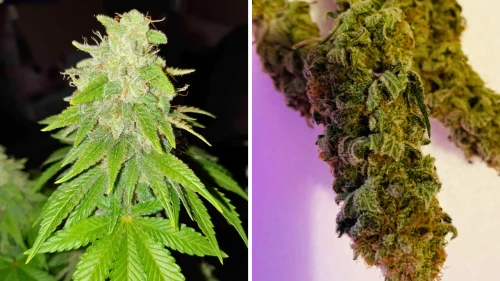 Zkittlez is like an explosion of candy flavor for your tastebuds! This strain packs that perfect combo of sweet and sour, giving you mad fruity candy vibes with every hit.
The flavor totally reminds me of smoking a bowl of Skittles or Starburst. You get that nice balance of sweet candy goodness up front, with some dank kushy and citrusy notes on the backend to even it out.
It's like a flavor journey from sweet to sour and back again. The aroma even has that smell of honey sticking to your lips after inhaling. 
For maximum speed and stealth, our Autoflower Zkittlez is the way to go.
8. Sunset Sherbet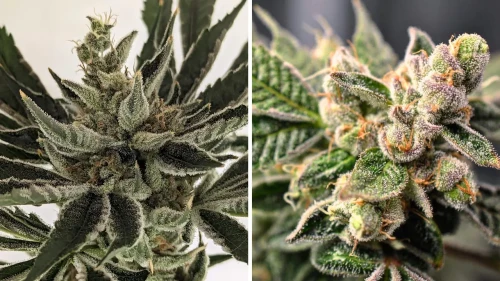 Sunset Sherbet is like a fruity dessert explosion for your tastebuds! This strain delivers the most delicious combo of sweet and citrusy flavors that hit you right away.
It's like inhaling a bowl of fresh orange and berries drizzled with caramel. You get that aromatic citrus medley up front, with super sweet berry and caramel notes on the back end.
It reminds me of an ice cream truck exploding with creamy orange sherbet and sticky sweet berries. Sunset Sherbet delivers a crazy refreshing flavor that takes your palate on a journey from zesty to sweet with every hit.
9. Wedding Cake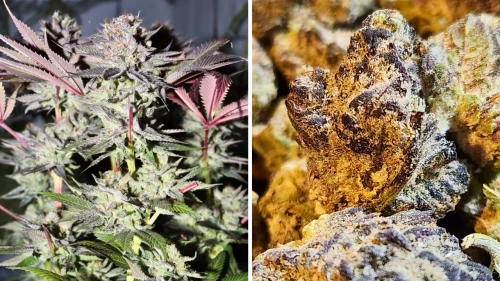 Wedding Cake brings that perfect combo of sweet and earthy terps that dance on your tastebuds! You get hit with those delicious sweet berry and vanilla flavors up front, kinda like you just baked up a tray of mixed berry cupcakes glazed with vanilla icing.
As you exhale, the more sour and skunky tastes start coming through, giving it a nice complexity. It's a flavor journey that takes you from sugary berries to earthy woods and back again.
You can really taste this strain's Girl Scout Cookies lineage with its unique blend of sweet and pungent generous strain.
For a speedier, low-key grow, try our Autoflower version of the Wedding Cake strain.
10. Do-si-Dos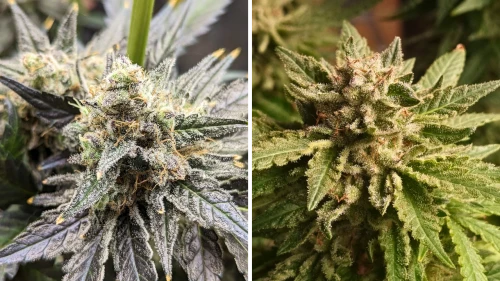 The flavor profile on this bud doesn't disappoint, giving you a super dank combination of sweet and sour that dances on your tongue.
You'll notice delicious fruity flavors like berries and citrus, blending nicely with those floral notes that remind you of some real old-school Kush genetics.
It ain't overly sugary but has just enough sweet tropical tastes to balance out the zesty lemon/lime flavors from all that limonene terpene action.
Autoflower Do-si-Dos is the quickest, most subtle way to grow this uplifting Indica.
Want More Tasty Strains?
We hope you found a tasty and mouthwatering strain from this list.
You can also explore famous cannabis lineages like Kush, with its earthy pine flavors, or the bright citrus zest of tropical Hazes. Whichever you choose, may your senses be delighted.
Happy growing!