White Widow
regular seeds
White Widow is arguably one of the most famous cannabis strains worldwide and one of the biggest success stories of Dutch cannabis geneticists. 
Jump to description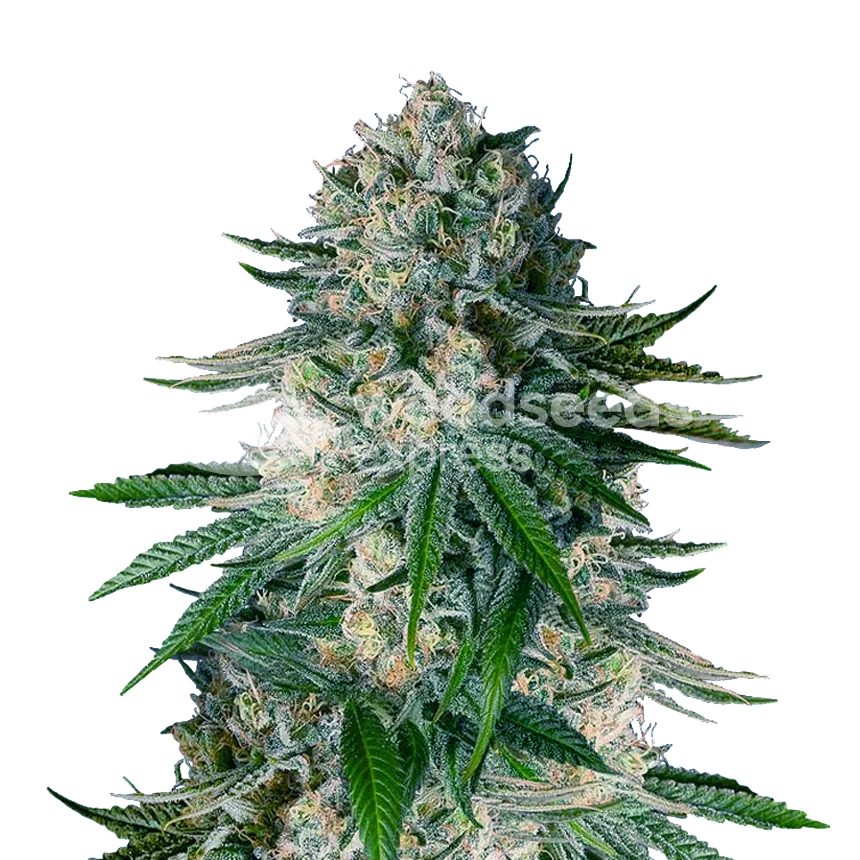 White Widow regular Strain Info
Genetics
Original White Widow
Yield indoor
600-700 grams per m2
Yield outdoor
600-700 grams per plant
Height outdoor
120-140 cm
Flowering time
49-56 days
Cultivation
Indoor, Outdoor, Greenhouse
Climate
Polar, Temperate, Mediterranean
Flavors
Herbal, Sweet, Woody
Effects
Creative, Energetic, Euphoric, Powerful
Terpenes
Isopulegol, Guaiol, Alpha Pinene, Beta Caryophyllene, Neryl Acetate, Humulene
White Widow regular seeds
Traditionally used by Brazilian and Indian tribes, this classic strain is loved by practically every weed-lover and an unmissable staple in the Dutch coffee shop industry.
You can see White Widow as the origin of the "White Family" which is a category in itself. That said, she is the basis for many hybrids that have all been developed through the application of White Widow regular seeds.
Note: Are you a novice grower? Buy feminized White Widow seeds or White Widow auto seeds.
Why you should buy White Widow regular seeds:
Short flowering phase

Big yields

Complex penetrating flavors
Growing White Widow regular seeds? (Indoor and Outdoor)
Growing with White Widow regular cannabis seeds represents an excellent compromise between Indica and Sativa and is the perfect choice for growers with a little knowledge of gardening. Indeed, with the right care and attention, you can achieve impressive results.
These seeds are suitable for both indoor and outdoor cultivation. However, growers will prefer to grow indoors because the seeds develop both male and female plants.
Outdoors the plant thrives mainly in warm climates, but also in temperate climates you can achieve good results (as long as the weather is good).
White Widow plants are forgiving when it comes to small mistakes. She is also resistant to mold. The plants are picky when it comes to fertilizers. Therefore, keep the following rule in mind: less is more.
Tips
It is advisable to use SCROG or SOG. With these methods you can produce big harvests and the quality of the weed will improve through better light penetration.

An interesting technique, indoors, to get a nice white veil of trichomes with this strain is to lower the temperature a few degrees and increase the light intensity. During flowering, the plant will be stimulated to produce more white crystals.
Flowering time
The average flowering time is about 49 to 56 days. When growing outdoors, you can harvest the female plants around the end of September.
During flowering, this great plant displays her extraordinarily generous "glaze" of white trichomes, which testify to its extraordinary potency.
Plant height
White Widow is a graceful plant that remains nicely compact. Her indoor height ranges from 90 to 110 cm, while outside she stretches a little more and can reach a height of 140 cm.
White Widow Regular Yield
One of the most important qualities of White Widow cannabis seeds is the gigantic yield potential that can be achieved within a reasonable flowering time.
Under the right conditions, you can harvest up to 700 grams per plant outdoors. Indoors, the maximum yield is around 700 g/m². This makes growing this White Widow strain for your own use one of the best investments you can make.
Effects of White Widow
The stimulating and relaxing energy of White Widow is simply fantastic, which you will already feel after a few hits. She can help you get into party mode, de-stress you after a grueling day at work or ease chronic pain.
It would be a slight exaggeration to speak of a "miracle cure", but this amazing strain comes close. Euphoric and relaxed: you've dreamed it, White Widow does it.
Side effects
The only notable side effects are dry eyes and mouth. Novice smokers may experience a slight feeling of anxiety or paranoia due to the high THC content. Therefore, take it easy and build up the dosage slowly.
Smell and taste
The nice smell of White Widow can be recognized from far, and the taste is better than many expect. It is sweet, earthy and woody. Her equally sweet flavors make this an intriguing smoke.
Origin
The reasons for her name is obvious: what sets her apart from the others is her whiteness. There is something milky about the glaze of the trichomes, which further emphasizes the dark green of the flowers hidden underneath. There are pistils and white calyxes growing on the entire plant.
White Widow regular is a balanced hybrid with 50/50 Indica and Sativa characteristics.
The best White Widow regular seeds for sale at Weedseedsexpress
If she's not in your garden or grow room yet, it's not too late to fix your mistake. Powerful, pleasant, beautiful and with an extraordinary yield potential we could go on for hours praising this great strain. However, you'll get the message: with these regular seeds you're growing the equivalent of an exquisite vintage, or even create your own crossings. The possibilities are endless!
It is one of those strains that every hobby grower should grow at least once in their life. So buy your regular White Widow seeds from Weedseedsexpress today and start growing! Besides White Widow regular seeds, and many other strains, we offer free high quality seeds with every order, discreet and guaranteed shipping, a stellar customer support team, and germination guarantees.
Payment & Delivery
You might also like these seeds
White Widow regular seeds alternatives