Wedding Cake
autoflower seeds
Like a shotgun wedding in Vegas, growing Wedding Cake autoflower is quick, easy and without hassle. She will lead to a long-lasting happily ever after, unlike most Vegas weddings.
Jump to description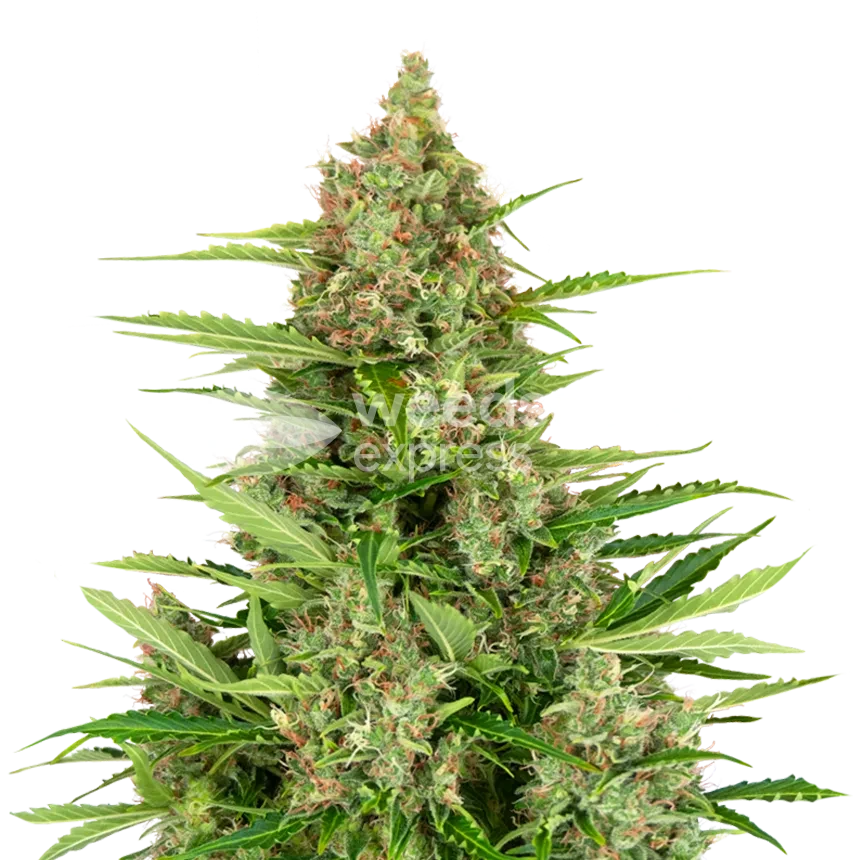 Wedding Cake autoflower Strain Info
Genetics
Wedding Cake x Girl Scout Cookies Auto
Yield indoor
500-600 grams per m2
Yield outdoor
60-150 grams per plant
Height outdoor
100-160 cm
Flowering time
49-56 days
Cultivation
Indoor, Outdoor, Greenhouse
Climate
Temperate, Mediterranean, Arid
Flavors
Fruity, Sweet, Woody, Lemon
Effects
Happy, Relaxed, Euphoric, Powerful, Talkative
Terpenes
Geranyl Acetate, Nerolidol, Eucalyptol, Terpinolene, Alpha Humulene, Beta Pinene, Alpha Pinene, Beta Caryophyllene, Limonene
Wedding Cake autoflower seeds
Wedding Cake autoflower is a potent Indica-dominant hybrid strain related to the popular Girl Scout Cookies. She is sometimes known as Pink Cookies. Like many others in this delightful lineage, she is endowed with a richly sweet flavor profile that packs a considerable THC punch. It isn't like any other wedding cake you've tried, however, thanks to its underlying tang and considerable potency.
Distinguished by its large and luscious flowers, Wedding Cake auto produces dense, heavy buds that sparkle orange and white. Its autoflowering credentials make it a pleasure to grow and care for. The end result is a calming, well-rounded high that's beloved for her medicinal and relaxing qualities. You can pick up this award winner for your cannabis garden today.
Why you should buy Wedding Cake Autoflower seeds:
Easy to grow

Potent THC levels

Well-balanced effects

Resilient growing profile
Growing with Wedding Cake autoflower seeds (indoors and outdoors)
Wedding Cake autoflowering marijuana seeds can be grown indoors, outdoors and in greenhouse settings. For best results, many opt to look after Wedding Cake auto indoors. This enables growers to fully control environments and exploit her phenomenal potency. She is very resilient to pests and mold, making her ideal for new growers.
Autoflower Wedding Cake grows very well in indoor environments and can be adapted to most space restrictions. While larger indoor setups will reap fine rewards, you can crop and trim Wedding Cake auto for great results in more compact spaces. She's a medium-growing plant that can easily push 100 cm when given space. Indoor growers have great results with training techniques during the vegetative stage. Try to remove these stressors while she flowers to encourage full bud potency.
Wedding Cake autoflowering can be grown outdoors, where she reaches much larger heights of 160 cm. While warm Mediterranean-like conditions are preferred, Wedding Cake automatic is somewhat resistant to changes in weather and humidity. If you're situated in a temperate climate, it's crucial that you plan your grow during warm, sunny summers. Rich soil is recommended to achieve great success. The plant thrives in temperatures of between 20 and 26°C.
Tip: Live in a more unpredictable climate zone like the UK but still want impressive outdoors yields? Wedding Cake autoflowering plants are very well suited to grow in greenhouses, where they can reach heights of 160 cm.
Flowering time
The Wedding Cake autoflowering strain has a short flowering time of between 49 and 56 days. It's crucial during the flowering time to retain consistent climate controls. This will promote healthy bud growth and is a factor in her potency and quality.
Plant height
Wedding cake autoflower plants can be trimmed and adapted to most growing areas. She grows fairly medium in height, reaching between 90 and 120 cm indoors. Outdoors, she grows far larger, with the potential to push 160 cm.
Wedding Cake autoflower yield
The plant has the potential to produce yields up to 600 grams per m² indoors, and a maximum of 150 grams per plant outdoors. The higher-end yields are possible with good quality plant care and techniques like SOG and ScrOG.
Effects of Wedding Cake
The delicious weed that you will harvest after growing Wedding Cake autoflowering cannabis seeds delivers soothing, relaxing and euphoric effects that affect the whole body and mind. She can be extremely potent for novices, due to her icy frosted buds. Perfect as an end-of-day stress relief, Wedding Cake is also known for its appetite enhancing qualities. While Indica characteristics dominate, the high is well-balanced and the perfect mood enhancer or insomnia treatment.
Wedding Cake has a number of beneficial medicinal qualities. As a soothing and relaxing strain, you can use the weed to good effect in the management of stress, anxiety and depression. This is helped by the presence of CBD. The strain is also popular among chronic pain sufferers and has been used to treat neurological conditions. Patients with arthritis, sciatica and muscle conditions benefit from Wedding Cake's soothing attributes.
Side effects
There are a number of possible side effects to look out for. The most common are dry, itchy eyes and cottonmouth. These can be easily combatted by staying well hydrated. As with all high-THC strains, a good level of tolerance is essential. Otherwise, mind-racing and short-term anxieties can develop when the dosage is too large.
Smell and taste
Wedding Cake comes baked in with a sweet, yet funky flavor profile. To start, the aroma is rich, mossy and woody, with an underlying sweetness like sour fruit cake. The flavor is equally alluring, offering a slice of tangy, fruity lemon pie, with the icing on the cake being the signature Girl Scout Cookies sugar-sweetness with hints of vanilla and cream.
Origin
Wedding Cake Autoflower is created as a crossbreed of the photoperiod version of the Wedding Cake strain and Girl Scout Cookies Autoflower. It maintains much of the fan-favorite sweet and sourness of these two strains, with the woody aroma of its predecessor, OG Kush. It has become immensely popular over the past few years and has won a number of accolades.
Despite this stated heritage, there is some mystery surrounding Wedding Cake's origins. Some cannabis industry veterans believe it has more in common with Animal Mints and Triangle Kush. Whatever its origins, it is now a true modern classic that has a great following from Southern California to Northern Europe.
The best Wedding Cake Autoflower seeds for sale at Weedseedsexpress
Purchase your next pack of auto Wedding Cake seeds from Weedseedsexpress and get the freshest strains delivered straight to your door. Our seed bank offers exceptional germination rates with free high quality seeds added to every order. Discover your new favorite strain or indulge in a certified classic. Whatever you pick, each weed seeds delivery comes with a guarantee of discrete and secure packaging.
Plant autoflowering Wedding Cake seeds in your cannabis garden and enjoy her frosty buds before you can say "I do".
Payment & Delivery
You might also like these seeds
Wedding Cake autoflower seeds alternatives