Jack Widow
autoflower seeds
Put two legendary, award-winning strains together, add a little ruderalis to the mix, and you get Jack Widow autoflowering cannabis seeds.
Jump to description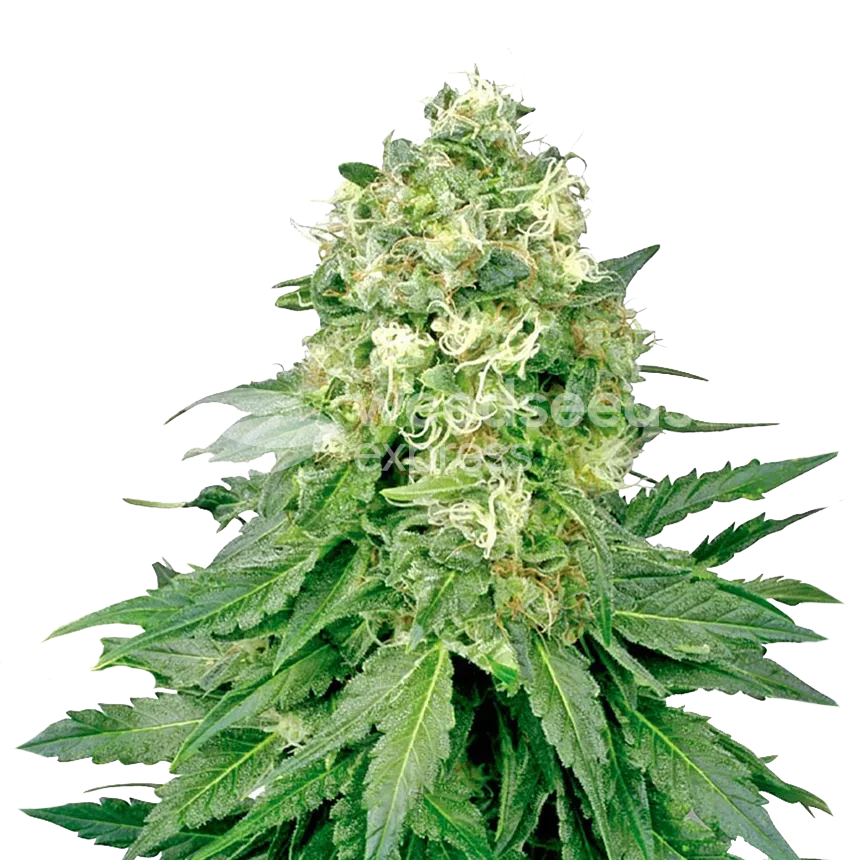 Jack Widow autoflower Strain Info
Genetics
White Widow x Jack Herer x Ruderalis
Yield indoor
500-600 grams per m2
Yield outdoor
120-200 grams per plant
Flowering time
70-77 days
Cultivation
Indoor, Outdoor, Greenhouse
Flavors
Earthy, Herbal, Sweet, Woody
Effects
Relaxed, Energetic, Happy, Uplifting, Euphoric
Terpenes
Ocimene, Terpinolene, Linalool, Humulene
Jack Widow autoflower seeds
With Jack Widow, sometimes also referred to as Big Jack Widow, you get the best of two classics: White Widow and Jack Herer. This sativa heavy marijuana strain is easy to grow, even for growers that are just starting out. She will leave with a smile on your face, when you are growing your own cannabis plant.
When you have harvesting your own Jack Widow weed, you can expect a strong euphoric high, that will also boost your energy, while leaving your body relaxed as well. Enjoy not only her high THC content, but also the sweet, earthy taste of her buds.
Are you curious what else this strain has to offer? Then keep reading and discover Jack Widow auto! If you are a grower with more experience and looking for an even bigger yield? Go check out our Jack Widow feminized seeds as well!
Why you should buy Jack Widow autoflower seeds:
Substantial yields

Short time to harvest

Easy to grow

High THC levels
Growing Jack Widow autoflower (indoors and outdoors)
Jack Widow autoflowering feminized seeds are able to grow indoors, outdoors, or in a greenhouse; all due to her partial ruderalis genes.
Jack Widow autoflower seeds offer many advantages confirmed by our regular customers. First, the seeds are feminized, which means that this Jack Widow strain is female and will not develop male plants. In addition, the autoflower genes ensure that the plant will flower automatically, which significantly facilitates the growing process. 
Jack Widow thrives in temperate climates, and is easy to grow, even for beginners. This is partly due to her high mold resistance.
The Auto Jack Widow is a compact plant with thick green leaves covered with a brilliant layer of whitish resin and buds with lots of orange trichomes. The smells can be pungent during flowering, so we recommend using a good quality filter if you are growing indoors.
Flowering time
The average flowering time for Jack Widow autoflowering marijuana seeds is between 10 and 11 weeks. Due to her autoflower genetics, you can even harvest twice in the grow season, if you plan it right.
Plant height
Jack Widow Autoflower seeds can grow into a cannabis plant between 90 and 150 cm, when grown outdoors.
This marijuana strain will grow between 70 and 110 cm tall when grown indoors.
Jack Widow Autoflower yield
This stable hybrid produces excellent harvests of large buds. Expect up to 600 grams per square meter when you cultivate her inside.
The yield outdoors can reach up to 200 grams per plant, making it an effective plant for indoor and outdoor growers in the Northern and Southern Hemispheres.
Effects of the Jack Widow strain
Auto Jack Widow offers a pleasant high, leaving you blissfully unaware of the passing of time. The sativa properties of Jack Widow will uplift you, with a boost of euphoric energy hitting you after the first few hits. Perfect for a night out with friends.
Her indica genetics are less prevalent, yet you will feel it when a feeling of relaxation will flow through your muscles.
Due to the potency of her high, this cannabis strain will appeal to old-school users and new smokers alike. 
Side Effects
Although unusual, you may experience dry mouth, dry eyes, and dizziness as side effects.
Smell and taste
The aroma of Jack Widow Auto is subtle and infused with sweet undertones and scents of fresh forest wood. However, there is also an underlying, herbal dank earthiness that comes through when you crumble it between your fingers. 
Origin
The Jack Widow Autoflowering strain originated from a cross between Jack Herer x White Widow, two legendary cannabis names, and a Ruderalis to create an autoflowering hybrid. The combination of these classic cannabis strains, from which this plant emerged, produces a fantastic high that never fails to take away your worries and stress.
Jack Widow Auto inherited the best of both strains, as you would expect. The autoflowering element comes from Ruderalis, a genuinely stunning cannabis strain capable of establishing itself beyond the Arctic Circle. This is all thanks to the automatic flowering cycle that has evolved naturally over millions of years of evolution. These genes give Jack Widow Auto short, consistent growth and make her fast flowering.
White Widow, also a legendary strain, is famous for her exotic power. She features a sugary crystal layer with intense trichomes that cover the buds. This strain was chosen primarily for her power, since she flowers quickly and produces equally abundant yields.
White Widow won many awards, including the prestigious Cannabis Cup, just like the other parent strain, Jack Herer.
The best Jack Widow Autoflower seeds for sale at Weedseedsexpress
Weedseedsexpress is your one-stop shop for all your high quality cannabis seeds. Why? Not only do we have a huge selection of autoflower and feminized seeds, we also offer a delivery and germination guarantee, an information center full of informative blogs, and a stellar customer service.
One of our high quality strains is the Jack Widow Autoflower. Bringing together the best features of Jack Herer, White Widow, and the latest generation of autoflowers in one beautiful plant that flowers automatically. 
Are you looking for a strain that will boost your energy and is easy to grow? Buy Jack Widow Autoflowering seeds today and start growing your own! Because homegrown weed is the best weed.
Payment & Delivery
You might also like these seeds
Jack Widow autoflower seeds alternatives