Fat Bastard
feminized seeds
She's more powerful than a gorilla and is very easy to grow. She "weighs a metric tonne". Her name? Fat Bastard feminized seeds.
Jump to description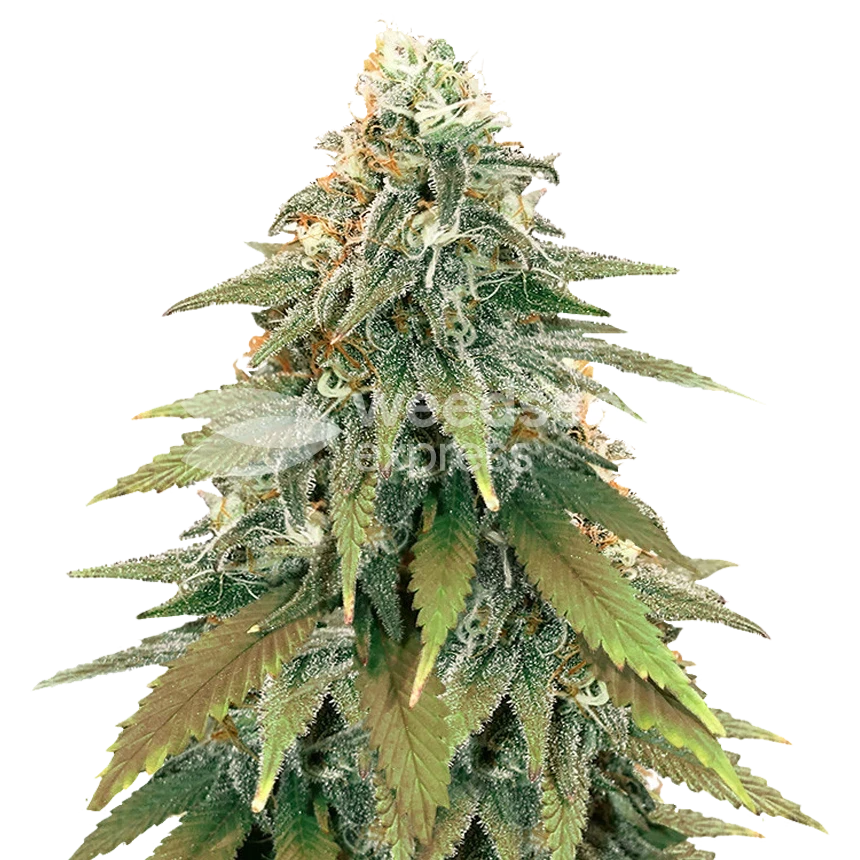 Fat Bastard Strain Info
Genetics
Goldmember x Monkey Spunk
Yield indoor
400-600 grams per m2
Yield outdoor
700-900 grams per plant
Height outdoor
170-200 cm
Flowering time
56-63 days
Cultivation
Indoor, Outdoor, Greenhouse
Climate
Mediterranean, Temperate
Flavors
Fruity, Skunk, Sweet
Effects
Relaxed, Powerful, Euphoric, Creative
Terpenes
Caryophyllene, Myrcene, Alpha Humulene, Limonene
Fat Bastard feminized seeds
With a cross of the wonderful Goldmember x Monkey Spunk strains, Fat Bastard seeds bring a one-of-a-kind cannabis experience to the table. Insanely high THC levels; fruity, yet skunky aroma; and also a perfect choice as marijuana seeds for beginners.
We also offer Fat Bastard autoflower seeds for growers that want to get their hands even quicker on the thick buds grown from this strain of weed seeds.
Why buy feminized Fat Bastard seeds:
Huge (outdoor) yield potential

Combining fruity and skunk aromas

Ridiculous high THC content

Easy to grow variety

Short flowering period

Crazy high yield potential, especially outdoors

Thick, compact buds
Flowering Time
Feminized Fat Bastard seeds are pretty quick regarding the last part of their growing process. The flowering period for this Goldmember x Monkey Spunk strain is between eight and nine weeks.
You only need two months of patience before harvesting her compact flowers covered with a generous resin layer.
Yield
Growing Fat Bastard cannabis seeds can net you a very, very hefty yield. Keep in mind, the following numbers are based on optimal conditions.
Grown indoors, plants grown from Fat Bastard weed seeds can produce a maximum harvest of 600 grams per square meter. And if you think that's impressive, wait until you see the outdoor yield potential of these feminized seeds.
Grown outdoors, our Fat Bastard marijuana seeds can yield up to 900 grams! We would call this the ultimate opportunity to cultivate your own ultra-powerful mega stash.
Effects
Fat Bastard is a potent strain that's not for novices. Her happy, heady high may make you feel like you're under a comforting weight, keeping you blissfully couch-bound. Perfect for seasoned cannabis enthusiasts, who are looking for a more powerful type of cannabis strain to grow and consume.
Smoking a full blunt alone might not even be necessary to get you to that higher level. The effects of the Fat Bastard cannabis strain are satisfying and long-lasting. Among her many benefits, Fat Bastard can help dissolve anxiety, erase the memory of migraines, and wash away bodily pain and fatigue.
The resulting relaxation is so profound, you might need to take a breather on the couch after enjoying the buds of this Fat Bastard strain. If you don't hit her too hard, you could even be able to conjure some inspiration, helping you create your next (art) project.
THC Level
As mentioned, Fat Bastard presents quite an impressive high when consumed. A big part of these potent effects, is her super high THC content. A whopping 38% THC, which makes her easily one of our most powerful high THC seeds you can grow.
Smell & Flavors
Fat Bastard's enticing aroma sweeps you into a sensory delight. Her flavors combine exotic fruits notes with the sweet floral tapestry reminiscent of buds grown from classic Skunk seeds.
Fat Bastard weed delivers an explosion of flavors that will captivate your palate. Her distinct fruity and skunky smell creates an enticing atmosphere. Her floral and sweet background of this mostly hybrid strain completes this aromatic experience.
Height
Fat Bastard plants exhibit considerable vertical growth, providing flexibility for both indoor and outdoor cultivation. Indoors, these robust plants typically reach between 130 and 160 cm, making them manageable for most home grow setups.
If you're blessed with outdoor space, expect them to stretch further, standing at 170 to 200 cm tall. Their considerable stature shows their hardy nature and abundant yield potential, regardless of the environment.
Origin
Fat Bastard is a remarkable blend of Goldmember and Monkey Spunk strains. Goldmember's OG Kush and Gold Leaf lineage contributes to her potent body relaxation effects.
Monkey Spunk's Chemdawg and G13 ancestry lends energizing, creativity-boosting attributes. This creates an indulgent mix of fruity and skunky flavors alongside potent, euphoric relaxation.
Her name is derived from the chunky Scotsman from the famous Austin Powers series, which is a clear nod to her rotund buds and her heritage (Goldmember is the name of the third Austin Powers film).
Grow Tips
Germinate Fat Bastard seeds carefully and avoid direct contact to prevent bacterial infection.

Fat Bastard can be grown indoors or outdoors; ensure optimal conditions for robust growth.

For moisture retention, use quality substrates like perlite, peat, or coco coir.

Consider vertical spaces and the ScrOG method for indoor growth for larger lower flowers.

Provide good nutrients during the seedling, vegetative, and flowering periods.

For outdoor growing, ensure maximum hours of sunshine.

Indoor growers should have good tents, textile pots, LED lighting, an air extractor, and a carbon filter.

Keep daytime temperatures between 20 and 26 °C (68 and 80 °F) and nighttime temperatures 4 to 5 °C (7 to 9 °F) cooler.

Maintain humidity at 55%-60% during the vegetative phase, reduce to 40% during flowering, and 30% at harvest time.

Expect outdoor harvest in mid-October.

Follow a proper nutrient schedule for each growth stage.

Always be on the lookout for potential pests.
Why buy feminized Fat Bastard seeds at WeedSeedsExpress?
Stellar Customer Support - Our company is built on customer service, and we aim to reply to all emails within 24 hours or less.
Germination Guarantee - We are confident in the quality of our cannabis seeds. That's why we guarantee that they will germinate. If they don't, we'll replace them for free.
Fast Worldwide Shipping - We pride ourselves on our fast shipping. With distribution centers in the US and EU, we can ship seeds to most of our customers as quickly as three days.
Free Seeds - Get FREE seeds included with any order when purchasing five or more seeds.
Payment & Delivery
You might also like these seeds
Fat Bastard feminized seeds alternatives