Critical
autoflower seeds
Characterized by a sweet and juicy scent, vigorous growth, and a relaxing body high, Critical is a strain that has it all.
Jump to description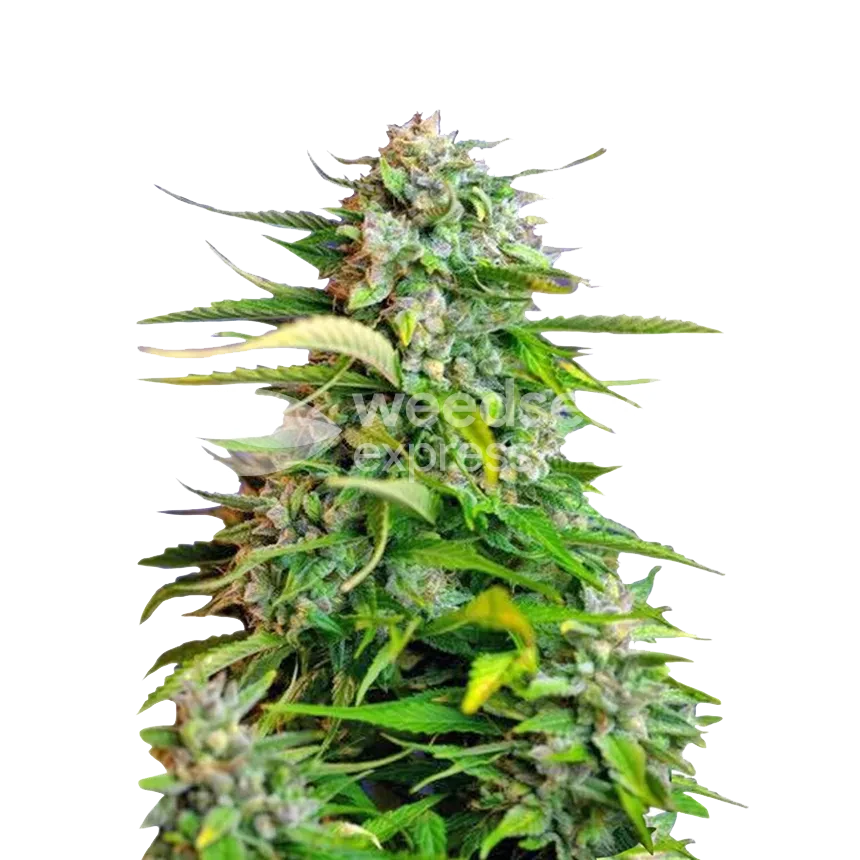 Critical autoflower Strain Info
Genetics
Critical x Lowryder
Yield indoor
400-450 grams per m2
Yield outdoor
70-200 grams per plant
Flowering time
56-63 days
Cultivation
Indoor, Outdoor, Greenhouse
Climate
Temperate, Mediterranean, Polar
Flavors
Sweet, Fruity, Lemon, Woody
Effects
Euphoric, Relaxed, Calming, Creative, Giggly, Hungry, Sleepy, Uplifting
Terpenes
Beta Pinene, Alpha Pinene, Beta Caryophyllene, Linalool, Limonene
Critical autoflower seeds
The same applies to the feminized Critical autoflowering strain seeds. Combined with Ruderalis, the Critical autoflower is a strain that represents all the excellent qualities of its parents; Critical x Lowryder.
Consumers familiar with Critical are already familiar with her sweet scent and intense aroma. Critical Auto follows in its exact footprints and guarantees the smoker the same intensity that has made this weed family so well-loved. You will feel completely relaxed as the strong physical high kicks in, making it an ideal choice for relaxing on the sofa.
Why you should buy Critical Autoflower seeds:
Easy to grow, so suitable for beginners
Lovely smooth high ideal for medicinal use
Fantastic yields
Short time to harvest
Growing Critical Auto (indoor and outdoor)
She is an easy-to-grow autoflowering variety, a cross of Ruderalis, Indica, and Sativa strains. This extraordinary mix produces a vigorous plant with large, dense buds and a heavy Indica effect of the Critical.
Although she is relatively small and stocky, her structure is open, allowing light to reach the entire plant and yields larger and better quality.
Critical Auto does not require much fertilization or extensive care, so it is perfect for inexperienced cannabis growers. It is a very generous plant that grows with strength and remains healthy without requiring special attention.
An increase in soil fertility with a 30% contribution of coconut fibers will be greatly appreciated by this strain which is genetically programmed to start flowering automatically, regardless of light conditions.
Flowering time
Critical Autoflower is a fast grower and completes its entire flowering phase in just 56 to 63 days.
Plant height
The feminized Critical Autoflower strain seeds grow into beautiful, vigorous plants that can reach just over a meter in height when grown outdoors. Her branches extend both vertically and horizontally, and its few leaves allow good aeration and light penetration, ideal for producing large, beautiful buds. In addition, indoor growers will find the strain easy to manage, as typical indoor heights are only 55 to 65 cm.
Critical Autoflower yield
The plant produces good yields! Large, dense buds with a sweet, skunk aroma can reach up to 400 to 450 grams per m² indoors and up to 70 to 200 grams per plant outdoors.
Effects
Critical Autoflower's high is more bodily than cerebral and provides tremendous muscle relaxation. Often consumed for therapeutic purposes, Auto Critical is an excellent asset in the fight against insomnia, but it is absolutely also ideal for providing a good moment of relaxation. The weed also features a euphoric effect in small doses, while high doses generate complete peace and even some fatigue.
In terms of medical potential, Critical Autoflower is perfect for helping to treat a wide range of conditions, including chronic pain, sleep disturbances, stress, anxiety, muscle spasms, and a host of physical ailments.
Side effects
Critical Autoflower is a well-balanced strain that results in a nice, smooth smoke. In addition, this strain is not associated with any unpleasant side effects other than the ubiquitous dry eyes and cottonmouth.
Smell and taste
Critical Autoflower has an enticing aroma made up of lemony fruit scents. Its flavor is equally delicious: sweet, and woody aromas that linger in the mouth.
Origin
Critical Autoflower is a cannabis strain resulting from a mix between Critical and Lowryder, one of the most renowned Ruderalis varieties. This strain is ideal for inexperienced growers who would like to take it easy at first before embarking on the more complex mysteries of cannabis cultivation.
The best Critical Autoflower seeds for sale at Weedseedsexpress
Critical Auto has a lot to offer: rapid growth, abundant yields, and a delicious sweet taste. Not to mention an excellent high, which ensures a mind-blowing sensation with every puff
If you are looking for an autoflowering strain that excels in every aspect, Critical Autoflower is the strain for you.
Critical is one of our most popular varieties. Winner of many awards in Spain and loved by commercial growers worldwide for her strong growth and large yields.
As with all our varieties, the seeds are feminized, so you only get female plants; no wasted space, which means even more harvest. Critical Automatic is ready for harvest in just twelve weeks from planting. Buy your high-quality Critical Autoflower seeds at Weedseedsexpress today.
Payment & Delivery
You might also like these seeds
Critical autoflower seeds alternatives