Blue Cheese
autoflower seeds
Blue Cheese Auto is an autoflowering strain of weed that offers an authentic next-level taste sensation. 
Jump to description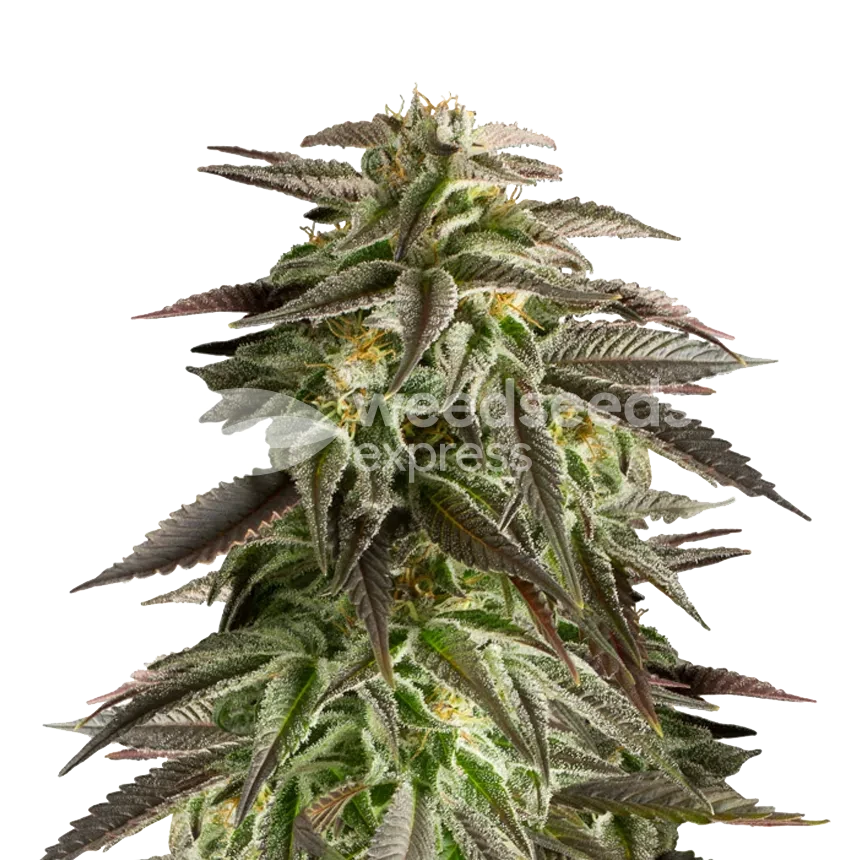 Blue Cheese autoflower Strain Info
Genetics
Blueberry Kush x Blue Cheese x Ruderalis
Yield indoor
400-500 grams per m2
Yield outdoor
60-150 grams per plant
Flowering time
49-56 days
Cultivation
Indoor, Outdoor, Greenhouse
Climate
Polar, Temperate, Mediterranean
Flavors
Berry, Fruity, Sweet, Cheese, Earthy, Pungent, Skunk
Effects
Euphoric, Happy, Relaxed, Uplifting, Creative, Energetic
Terpenes
Delta 3 Carene, Beta Pinene, Alpha Pinene, Beta Caryophyllene, Linalool, Limonene, Beta Caryophyllene Oxide, Humulene
Blue Cheese autoflower seeds
She is renowned for her delicious taste and incredible short flowering period and ease of cultivation. Perfect for novice growers thanks to the many benefits of autoflowering genetics.
The Blue Cheese autoflower is a medium-sized cannabis strain, sometimes reaching 110 cm in height when grown outside. In addition to being very stable, thanks to its Skunk heritage, this slightly Indica-dominant hybrid features a surprisingly fruity taste, which, however, is complemented by the classic (after) taste we know and love from Blue Cheese.
Why you should buy Blue Cheese Auto seeds:
Easy to grow
Quick to harvest
Produces top-quality, delicious weed
Growing Blue Cheese Autoflower (indoor and outdoor)
Blue Cheese Autoflower simplifies growing cannabis, which means you no longer have to depend on any lighting schedule to ensure that your cannabis plants start to flower. After a brief flowering period of about 49 to 56 days, your cannabis plants are ready to be harvested. When you start to pre-grow indoors in early spring, you can run up to three grows per outdoor season. In addition, autoflower cannabis strains are easier to grow, and they have less need for nutrition and meticulously measured water values.
Blue Cheese Autoflower also distinguishes herself by the very high quality of the buds she produces. If you are lucky and the nights before harvest are a bit colder, you will see that Blue Cheese Autoflower shows beautiful purple colors. However, most plants will have already been harvested outside.
Blue Cheese Autoflowering is the perfect strain of cannabis for inexperienced growers who want to be sure they are getting a premium taste. This is possible because this straightforward plant doesn't need much attention to produce a bountiful harvest of fragrant buds.
Given its medium-sized structure, growing Blue Cheese autoflowering seeds is an excellent choice for indoor cultivation. Just make sure you equip the space with powerful anti-odor filters because its aroma is very intense. Outdoors, Blue Cheese Auto thrives in colder, temperate, Mediterranean, or greenhouse climates. A guerrilla culture also suits her very well.
To get the most out of Blue Cheese Auto, using 10-20 liter pots is best by adding 30% coconut chips to the substrate to improve aeration and speed up the plant's metabolic processes. Remember that autoflowering strains are designed to have a very short life cycle, leaving very little room for error.
That's why you will need to create the perfect environment for Blue Cheese Autoflowering right from the start. In addition, the Blue Cheese Auto remains sober in its appetites. A standard fertilization regimen is acceptable for her, but be sure to water her frequently and sparingly. Finally, we recommend transporting her to her final pot as soon as possible to optimize the size of your autoflowering plant.
Flowering time
When growing Blue Cheese autoflowering seeds you can expect a flowering phase of approximately 49 to 56 days.
Plant height
Blue cheese auto, like the majority of autoflowering strains, remains relatively short. When grown indoors, expect heights of approximately 40 to 70 cm. Outdoors Blue Cheese auto grow slightly taller with heights of respectively between 60 to 110 cm.
Blue Cheese Auto yield
With a yield of about 500 grams per m², you're ensured of a successful indoor harvest. Growing Blue Cheese auto seeds outdoors can range up to yield about 150 grams per plant. While this does not disappoint the quality is certainly more important. You will end up with compact, thick, and incredibly sticky buds. This is also evident from its high THC content of about 16%. Her high resin production and high THC content make Blue Cheese Autoflower an excellent cannabis strain to make hash and other extracts or tinctures.
Effects of Blue Cheese auto
Its effect is uplifting and excellent in terms of potency and duration. It is the perfect strain to unwind after a hard day's work. When you are lying on your sofa or in the bath, enjoy every aspect of its exquisite taste as you wash away the stress of the day. Blue Cheese Auto will leave you feeling happy, relaxed, and revitalized.
Side effects
Blue Cheese Auto is not associated with any unpleasant side effects other than the dry eyes and mouth common with any weed. Keep hydrated!
Smell and taste
The taste of Blue Cheese Auto is its most distinctive trait, as you would expect from an autoflowering strain with all the aromatic richness inherited from its parents. Notes of berries and cheese complement its intense and fruity aroma.

Blue Cheese Autoflower features a surprisingly fruity taste, which, however, is dominated by the quintessential classic (after) taste we know and love from Blue Cheese.
Origin
The Blue Cheese Autoflower strain seeds result from a carefully balanced cross between the two legendary strains - Blueberry Kush and Blue Cheese, with a Ruderalis for adding the necessary autoflowering genes to the strain.
Blue Cheese Autoflower seeds for sale at Weedseedsexpress
Whether you are a novice or experienced grower, buying Blue Cheese Auto seeds is a sensible choice to ensure a reliable cannabis crop. The effect is very close to the original, and that is a wonderfully relaxed high, where you can leave the hectic daily life behind for a while. Complete relaxation and great for an evening on the couch or when little or nothing needs to be done - what more could you want? Buy the best Blue Cheese Auto seeds at Weedseedsexpress today!
Payment & Delivery
You might also like these seeds
Blue Cheese autoflower seeds alternatives