AK-47
regular seeds
Don't let the name scare you, AK-47 will treat you much better than her violent namesake. She is an essential strain for many years  and has won numerous awards at various Cannabis competitions.
Jump to description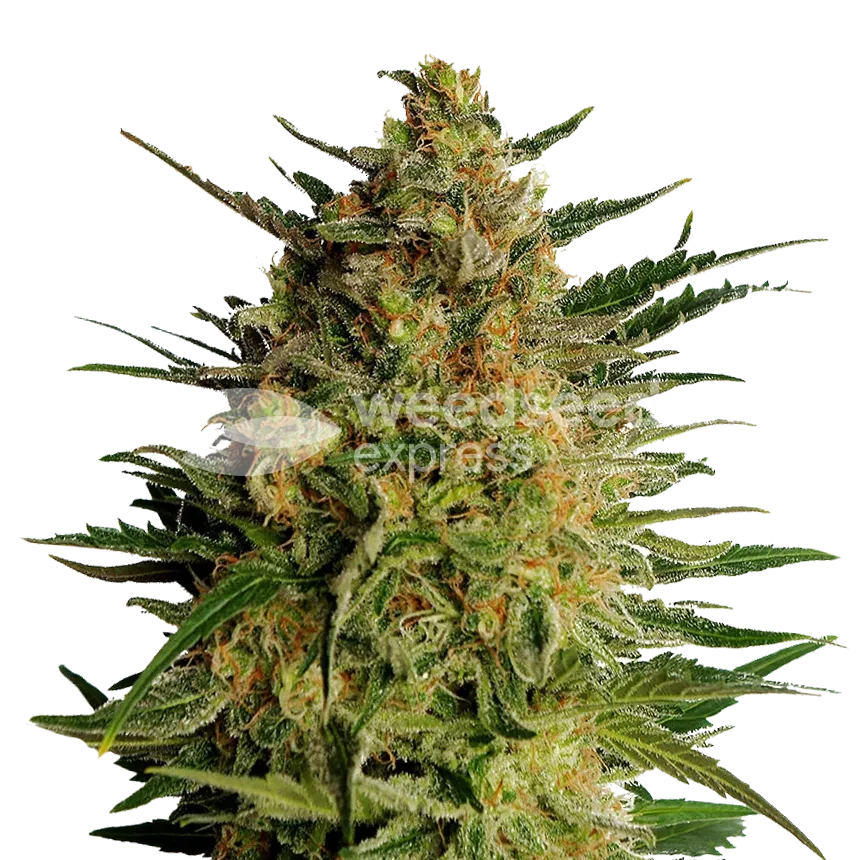 AK-47 regular Strain Info
Genetics
Colombian x Mexican x Thai x Afghan
Yield indoor
550-600 grams per m2
Yield outdoor
425-575 grams per plant
Height outdoor
130-170 cm
Flowering time
53-63 days
Cultivation
Indoor, Greenhouse
Climate
Temperate, Mediterranean, Arid
Flavors
Earthy, Pungent, Sour, Sweet
Effects
Euphoric, Happy, Relaxed, Uplifting
Terpenes
Beta Pinene, Alpha Pinene, Beta Caryophyllene, Linalool, Limonene
AK-47 regular seeds
With AK-47 regular cannabis seeds, you grow a true classic. It is an easy and quick to grow seed whose female plants guarantee a good harvest, producing compact buds covered in crystals. AK-47 is also called "One Hit Wonder". A tremendous high with a motivating effect!
Note: Because these are regular seeds, we recommend beginners to buy the AK-47 feminized seeds or the AK-47 autoflowering seeds.
Why you should buy AK-47 regular marijuana seeds:
Stable genetics

Fine plant to grow

High-quality harvest

Short flowering period
Growing regular AK-47 seeds (indoors and outdoors)
Although the AK-47 thrives when grown outdoors, this Sativa dominant strain is preferably grown indoors. This is mainly because of her strong smell, which can easily attract curious people, but also because these seeds also develop both male and female plants, so a more controlled environment is preferred.
Do you still prefer to grow outside? Then the plant requires at least a temperate climate. However, the result will be better when the plant is grown in a sunny, dry environment. Think of a Mediterranean climate.
That said, these high quality seeds are also an excellent choice if you want to grow outdoors in a greenhouse.
Tip
Provide the plants with enough ventilation to prevent them from being damaged by extreme humidity.
Flowering time
AK-47 is a plant with about 53 to 65 days short flowering time. The buds produced by female AK-47 plants are compact and coated with a sticky layer of trichomes. Moreover, the buds are easy to cut due to the excellent bud-to-leaf ratio. In short: lots of buds and few leaves!
Note
AK-47 plants are intensely fragrant during flowering.
Plant height
For a Sativa dominant strain, the AK-47 regular is a relatively compact plant, an advantage for many indoor growers. Indoors, you can expect a height of 80 to 140 cm. Outdoors, she will stretch more and reach a maximum height of about 170 cm.
AK-47 regular Yield
The maximum yield, when grown indoors, is 550 to 600 grams/m². Outdoors, and of course, under ideal growing conditions, you can harvest up to 575 grams of AK-47's buds covered with resin crystals per plant.
Effects of AK-47
AK-47 weed offers an above-average long-lasting effect with all kinds of pleasant vibrations. The first immediate effect is one of clear relaxation. After that, her high is powerful and uplifting, making her one of the favorite cannabis strains for those who need a smoke to unwind after a tiring day at work.
Either way, the weed's relaxing and uplifting personality is sure to make for a good time, whether you choose to have a lazy night on the couch watching movies, planning to paint the town red, or write your next D&D campaign. The AK-47 can put you in a giddy mood where you find yourself grinning from ear to ear without knowing why.
Because of its ability to relax without falling asleep, AK-47 is often used to treat muscle spasms and promote relaxation. Lack of appetite can also be treated, as this strain of cannabis can cause sudden food cravings. You wouldn't be the first to grow AK-47 as a medicinal plant.
Side effects
At moderate doses, AK-47 causes only minor side effects, such as a feeling of dehydration in the mouth and eyes. One simple solution: stay hydrated.
Smell and taste
AK-47 cannabis offers a slightly acidic aroma accompanied by a very noticeable earthy smell. Her bouquet also contains sweet and sour notes that blend with the earthiness that characterizes her as one of the most pungent strains of cannabis. Some users also report a slight licorice aftertaste reminiscent of stevia.
Origin
AK-47 has won 16 awards at various competitions, including 2nd prize for best Sativa at the 1999 High Times Cannabis Cup, 1st prize at Highlife Barcelona, and 1st prize at the Treating Yourself Expo in 2010. She is a true classic among the highest-ranked strains with 16 awards to her name.
Unlike its name suggests, AK-47 is a Sativa-dominant cannabis strain developed by crossing Colombian x Mexican x Thai x Afghan. However, it is a mystery why this mostly sativa cross was named after an aggressive Russian assault rifle, as the AK-47 is a pretty mild cannabis strain.
The best AK-47 regular cannabis seeds for sale at Weedseedsexpress
What makes the AK-47 so popular is the ease and speed with which the plant produces beautiful, thick buds and the enormous strength of the weed. Moreover, with AK-47 regular weed seeds, you can create your own crosses, something that is not possible with feminized cannabis seeds. Therefore, the seeds are the perfect choice for the more experienced growers.
Buy your next batch of AK-47 regular marijuana seeds at Weedseedsexpress. Why? We offer the highest quality marijuana seeds with germination guarantees, guaranteed discreet shipping and free seeds with every order.
Payment & Delivery
You might also like these seeds
AK-47 regular seeds alternatives