Top 5 Dense Weed Strains (With Rock Hard Buds)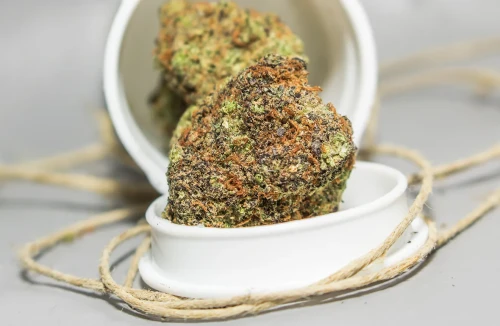 Dense buds are full, hard, compact, crystallized nuggets that have a high terpene content and increased trichome coverage.
Depending on the strain, more trichomes typically means more THC or CBD.
In this article, we look strains at 5 of the best strains that produce unbelievably dense buds.
1. Afghani
Afghani is something of a crown jewel when it comes to pure indica strains. Not only does she grow sturdy cannabis plants, with potent heavy buds, but she also has an inviting aroma and a distinctly sweet, herbal, earthy flavor. Her effects have been described as both calming and deeply relaxing, making it the perfect choice for unwinding after a long day.
On top of that, growing Afghani feminized seeds is incredibly low-maintenance and can easily be adapted to many different climates, making it an ideal choice for growers looking for an easy grow with a great payoff. The bud density of Afghani weed produces THC levels of up to 20%, making Afghani sure to bring you the sweet relief you seek! For an even easier dense bud development, consider trying the Afghani autoflower seeds.
2. Skywalker OG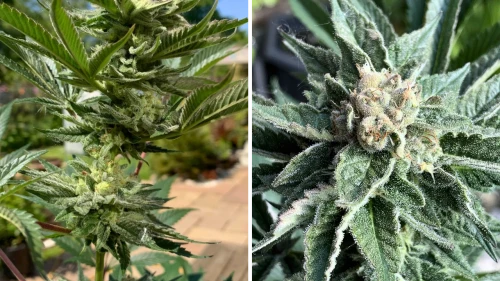 The Skywalker OG feminized seeds are the cannabis seeds you're looking for. That is, if you're looking for strains that produce big buds! When you need a strain that's strong and reliable, look no further than Skywalker OG. This improved version of the famous OG Kush takes all the best aspects of its parent strain, an intense flavor, pungent aroma, and heavy-hitting effects, and cranks them up to 11!
This intergalactic powerhouse is perfect for recreational or medicinal use, with THC levels of up to 24% and higher yields than ever before. Plus, the Skywalker OG autoflower seeds offer an easy growing experience even beginners can master, so you'll be able to take your harvest to a whole new level. So fly away light years ahead of the rest with Skywalker OG
3. Strawberry Kush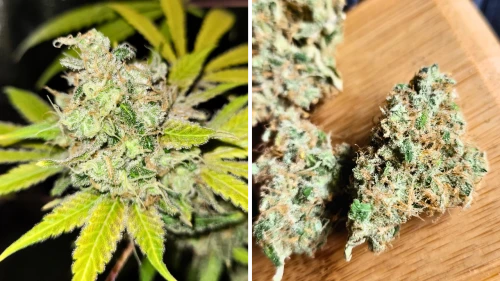 This one's not your Mom's strawberry shortcake! The Strawberry Kush feminized seeds grow a unique strain packed with robust and bushy marijuana plants, huge colas, and fat buds dripping with THC, come flowering stage. All these goodies combine for a truly unique experience that comes with an uplifting high and a sweet and fragrant strawberry flavor.
But the surprise doesn't end there! As the buds mature, they can start developing pink and red pistils that will make you feel like you've just been handed a bouquet of freshly-picked strawberries! Combining stability, strong genetics, and a delightfully fruity kick, Strawberry Kush is sure to leave you feeling deliciously satisfied!
4. Big Bud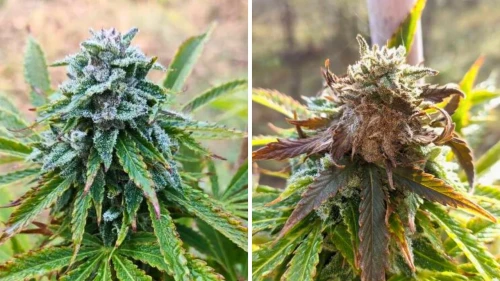 Are you looking for dense buds strains that pack a punch and don't skimp on yield? Then Big Bud feminized seeds are for you! This indica dominant strain offers not only BIG THC levels of up to 22% but also an incredibly relaxing high.
On top of that, it's relatively easy to grow and produces beautiful, thick, crystal-covered buds with a distinct sweet and earthy skunky smell.  Even better, the Big Bud autoflower seeds finish flowering quickly, so you can enjoy your harvest even faster. If you're looking for something massive in size and effects, Big Bud is the way to go!
5. Gelato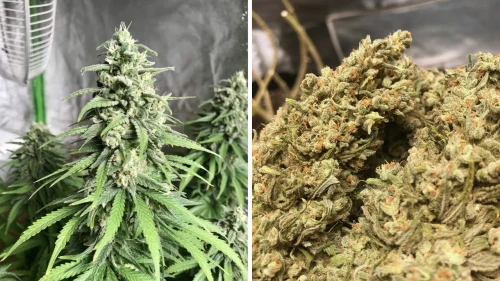 Get ready to take your taste buds on a wild ride with Gelato! The Gelato feminized seeds produce a dense bud strain with many bud sites that ooze with flavor and are loaded with powerful effects. With THC levels up to 21%, it's no wonder that some connoisseurs call smoking Gelato buds one of the tastiest treats there is.
Combining a sweet and creamy flavor with relaxing and creative effects, Gelato will leave you feeling like you've just enjoyed an ice cream sundae in the clouds! You can also opt for the Gelato autoflower seeds which are easier for beginner growers.
Choose Your Favorite Hard Dense Bud Strain
Now that you know which weed strains grow the densest buds, how do you choose which one is your favorite?

We've got you covered!

Even when we narrow it down to the top 5 strains, it can still be a challenge to choose your favorite. Here are a few of our tips for deciding which strain could be your favorite when you want the most solid buds.
Look for strains that are known for growing tight, thick buds with a strong aroma. Buds that have a lot of smell have a lot of terpenes, which add to the growing experience and the effects.

A good strain should also provide a great high and offer good yield potential. When you want to grow dense nugs, look for strains that produce high yields to maximize your harvest.

Don't forget to take into account the THC levels. If you're looking for an extra kick, weed grown from high THC seeds can take your high to the next level.

Also, be on the lookout for strains with distinctively-colored buds. They tend to have a more tightly-packed structure, which is ideal if you want to grow that real gas.

Check the strain information for CBD percentages if you're interested in CBD seeds. CBD has a variety of benefits, without that typical psychoactive high.