White Russian
feminized seeds
An extremely potent weed strain named White Russian? We can almost hear Jeff "The Dude" Lebowski scream, "shut up and take my money"! 
Jump to description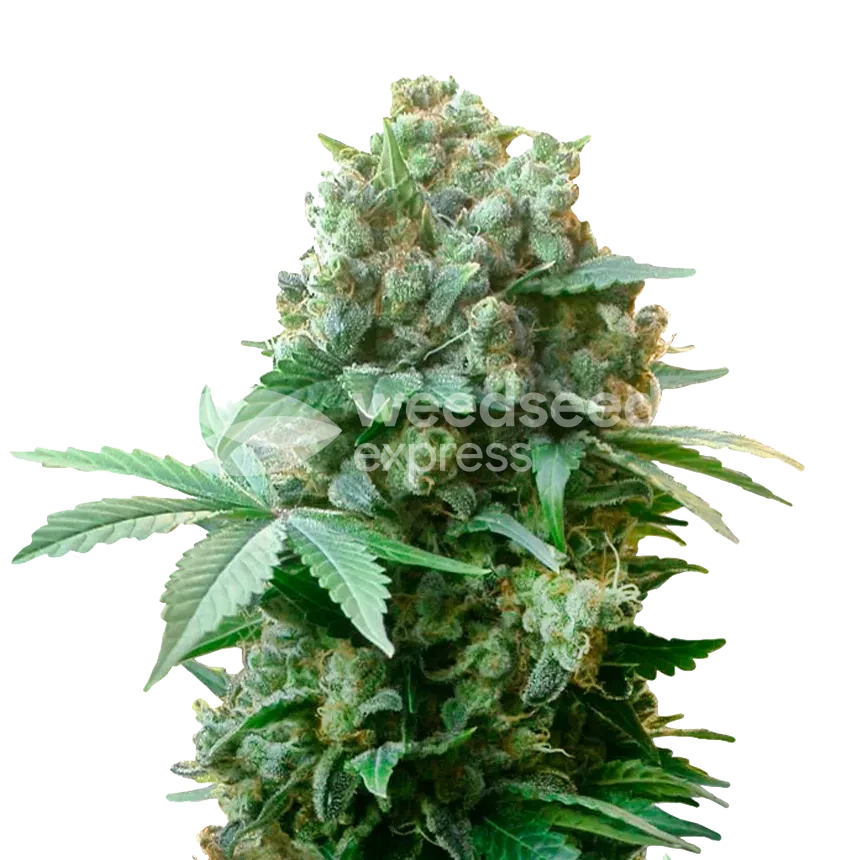 White Russian Strain Info
Genetics
White Widow x AK 47
Yield indoor
450-550 grams per m2
Yield outdoor
550-600 grams per plant
Flowering time
60-65 days
Cultivation
Indoor, Outdoor, Greenhouse
Climate
Mediterranean, Arid, Tropical
Flavors
Sweet, Incense, Woody
Effects
Creative, Relaxed, Sleepy
Terpenes
Beta Pinene, Alpha Pinene, Beta Caryophyllene, Linalool, Limonene
White Russian feminized seeds
Perhaps someone should warn the Dude that devouring it in one puff would be ill-advised. White Russian is a super-strong, highly effective cross between two of the most famous and powerful cannabis strains: White Widow and AK-47.
Combining these all-time favorites guarantees female consistent plants with a small but robust size and large resinous buds richly covered with glistening THC crystals.
Add a THC percentage of 20%, ensuring strong effects that last a long time and are experienced as very powerful.
Did we tickle your interest? Keep reading to find out more about why the feminized White Russian strain is in such high demand, or order your White Russian cannabis seeds here.
Why you should buy White Russian feminized seeds
Robust hybrid of two world-renowned strains

High yielding marijuana plant

Short flowering stage

Mindblowing psychedelic high
Growing White Russian feminized seeds (indoor/outdoor)
The White Russian feminized seeds grow into sturdy, short to medium-sized plants with an average flowering time of only 8 to 9 weeks.
White Russian can be grown indoors, outdoors, and in a greenhouse. She produces dense, compact buds and responds well to a SOG setup.
Because these fragrant plants give off a rather pungent odor, anti-odor filters are most likely necessary.
To improve air circulation and proper humidity levels, regular pruning is advised.
In a warmer climate, this plant will also thrive well outside. The guaranteed female plants have a high mold resistance and, in all cases, result in good yields.
Flowering time
The flowering period of White Russian feminized is generally between 60 and 65 days, which is relatively short.
During these 8 to 9 weeks, she produces gorgeous resinous flower tops. When grown outdoors, she will be ready for harvest around early or mid-October.
Plant height
Whoever invented the phrase "size doesn't matter" had to be thinking of White Russian marijuana plants because the modest stature of these potent plants doesn't detract from the immense potency.
Reaching a modest height of only 60 to 90 cm indoors and up to 110 cm outdoors, these short but sturdy plants are ideal for growers with limited space available.
White Russian feminized yield
White Russian plants yield an impressive harvest of very powerful buds.
Indoor growers can expect a yield of 450 - 550 grams per m²
Outdoors, an impressive yield of 550 to 600 per plant can easily be realized.
Effects of White Russian feminized
White Russian weed provides a powerful psychedelic high that takes a hold of you almost instantly. The uplifting sensation will gradually intensify into a bonafide euphoric sensation, while maintaining mental clarity and the ability for creative thinking. After a while, an incredible feeling of relaxation sets in, leaving you feeling physically relaxed with a mentally stimulating head high.
With a THC percentage of 20%, you can expect the strong effects to last a long time.
Aside from the potent leisurely effects, White Russian is also an excellent medicinal plant. For example, to combat chronic pain and various other physical and mental discomforts.
Medical marijuana patients also say this strain is ideal for relieving symptoms associated with stress and anxiety.
Side effects
At higher dosages, White Russian may cause dizziness and anxiety and, on rare occasions, mild paranoia. New users are advised to limit their consumption with this strain due to its potency.
However, dry mouth and dry eyes are usually the only unwanted effects, so keep a bottle of sarsaparilla by your side.
Smell and taste of White Russian feminized
White Russian scent is extremely fragrant with an incense-like, sweet, and woody aroma.
Her White Widow heritage is evident from the slightly skunky flavors, which resemble a mix of incense, lemon, and exotic wood complemented by a spicy aftertaste.
Origin of White Russian feminized marijuana seeds
We can't help but feel a little proud, seeing that the White Russian strain is of Dutch origin.
This powerful hybrid was initially developed by the Dutch seedbank Serious Seeds 20 years ago.
We have to hand it to them: crossing what is perhaps the most popular strain globally with the equally famous AK-47 was indeed a stroke of genius.
Today, White Russian marijuana seeds are among the most potent in the world.
To say the cannabis industry was impressed by this fantastic strain would be an understatement. Since her debut, she has found her way into the hearts of stoners worldwide, winning award after award.
General first prize High Times Cannabis Cup in 1996, the second prize "Extracts," Highlife Cup 2013 in Amsterdam, First prize during the El Punto Cup 2005 in Málaga, and won the best Bio Grass in 1997, to name a few.
Buy the best White Russian feminized cannabis seeds at Weedseedsexpress
What distinguishes Weedseedsexpress from your average seedbank? We deliver high-quality seeds discreetly worldwide (to most countries), offer a competitive price, secure payment methods, and the most hospitable customer support in the branch.
Browse our potent Sativas or indulge in a typically indica strain. In addition, we now offer the legendary White Russian seeds for sale among these fantastic seed strains.
The impressive progeny of White Widow and AK-47, multiple award-winning strain that produces fast-growing plants and is suitable for novice growers. White Russian seeds truly excel in every aspect.
Still not convinced? Check out what our customers say about this great strain by reading the White Russian reviews here.
Smoking White Russian buds is something every cannabis enthusiast should try at least once. So don't waste another minute and order the best White Russian feminized seeds today at Weedseedsexpress.
Payment & Delivery
You might also like these seeds
White Russian feminized seeds alternatives