Triangle Kush
feminized seeds
They say all good things come in three, but sometimes they are all combined into one: Triangle Kush feminized seeds.
Jump to description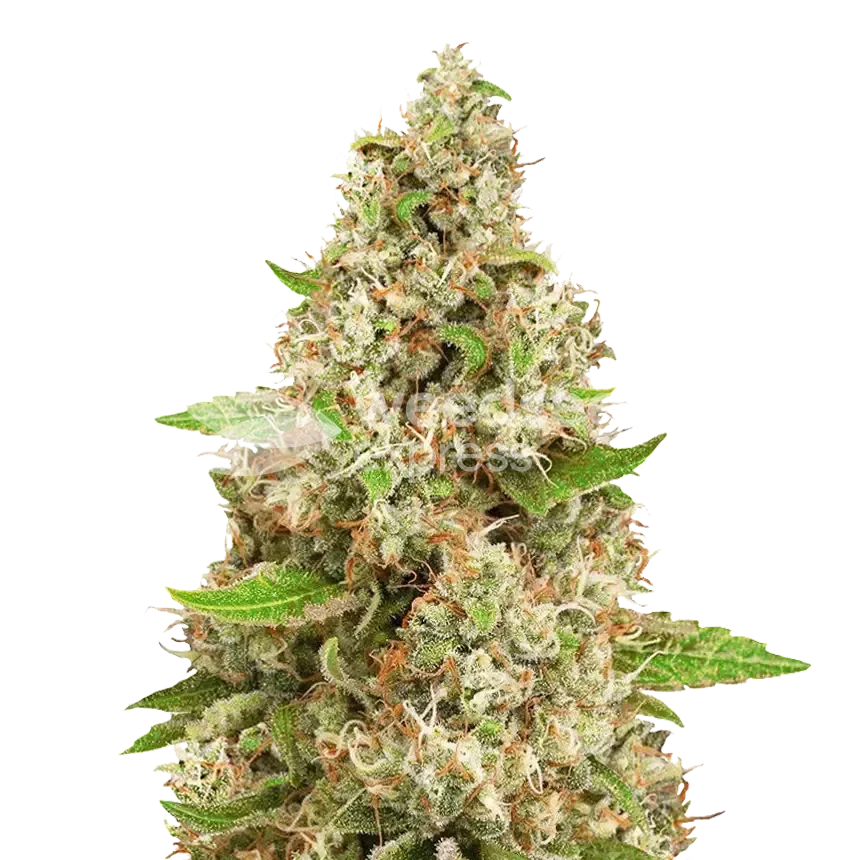 Triangle Kush Strain Info
Genetics
Chemdawg x Hindu Kush x Lemon Thai
Yield indoor
350-500 grams per m2
Yield outdoor
550-700 grams per plant
Flowering time
65-70 days
Cultivation
Greenhouse, Indoor, Outdoor
Climate
Polar, Temperate, Mediterranean, Mountains
Flavors
Citrus, Earthy, Herbal, Sweet, Woody, Kush, Diesel, Sour
Effects
Calming, Energetic, Euphoric, Happy, Relaxed, Sleepy, Uplifting
Terpenes
Fenchol, Borneol, Camphene, Ocimene, Alpha Pinene, Beta Caryophyllene, Eugenol, Cadinene, Citral, Alpha Cedrene, Humulene
Triangle Kush feminized seeds
Triangle Kush feminized is an Indica-dominant strain that consists of a three-way cross between Chemdawg x Hindu Kush x Lemon Thai.
Originally from the so-called "Emerald Triangle" in Florida, Triangle Kush features a sweet, diesel-like, spicy aroma with a skunky undertone thanks to her OG Kush heritage.
We believe that the collection of an Indica lover would not be complete without Triangle Kush. Wonderfully relaxing effects, typical Kush flavor and aroma, and surprising ease of growing.
Discover why you should grow Triangle Kush weed with our feminized Triangle Kush cannabis seeds. For an even easier and quicker grow, check out our Triangle Kush autoflower seeds.
Why you should buy Triangle Kush feminized cannabis seeds:
Easy to grow

Great harvest potential

Potent and relaxing effects
Growing Triangle Kush feminized seeds (indoors and outdoors)
Feminized Triangle Kush seeds are easy to grow and suitable for indoor, outdoor, and greenhouse growing environments. With little effort, she produces impressive harvests and is lenient towards beginners' mistakes.
Entirely in line with her dominant Indica genetics, the Triangle Kush feminized strain possesses a characteristic Indica look. These plants don't grow very tall during early growth, but their horizontal growth is rather significant, resulting in a compact, bushy plant.
A thick covering of trichomes surrounds and covers the buds, giving them a dense, clustered appearance. The deep green leaves with amber pistils also ensure a beautiful dash of color.
Regardless of your grow, medium Triangle Kush loves organic soil, which is recommended for optimum results.
Our Triangle Kush weed seeds are feminized seeds. This entails that they have been specially cultivated, so they contain no male chromosomes, meaning you will grow guaranteed female plants full of juicy buds.
Flowering time
When growing Triangle Kush feminized seeds, prepare for a flowering stage of 65 - 70 days. This means outdoor growers in the Northern Hemisphere can harvest early to mid-October.
Plant height
Triangle Kush feminized marijuana seeds grow into medium-sized plants. Considering Triangle Kush's convenient size, they can be grown in various indoor and outdoor environments.
Indoors, she remains relatively short, with a height between 80 cm and 120 cm max on average, making her an ideal option for small spaces. Outdoors, this bushy Indica will grow to an average height between 90 and 150 cm.
Triangle Kush feminized yield
Even though Triangle Kush is notable for her low maintenance requirements, her yields can be quite substantial.
The harvested buds are thick, resinous, dense, and sticky. Under ideal conditions, indoor growers can rejoice in a yield of 350 to 500 grams per m².
Grow your Triangle Kush plant outdoors, and the reward of an astonishing yield of 700 grams per plant will be no exception.
Effects of Triangle Kush
Like most Indica dominant varieties, the effects of Triangle Kush are incredibly calming and focus mainly on the physical. However, that is not to say that she doesn't also provide a unique and slightly euphoric buzz that instantly brings about an uplifted feeling of happiness. Combined, these effects ensure a tension-easing anti-stress sensation, leaving the user clear-headed, content, and relaxed.
Medicinally speaking, Triangle Kush has been reported to have excellent sedative, anti-inflammatory, and relaxing properties that may help aid with chronic pain, nausea, and muscle spasms.
Side effects
Triangle Kush feminized is not associated with any severe or unpleasant side effects, apart from dry eyes and dry mouth. The latter can be easily remedied by staying hydrated before and during consumption.
Smell and taste
Triangle Kush's unique terpene profile is responsible for the classic but unique Kush scent. Pungent diesel and earthy notes combined with sour citrus and sweet bubblegum all at once.
In terms of flavor, Triangle Kush provides an equally earthy and woody aroma with a sour, sharp citrus overtone accented by spicy fuel and herbal elements with just a hint of sweetness.
Origin
Feminized Triangle Kush seeds originated in Florida in the early '90s when Hindu and OG Kush phenotypes rapidly gained popularity. Her name is derived from Florida's three main cannabis-producing cities: Miami, Tampa, and Jacksonville.
Triangle Kush seeds arose from an ingenious three-way cross between Chemdawg x Hindu Kush x Lemon Thai. This sour twist on classic genetics and the relaxing high make Triangle OG Kush a must-have for indica connoisseurs.
The best Triangle Kush feminized seeds for sale at Weedseedsexpress
Weedseedsexpress sells high-quality seeds and ships them discreetly to many countries worldwide. Add to this, stellar customer support, and a wealth of articles and blogs that will help you grow as a grower.
Whether it is your first time growing cannabis or you have already realized many successful harvests, Kush seeds are sturdy and forgiving strains suitable for every skill level.
And that includes Triangle Kush strain seeds. They are easy to grow, produce generous yields, and offer happy, uplifting, yet relaxing effects. Add to that a complex and delicious flavor profile, and you get why the strain is immensely popular.
Start your new growing adventure and buy the best Triangle Kush marijuana seeds from Weedseedsexpress today.
Payment & Delivery
You might also like these seeds
Triangle Kush feminized seeds alternatives