Triangle Kush
autoflower seeds
This dreamy, kushy strain is a renowned classic in her own right. Now grow her quickly and easily with Triangle Kush autoflower seeds.
Jump to description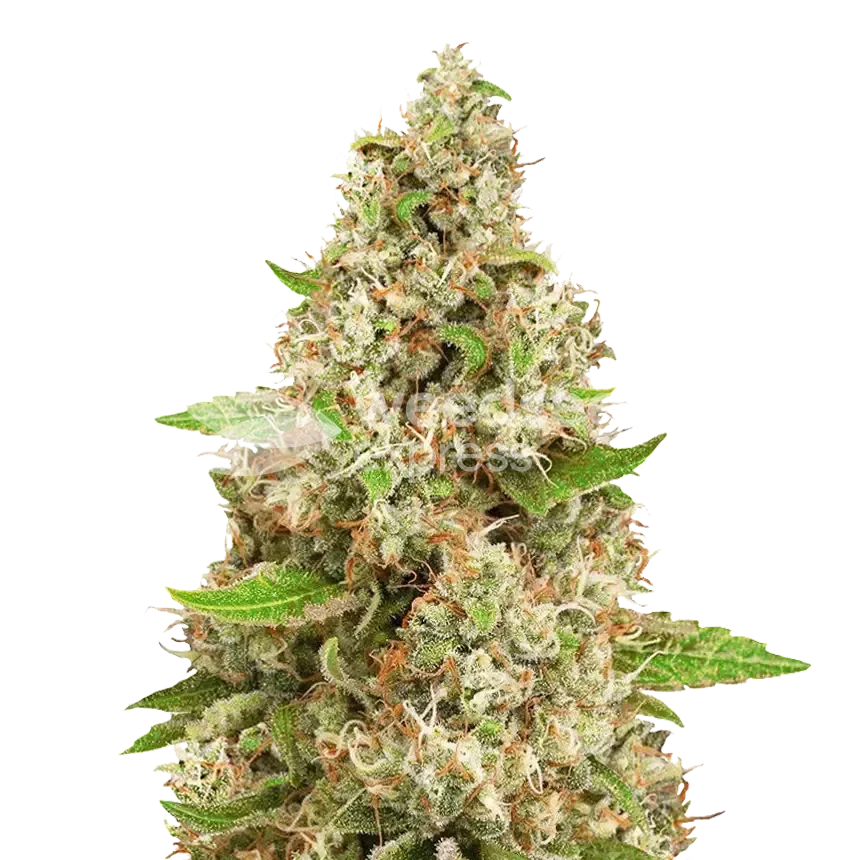 Triangle Kush autoflower Strain Info
Genetics
Triangle Kush x Ruderalis
Yield indoor
150-200 grams per m2
Yield outdoor
200-250 grams per plant
Flowering time
50-60 days
Cultivation
Greenhouse, Indoor, Outdoor
Climate
Arid, Mediterranean, Temperate
Flavors
Citrus, Earthy, Spicy, Sour, Skunk, Pungent
Effects
Euphoric, Happy, Uplifting
Terpenes
Alpha Pinene, Beta Pinene, Alpha Humulene, Linalool, Ocimene, Guaiol, Alpha Bisabolol
Triangle Kush autoflower seeds
The spicy and lemony flavored Triangle Kush originated in the Emerald Triangle Florida, where an Emerald Triangle female accidentally crossed with pollen from a Hindu Kush plant.
The resulting seeds went on to play a significant role in shaping cannabis genetics. As one of those seeds came to be OG Kush and the other Triangle Kush, which would eventually become world-renowned varieties.
Auto Triangle Kush seeds contain all the amazing characteristics of the original Triangle Kush feminized with an incredibly brief vegetative stage and significantly shorter flowering time.
Continue reading to find out more about the amazing features our Indica-dominant autoflowering Triangle Kush marijuana seeds have to offer. In case you are a grower with a bit more patience, our Triangle Kush feminized seeds will give you an even bigger harvest!
Why you should buy Triangle Kush auto-fem seeds:
Many benefits both recreationally and medical

Very short flowering time

Easy to grow
Growing Triangle Kush autoflower seeds (indoors and outdoors)
Cannabis seeds from the Triangle Kush auto variety are easy to grow and can be grown indoors, outdoors, and in greenhouses.
Keeping true to her dominant Indica genetics, Triangle Kush auto has a characteristic Indica appearance. An abundant layer of frosty white trichomes surrounds and covers the buds, giving them the appearance of dense clusters. A beautiful splash of color is also added by the deep green leaves with amber pistils.
All our autoflower seeds are feminized cannabis seeds. This means your crop will consist of 100% female plants.
Flowering time
Triangle Kush auto is extremely fast flowering: your crop of fragrant, sharp citrus smelling buds will be ready to harvest after only 50 to 60 days of flowering!
For outdoor cultivation in the Northern Hemisphere, you can even complete two full harvests with this fantastic automatic variety.
Plant height
A cannabis seed grown from Triangle Kush auto will blossom into a small plant that will fit easily fit most grow spaces.
In indoor gardens, this results in plants with an average height of between 60 and 100 cm. Even when growing outdoors, Triangle Kush auto rarely exceeds 100 cm.
Triangle Kush auto yield
While Triangle Kush auto remains short-statured, she still offers nice yields.
The average indoor yield will generally be between 150 and 200 per m². For outdoor growers, the average yield will range between 200 and 250 grams per plant.
Effects of Triangle Kush auto
Triangle Kush auto's effects are incredibly calming and primarily physical, like most Indica dominant varieties.
She does, however, provide a unique and mildly euphoric cerebral buzz that instantly elicits a feeling of happiness. Together, these effects result in a tension-easing, stress-relieving sensation, leaving the user relaxed, content, and level-headed.
Medicinally, Triangle Kush auto's excellent anti-inflammatory properties may give aid with chronic pain, sore joints, and muscle spasms. The sedative and relaxing elements can help treat mood disorders such as anxiety or stress.
Side effects
As with most strong Indica dominant varieties, some minor adverse effects may occur. Couch lock is a risk when overdoing it or for people who are sensitive to THC. However, the most common side effects will likely be limited to dry eyes and a dry mouth. Remaining properly hydrated and optionally some eye drops swiftly resolve these issues.
Smell and taste
Triangle Kush's terpene profile creates its classic, yet unique take on the kush aroma. The sour citrus and sweet skunk flavors are complemented by pungent diesel and earthy notes.
With the addition of spicy fuel and herbal elements with just a touch of sweetness, Triangle Kush offers a delicious blend of earthy, pungent Skunk aroma and sour, sharp citrus overtones.
Origin
Triangle Kush seeds originated in Florida in the early '90s from an ingenious three-way cross between Chemdawg x Hindu Kush x Lemon Thai. She owes her name to the home to three of the most significant cannabis-producing cities in the world: Miami, Tampa, and Jacksonville. This trio is also known as the "Emerald Triangle".
By adding a potent ruderalis into the mix Mephisto genetics created a fast-growing variety of these stellar genetics.
The best Triangle Kush autoflower seeds at Weedseedsexpress
At Weedseedsexpress, we only sell weed seeds of the highest quality from unique strains as well as world-famous bestsellers in our online store and offer a germination guarantee!
Seeds of the Triangle Kush autoflowering strain are easy to grow, produce generous yields, and provide happy, uplifting, yet relaxing effects. A complex and delicious sweet flavor profile only adds to the strain's appeal.
Order your high-quality seeds of this amazing autoflowering strain today at Weedseedsexpress, and you'll swiftly be able to enjoy your very own Triangle Kush cannabis!
Payment & Delivery
You might also like these seeds
Triangle Kush autoflower seeds alternatives