Trainwreck
feminized seeds
Purchase Trainwreck seeds and grow a potent and exhilarating Sativa-dominant hybrid that's well-known for its bold and mind-bending high.
Jump to description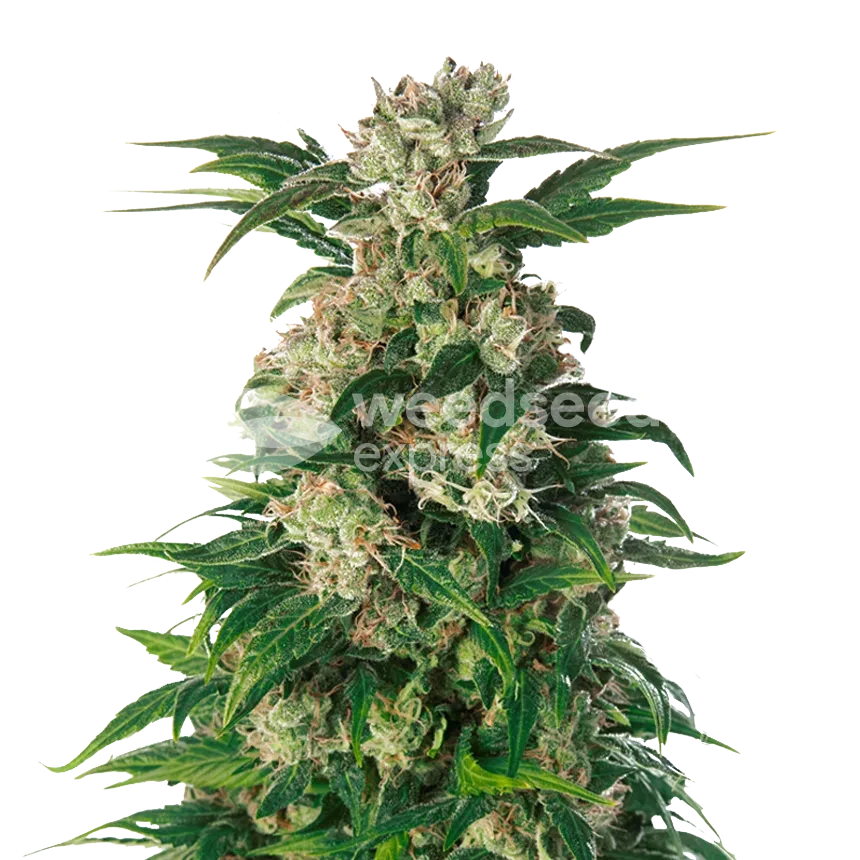 Trainwreck Strain Info
Genetics
Mexican x Thai x Afghani
Yield indoor
400-500 grams per m2
Yield outdoor
500-850 grams per plant
Height outdoor
140-220 cm
Flowering time
56-63 days
Cultivation
Indoor, Outdoor, Greenhouse
Climate
Mediterranean, Arid, Tropical
Flavors
Earthy, Sweet, Citrus
Effects
Creative, Euphoric, Calming, Focused, Relaxed
Terpenes
Phytol, Borneol, Eucalyptol, Valencene, Alpha Humulene, Beta Pinene, Alpha Pinene, Beta Caryophyllene, Limonene
Trainwreck feminized seeds
Popular throughout Northern California, this great strain possesses a wonderful woody aroma with layers of sharp, sweet citrus. Unlike other Sativa hybrids, Trainwreck wears her Indica qualities well, producing long-lasting and soothing effects that will leave you relaxed and in total euphoria.
A new favorite among hobby growers, Trainwreck is a dream to work with. She grows lusciously green and grey thanks to the thick trichome coverage. It's a sure-fire hit with Sativa fans looking for their next classic strain.
Why you should buy feminized Trainwreck seeds:
Big THC blast with stimulating effects

Aromatic sweet and citrus aroma

Well-loved for her medicinal use

Great yield potential
Growing Trainwreck (indoors and outdoors)
Trainwreck feminized cannabis seeds will suit all growing environments, from indoor and outdoor areas to dedicated greenhouses and tents.
Its Sativa characteristics mean that enough space is required to pull off the biggest and best yields. While fairly easy to grow, some knowledge goes a long way in pruning, training and providing the right nutrients. Trainwreck boasts a high resistance to mold and mildew.
Trainwreck marijuana seeds are well suited to indoor growing as long as you can afford the space. Good quality soil planting and hydroponic setups see great success with this plant. Warm and dry environments are important, so try to avoid too much humidity. The most important thing about growing indoors is control.
Trimming is essential to prevent her from over-shooting and spreading. By removing lower branches and leaves, you'll allow greater light access to the stem and buds. Many see great success with SCROG techniques.
Try to keep things between 18 °C and 30 °C for the best harvests.
Plants grown from Trainwreck feminized marijuana seeds thrives outdoors, but she is limited by specific climates. Dry Mediterranean environments are best with plenty of sunlight and little temperature variation. Frost, in particular, can be disastrous. As long as you've got these prime conditions, you can expect massive harvests and plants that tend to flower early.
Don't have an abundance of warmth and sunlight? Use a greenhouse.
Tip:
Soil is very important for both indoor and outdoor growth. Begin with soils rich in nutrients like calcium and magnesium. You can then dress the soil as your Trainwreck begins the flowering process.
Flowering time
Trainwreck feminized has a relative short flowering time of 56 to 63 days, which translates to 8-9 weeks of flowering time.
Plant height
Trainwreck's Sativa genetics dominate, allowing heights of between 125 and 155 cm indoors. It's important to promote stockier and bushier growth through trimming if you're short on space. Outdoors, things get much bigger, with potential heights of over 220 cm.
Trainwreck yield
Trainwreck's biggest yields are possible in the wide outdoors. Here, you can expect to harvest between 500 and 850 grams per plant. Indoor yields are equally impressive, offering 400 to 500 grams per square meter.
Effects of Trainwreck
When smoking Trainwreck weed, she will give you a potent and balanced high, with THC levels of up to 20%.
She doesn't get its name Trainwreck without reason, as she will take you head-first into a powerful euphoria. The effects can be described as a creative blast, providing inspiration and long-lasting happiness. There's also a pain-numbing and relaxing full-body experience thanks to the balance of Indica genetics.
Medical patients reach for Trainwreck to help combat issues like ADHD and PTSD. It's also a fine form of stress relief, clearing the mind and promoting positive thinking. Those suffering joint pain, muscle spasms or chronic pain can also benefit from Trainwreck, using this cannabis strain for pain relief. That's because of the wide-spreading relaxing properties that help combat body-wide pain.
Side effects
Trainwreck is associated with a number of potential side effects. It's recommended that you watch the dosage, particularly if you have a low tolerance to THC. Too much can leave you paranoid or anxious.
More prevalent issues include typical Sativa-related smoking effects such as dry mouth, dry eyes and dehydration. Always stay hydrated and keep liquids at hand to mitigate these effects.
Smell and taste
Trainwreck possesses an instantly recognizable aroma of sharp and sweet citrus loaded with earthy, pine-like qualities. This is all topped with a lemon-lime sourness.
The flavor is just as mouth-watering, with a zingy lemony taste with a little bit of sweetness added. She might even give you feelings of nostalgia, as the taste is reminiscent of those lemon candies your grandma used to give you when you were smaller. Much of these deep flavors come from the thick THC-laced buds, which sparkle with resin.
Origin
The Trainwreck strain is the brainchild of two Californian brothers. First grown in the world-famous "Emerald Triangle" of Northern California, it's a buzzing cross between three renowned 70s strains.
Thai Sativa, Mexican Sativa and Afghani Indica genetics give her a legendary status related to the Summer of Love.
The mythos of how this marijuana strain got her name comes from her supposed grow site. It was said to be the place of a real train crash that happened decades ago when cannabis was still illegal in California. The resulting investigations led many growers to relocate their harvests. One such harvest was Trainwreck.
Her genetics are mostly Sativa, but there's a solid 40% Indica in there for added couch lock.
The best Trainwreck seeds for sale at Weedseedsexpress
Purchase a pack Trainwreck cannabis seeds and get started with a true Californian legend. You'll find high-quality seeds of every kind at Weedseedsexpress, from USA staples to European classics. If you order your next order at Weedseedsexpress you can expect discrete and guaranteed shipping, free extra seeds and a germination guarantee.
Are you mad about Sativas or looking to try out a mythical Californian strain? Buy Trainwreck feminized seeds and you will be growing this amazing sativa dominant strain before you know it.
Payment & Delivery
You might also like these seeds
Trainwreck feminized seeds alternatives