Super Lemon Haze
feminized seeds
Sour faces are something of the past when you can grow your own uplifting lemony weed with Super Lemon Haze feminized seeds.
Jump to description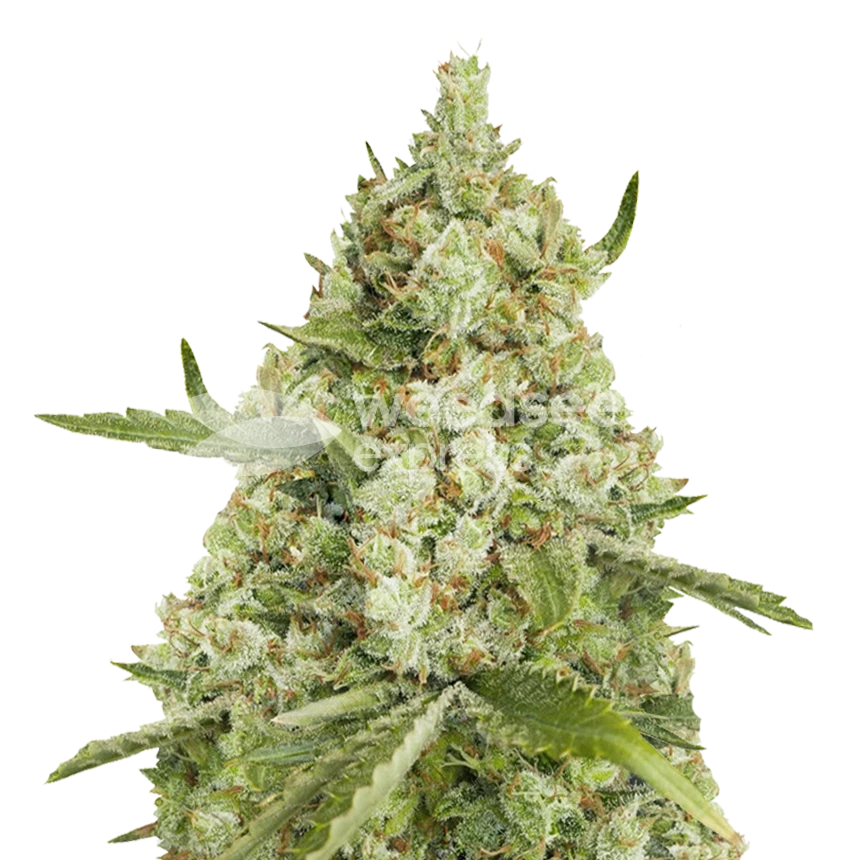 Super Lemon Haze Strain Info
Genetics
Lemon Skunk x Super Silver Haze
Yield indoor
600-700 grams per m2
Yield outdoor
700-900 grams per plant
Height outdoor
180-200 cm
Flowering time
65-70 days
Cultivation
Indoor, Outdoor, Greenhouse
Climate
Arid, Mediterranean, Temperate
Flavors
Pungent, Fruity, Lemon, Haze, Sweet, Sour
Effects
Cerebral, Uplifting, Euphoric, Energetic, Creative, Arousing
Terpenes
Beta Caryophyllene, Terpinolene, Myrcene, Limonene
Super Lemon Haze feminized seeds
Super Lemon Haze is not only a multiple-time Cannabis Cup winner itself, she is the daughter of one too. Stemming from a cross of Super Silver Haze x Lemon Skunk, this sativa dominant hybrid will leave you a happier person, both for the energizing effects and the aromas.
The Super Lemon Haze strain's flower smells like lemon. We assure you just need to take a candy sweet whiff, and you will want to grow your own pot from these Super Lemon Haze seeds.
Keep reading if you want to learn more about growing these feminized Super Lemon Haze cannabis seeds. We also offer Super Lemon Haze autoflower seeds in case you have less patience, and want to try out her homegrown buds as soon as possible.
Why you should buy Super Lemon Haze feminized cannabis seeds
Lovely lemon taste

Euphoric uplifting high

Sublime yield potential
Growing feminized Super Lemon Haze seeds (indoor/outdoor)
Feminized Super Lemon Haze seeds are suitable for growing indoors, yet they also flourish outdoors or in greenhouse environments. The latter can be vital if you are not growing in warm, temperate climates like California or Southern Europe, as she needs the full heat of the sun.
Due to the heavier sativa genetics, Super Lemon Haze plants are very much on the taller side, so keep that in mind when you are setting up your grow space.
Talking about grow space, experienced growers have multiple options to optimize their harvest, to hit the upper limit of the yield potential. You can use organic soil, hydroponic systems, ScrOG and LST to maximize your yield.
Like our entire catalog of feminized cannabis seeds, our Super Lemon Haze feminized seeds grow only female plants, which means you do not have to deal with male plants. Male plants don't grow those lovely Super Lemon Haze buds, and they can even pollinate your female plants. Always choose feminized seeds if you want to ensure the highest possible yield.
Flowering time
While she is not the fastest cannabis strain when it comes to flowering, Super Lemon Haze marijuana seeds do not need more than 10 weeks to finish their flowering period.
If you plant her seeds in early spring (Northern Hemisphere), you should be able to harvest mid-October.
Plant height
Super Lemon Haze feminized seeds grow quite a tree, and while she can already be a lot to deal with indoors, outdoors is where this plant really stretches.
Grown indoors, Super Lemon Haze can be between 100 and 150 meters tall. This tall plant stretches even further outdoors, up to 2 meters in height!
Super Lemon Haze feminized yield
Both indoors and outdoors, Super Lemon Haze seeds are high-yielding champs among lemon strains. Indoors, you can yield up to 700 grams per square meter.
Outdoors, come harvest time, after growing weed from these Super Lemon Haze seeds, you can expect up to 900 grams per plant. Quite the autumn (or fall for our American customers) treat.
Effects of Super Lemon Haze feminized weed
As you might expect from a haze strain, Super Lemon Haze will be able to uplift you into a euphoric state, combined with a typical sativa energy boost.
Your brain is also more susceptible to creative ideas, making her an ideal strain for artistic brainstorming. Just keep a notepad close, as you might forget some of your innovations after you fall asleep.
This sativa dominant hybrid also leans itself suitable for fun activities between the sheets, as her indica heritage is enough to relax you, yet doesn't turn you into a lazy couch potato.
Side effects
Too much of a good thing is saying that rings true for Super Lemon Haze marijuana. If you indulge a little too excessively, you can experience paranoia. Other than that, your eyes and mouth can get dry a little. Just stay hydrated, and that shouldn't become much of an issue.
Smell and taste of Super Lemon Haze marijuana
Weed from this Super Lemon Haze strain does her name justice. Her pungent lemon smell is a treat for your nose.
Your taste buds soon will follow, with a more sweet lemon flavor, something her aroma already gave away. The tangy presence is accompanied by that typical taste of haze, which makes sense given her heritage.
Origin of Super Lemon Haze feminized seeds
Super Lemon Haze has a long history. It all started with Amsterdam cannabis legend Arjan Roskam, who created the legendary Super Silver Haze, which won multiple consecutive Cannabis Cups in the late 90s.
Ten years later, a cross of Super Silver Haze x Lemon Skunk also won a couple of Cannabis Cups, again consecutively. Just like its predecessor, this new lemon Super Silver Haze type was embraced by the entire cannabis community.
The best Super Lemon Haze feminized marijuana seeds for sale at WeedSeedsExpress
At WeedSeedsExpress, we offer a wide range of the highest quality weed seeds, including high yielding seeds. We also offer a stellar customer support, a germination guarantee, and discreet shipping. No need to worry when ordering your seeds at our online seed bank.
Super Lemon Haze is a great strain that will put you in an excellent mood. Not only will this super sativa weed boost your energy, but her lovely citrus aromas will surely turn your frown upside down.
Want to grow the lemony sequel to one of the biggest strains from Amsterdam? Buy Super Lemon Haze feminized seeds today at WeedSeedsExpress.
Payment & Delivery
You might also like these seeds
Super Lemon Haze feminized seeds alternatives