Super Lemon Haze
autoflower seeds
Want to grow sweet lemon-flavored weed that will uplift your soul? Super Lemon Haze autoflower seeds will get you what you desire, in record time.
Jump to description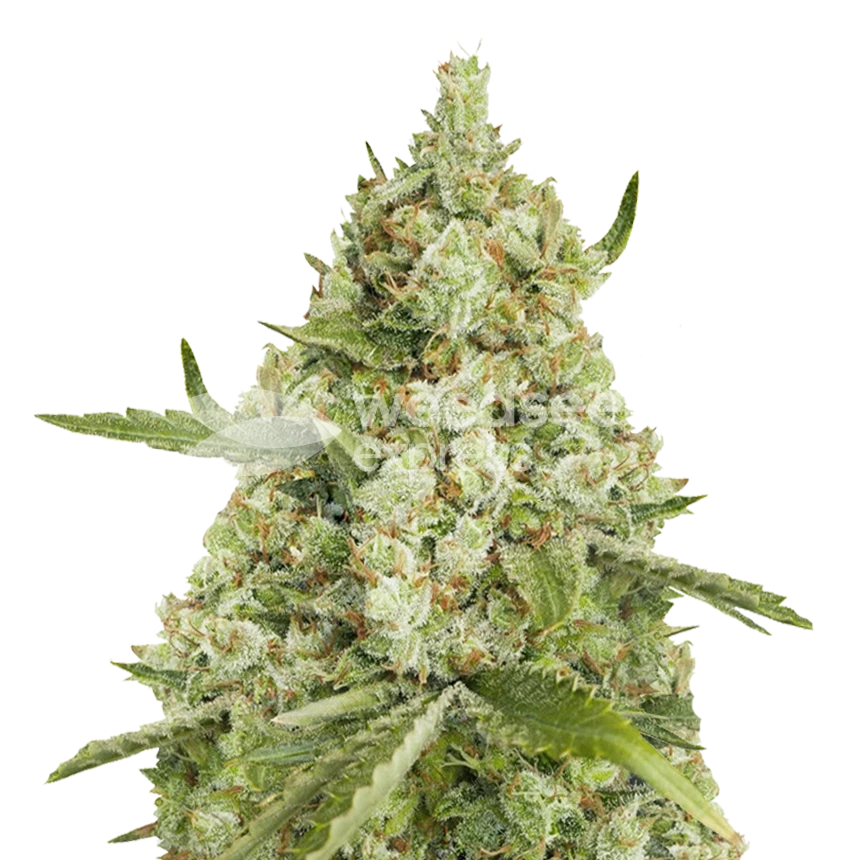 Super Lemon Haze autoflower Strain Info
Genetics
Super Lemon Haze x Ruderalis
Yield indoor
450-500 grams per m2
Yield outdoor
70-100 grams per plant
Height outdoor
100-150 cm
Flowering time
56-63 days
Cultivation
Indoor, Outdoor, Greenhouse
Climate
Mediterranean, Temperate, Tropical, Arid, Mountains
Flavors
Sweet, Lemon, Citrus, Sour
Effects
Relaxed, Cerebral, Powerful, Creative, Social, Happy, Uplifting
Terpenes
Beta Caryophyllene, Terpinolene, Myrcene, Limonene, Linalool, Cymene
Super Lemon Haze autoflower seeds
Super Lemon Haze auto cannabis seeds are a Super Silver Haze descendant, with an even more acquired citrus taste, due to the cross with Lemon Skunk. The ruderalis thrown in the mix help this strain push to an even shorter growing process.
A powerful cerebral, yet relaxing high makes her a perfect kick-starter for a social gathering, party, or just to make doing the dishes a bit more fun. And in its automatic form, you don't have to wait long to try out her lovely lemon buds.
Want to know more about our Super Lemon Haze autoflowering marijuana seeds? Continue reading! Are you a seasoned grower with a little more time and space available? For an even greater yield, be sure to check out our Super Lemon Haze feminized seeds!
Why you should buy Super Lemon Haze autoflower cannabis seeds
Can be grown in many different climates

Sweet lemon candy flavors and aromas

Harvested in less than three months
Growing Super Lemon Haze autoflower cannabis seeds (indoor/outdoor)
You are not limited to one type of growing setup with Super Lemon Haze auto weed seeds. Indoor growers can count on a compact plant that will fit their grow space. Outdoors, she thrives best in warmer regions, but this Super Lemon Haze strain can still be grown in colder climates as long as the spring and summer seasons are not too cold (10° C/50° F should be the absolute minimum during the flowering stage).
Due to the ruderalis genetics, this sativa-dominant hybrid is considered one of our seeds for beginners. She is hardy, mold-resistant, and grows faster than lightning. Both a quick vegetative and flowering stage help shorten the life cycle of this auto strain.
Like all our autoflower seeds, Super Lemon Haze auto is feminized, meaning her marijuana seeds grow only female plants. This is important if you don't want male plants messing up your yield potential.
Flowering time
The flowering phase of Super Lemon Haze auto usually takes about eight to nine weeks. As the vegetative phase can already be over within less than a month, with flowering commencing in the third week, the total seed-to-harvest period can take you less than 2.5 months.
Not only does that mean you can get a very quick yield, but it also means you can harvest this high-quality strain twice in one (outdoor) growing season. That is simply not possible with any photo-period version.
Plant height
Super Lemon Haze auto plants stay rather small when grown indoors, growing to a height between 50 and 100 centimeters.
Outdoors, a grower can expect more of a medium-sized plant, stretching to 100 to 150 centimeters.
Super Lemon Haze auto yield
Come harvest time, this auto-flowering version of Super Lemon Haze seeds is capable of producing nice yields, especially indoors.
Experienced growers who cultivate their weed seeds indoors can hit 500 grams per square meter. Outdoors, in optimal conditions, you can yield up to 100 grams per plant.
Effects of Super Lemon Haze autoflower weed
As you can expect from a hybrid that's heavily sativa, Super Lemon Haze is a perfect daytime strain. A light body stone helps you relax, but doesn't make you feel apathetic. In fact, her uplifting high, which hits fast, will help you take care of any daily chores.
Super Lemon Haze auto weed is also perfect for social situations, like a fun party. This sativa dominant strain can aid you in producing art, enabling your creative mind, induced by this clear cerebral high.
Medical marijuana users have reported Super Lemon Haze can help elevate their mood.
Side effects
While the THC percentage is not off the charts, this strain's super sativa high can still elevate your paranoia levels. Dose moderately if you are more susceptible to this state of mind.
Other than that, you can experience dry eyes and mouth. Stay hydrated with water and eye drops, and you should be good.
Smell and taste of Super Lemon Haze marijuana
If you are a lemon lover, you should rejoice when you experience Super Lemon Haze's deliciously citric taste and aroma.
Best compared to those sweet lemon candies, this strain's flavor is just simply mesmerizing.
Origin of autoflowering Super Lemon Haze seeds
The original Super Lemon Haze cannabis seeds came about when the legendary Arjan Roskam mixed two famous strains. One of which won multiple Cannabis Cups back to back, ten years before Super Lemon Haze did the same. We are talking about Super Silver Haze, which is next to White Widow, one of the staples of the Amsterdam cannabis scene.
Super Lemon Haze auto is a combination of Super Silver Haze, the indica Lemon Skunk, and ruderalis genetics. This makes the plant even easier and quicker to cultivate.
The best Super Lemon Haze autoflower seeds for sale at WeedSeedsExpress
WeedSeedsExpress' seed bank is full of amazing, high-quality marijuana seeds, from high THC to CBD seeds. Our stellar customer support team is ready to answer any questions you might have about our catalog, germination guarantee, or discreet shipping.
Weed cultivated from Super Lemon Haze seeds offers a complex sativa effect that not only helps you stay in a good mood, but can also aid you in creative or social situations. She can take that edge off and push your mind to look at things from a different angle.
Enjoy the citrus smoke, and buy Super lemon haze autoflowering seeds today at WeedSeedsExpress.
Payment & Delivery
You might also like these seeds
Super Lemon Haze autoflower seeds alternatives