Super Glue
feminized seeds
Being the undisputed Superman of the Glue family seeds, this potent marijuana strain rightfully deserves its adjective.
Jump to description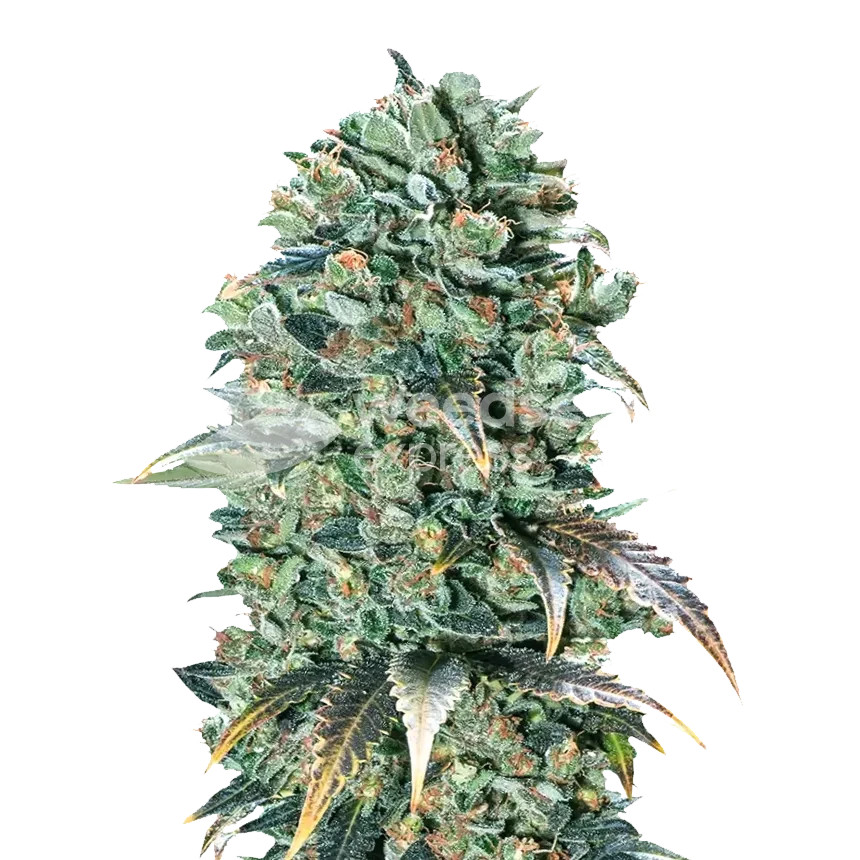 Super Glue Strain Info
Genetics
Afghani Hashplant x Northern Lights
Yield indoor
400-500 grams per m2
Yield outdoor
500-600 grams per plant
Height outdoor
120-150 cm
Flowering time
49-63 days
Cultivation
Indoor, Outdoor, Greenhouse
Climate
Polar, Temperate, Mediterranean
Flavors
Earthy, Pine, Woody
Effects
Energetic, Happy, Relaxed, Social
Terpenes
Terpinolene, Beta Pinene, Alpha Pinene, Beta Caryophyllene, Linalool, Limonene, Beta Caryophyllene Oxide, Humulene
Super Glue feminized seeds
The Super Glue feminized, AKA "Tacky Glue" is a high-yielding strain that requires little maintenance. A beautiful Indica 60% - Sativa 40% hybrid with genetics descendant from the Afghani Hashplant x Northern Lights which provides the plant a predominantly Indica growth pattern, a THC level of 19%, and impressive yields.
Superglue provides deeply relaxing effects while maintaining alertness and sufficient energy for social interactions or work-related activities. Is it 4:20 yet?
Are you curious what else feminized Super Glue strain seeds have to offer? Let's find out together!
Why you should buy feminized Super Glue cannabis seeds:
THC level of 19%

Powerful relaxing effects

Harvest ready quickly
Growing Super Glue feminized (indoor and outdoor)
Our Super Glue feminized seeds are suitable for indoor and outdoor use. Categorized moderately difficult to grow with medium mold resistance, since the strain is slightly more susceptible to fungi. She also needs more space, so the airflow between the plants can circulate well. This will prevent problems during the flowering cycle.
Because the Indica genes are dominant, our Super Glue strain grows mainly in an Indica growth pattern during the flowering cycle (especially in width and less in height).
Don't panic when the dark green leaves become yellow halfway through the flowering period. This is just part of the process.
Flowering time
Thanks to its flowering stage of only 7-9 weeks, the Super Glue strain is quick to harvest and produces beautiful buds with lots of THC crystals.
An interesting fact is that the Super Glue strain's odor is limited during flowering, making it a great option for growers who desire discretion and are looking for a not too heavily fragrant cannabis plant. 
Outdoors, harvesting can be done between the end of September and the end of October.
Plant height
The height of Super Glue is categorized as medium height. This entails that indoors, the average height varies between 80 and 120 cm.
Growing Super Glue feminized seeds outdoors, your plants grow to a max height of 150 cm.
Super Glue feminized strain seeds yield
With feminized Super Glue seeds, you can expect a bountiful harvest, especially if you apply SoG or SCroG methods.
This strain is known for its qualitative yields, which can be as big as 400-500 grams per m² indoors.
When growing Super Glue feminized seeds outdoors, the impressive yield can even add up to 600 grams per plant! 
Cannabis cultivators looking to produce excellent harvests will definitely not be disappointed by Super Glue cannabis seeds.
Effects of Super Glue feminized
Super Glue weed contains both Indica and Sativa genetics, which is noticeable in the effects.
The uplifting Sativa properties and the THC percentage of 19% ensure a mellow, mild high, while the Indica properties provide a physical relaxation. This makes the weed very suitable for an evening of long-lasting tranquility.
Its profoundly relaxing medical properties are also said to be helpful for those who have bipolar disorder and various other mental afflictions.
Side effects
After consuming Super Glue weed, make sure to keep a beverage nearby to avoid those pesky dry eyes and cotton mouth. Other than that, the Super Glue strain has no significant adverse effects.
Smell and taste
Super Glue weed has delicious flavors and smells in which especially hashish, sweet caramel, woody, and pine scents can be recognized.
This unusual mixture of flavors and smells isn't sharp, but rather smooth and soft.
Origin of Super Glue strain seeds
Originally created by Seedism Seeds, which combined Northern Lights with an Afghani Hashplant landrace strain, Super Glue is a slightly indica-dominant hybrid strain.
Due to its potency, desirable effects, and high yields, it didn't take long for Super Glue to make a name for itself outside the West Coast of the US.
Winning various prices and gaining some outstanding finishes in multiple High Times Cannabis Cups eventually earned this Afghani Hashplant x Northern Lights cross its well-deserved recognition with the rest of the world.
The best feminized Super Glue seeds for sale at Weedseedsexpress
Are you looking for fast shipping to most countries worldwide? You've found us! We offer regular deals and special offers, are constantly expanding our already elaborate selection of quality seeds, and offer germination and delivery guarantees.
Take our Super Glue feminized seeds for instance. These sweet caramel and pine-scented, high THC weed seeds have everything you would expect from a potent hybrid strain. These marijuana seeds grow into vigorous plants that ensure generous harvests time and time again.
Are you ready for your next order of Super Glue feminized seeds? Experience what it is like to grow Super Glue feminized yourself and order these magnificent cannabis seeds today at Weedseedsexpress.
Payment & Delivery
You might also like these seeds
Super Glue feminized seeds alternatives