Strawberry Kush
feminized seeds
Stop daydreaming of Strawberry Kush, because now you can grow this fruity and potent Indica-dominant strain yourself!
Jump to description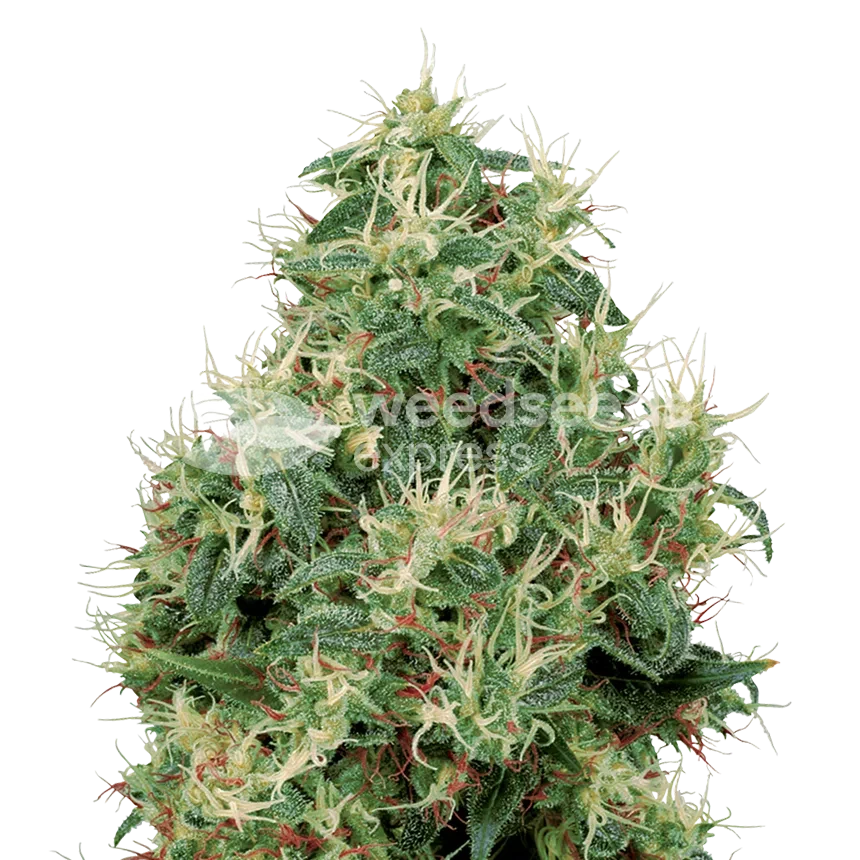 Strawberry Kush Strain Info
Genetics
Strawberry Cough x OG Kush
Yield indoor
400-500 grams per m2
Yield outdoor
500-600 grams per plant
Height outdoor
120-150 cm
Flowering time
63-70 days
Cultivation
Indoor, Outdoor, Greenhouse
Climate
Temperate, Mediterranean, Arid
Flavors
Earthy, Herbal, Sweet, Strawberry
Effects
Happy, Relaxed, Stoned, Arousing, Creative, Energetic, Euphoric, Talkative, Uplifting
Terpenes
Nerolidol, Fenchol, Phytol, Borneol, Camphene, Ocimene, Terpinolene, Alpha Pinene, Beta Caryophyllene, Linalool, Limonene, Eugenol, Cadinene, Citral, Alpha Cedrene, Humulene
Strawberry Kush feminized seeds
With genetics relating to the legendary OG Kush, it's a highly soothing and calming strain that's beloved for its relaxing properties. It's a fairly well-known strain that's highly sought from the coast of California to the bustling streets of Amsterdam.
Feminized Strawberry Kush cannabis seeds grow into sturdy and bushy plants with large colas that produce dense THC-laden buds. So-named for its strawberry aroma and flavor, it also grows pretty pink and red pistils as the flowers mature. This Berry Kush possesses all the properties we love about the Kush strain, from an uplifting high to stable growing genetics. Introduce this excellent variety to your cannabis grow room today.
Why you should buy Strawberry Kush weed seeds:
Suitable for beginners

High THC levels

Relaxing effects

Resilient growing profile
Growing with Strawberry Kush seeds (indoors and outdoors)
Strawberry Kush is a versatile strain that can be grown indoors, outdoors and in greenhouses. What's more, she's got a resilient growing profile that's well suited for novices and experienced growers alike.
Strawberry Kush feminized seeds are perfect to be grown into indoor plants, as she does not enjoy every climate. Short and easy to manage, she thrives in both high-quality soil and hydroponic setups. While easy to manage and maintain thanks to her compact size, Strawberry Kush also responds very well to training methods like ScrOG and SOG. The colas produced by this strain are legendary – so be careful when topping to not stunt her exceptional growth.
Strawberry Kush plants can be grown outdoors, but she is restricted by climate. Ideally, you'll want to be growing in warm, Mediterranean-like conditions with low humidity and plenty of sunlight. Strawberry Kush tends to grow more branchy and tall when cultivated outdoors. To keep everything in check, regular pruning and training methods are recommended. If you don't have a climate that's best suited for growing Strawberry Kush seeds, the plants do adapt very well to greenhouses.
Tip: Many indoor growers have adopted SOG methods to best utilize the strain's compact growth and large top colas.
Flowering time
Strawberry Kush has a relatively short flowering time of between 63 and 70 days, depending on light and temperature. If you're growing outdoors, you can expect to be harvesting Strawberry Kush starting in September. Remember to cool things down during the flowering stage by a few degrees to aid the production of even, resinous buds.
Plant height
Strawberry Kush is a medium-growing strain that can be trained in compact spaces too. Indoors, you can expect heights of between 80 and 130 cm. These numbers expand considerably when grown outdoors, where Strawberry Kush plants can reach up to 150 cm.
Strawberry Kush yield
Strawberry Kush has the potential to produce medium yields of 400 to 500 grams per m² indoors and up to 600 grams per plant outdoors. These higher-end yields are best achieved with training methods like SOG and ScrOG which exploit the plant's genetics for larger harvests.
Effects of Strawberry Kush
Strawberry Kush, while being a hybrid strain, has significant Indica genetics that gives it an immensely relaxing and soothing high. These full-body and mind effects can kick in rather quickly and are long-lasting. Perfect as an end-of-day smoke, you can be left glued to the couch if you're not careful. The significant THC content is best reserved for those with a good level of tolerance.
Strawberry Kush is ideal for medical users treating the symptoms of depression, anxiety and insomnia. As a mood enhancer, it's known for its uplifting and euphoric effects, which can help mitigate day-to-day stresses. What's more, Strawberry Kush's calming qualities can also be used to treat chronic pain and muscle spasms in patients.
Side effects
Some users report dry mouth and eyes when smoking Strawberry Kush. To combat these cottonmouth symptoms, simply remain hydrated at all times. Others have noted the onset of the munchies, so go easy on this strain if you're trying to watch your calorie intake. As with all high-THC strains, those with a low tolerance are prone to bouts of mind-racing, paranoia and anxiety. If you're not used to THC, keep your dosage small and ease your way up.
Smell and taste
Strawberry Kush's flavor profile is unmissable. She oozes potent Kush-like aromas of dank earth and musk. The taste is where the strawberry comes into play, like a skunky and sour sun-dried sweet strawberry candy. These flavors are mixed with earthy notes and a herbal hint.
If you enjoy this taste, yet would like a milder strain that is lower in THC, we also offer a Strawberry CBD version, that was derived from this Kush strain.
Origin
Strawberry Kush is a hybrid created by crossing an East Coast classic, Strawberry Cough, with the iconic OG Kush. Originating in the USA, this strain was once only available in clone cuttings. Today, however, you can pick up seeds to grow easily at home.
Just like its parent strain, OG Kush, Strawberry Kush leans more towards Indica in style, but sometimes creates more cerebral Sativa-like qualities. Strawberry Kush's other parent, Strawberry Cough, is noted for its rich strawberry aromas. The marriage of this aromatic and fruity strain with OG Kush has created a truly modern classic.
The best Strawberry Kush seeds for sale at Weedseedsexpress
Pick up a pack of feminized Strawberry Kush seeds from Weedseedsexpress and enjoy a fruity, high-THC strain. Our seed bank offers the freshest, high-quality seeds with excellent germination rates. Discover your next go-to marijuana strains, or branch out your cannabis garden with more genetic variety. All our marijuana seeds come with guaranteed delivery that's safe, secure, and discrete.
Enjoy growing Strawberry Kush in your home or garden setup today – it's a must-try strain for fans of the Kush lineage.
Payment & Delivery
You might also like these seeds
Strawberry Kush feminized seeds alternatives