Stardawg
feminized seeds
Want to grow a potent hybrid strain that's gained a reputation for its quality and sour, diesel-like notes? Buy feminized Stardawg seeds!
Jump to description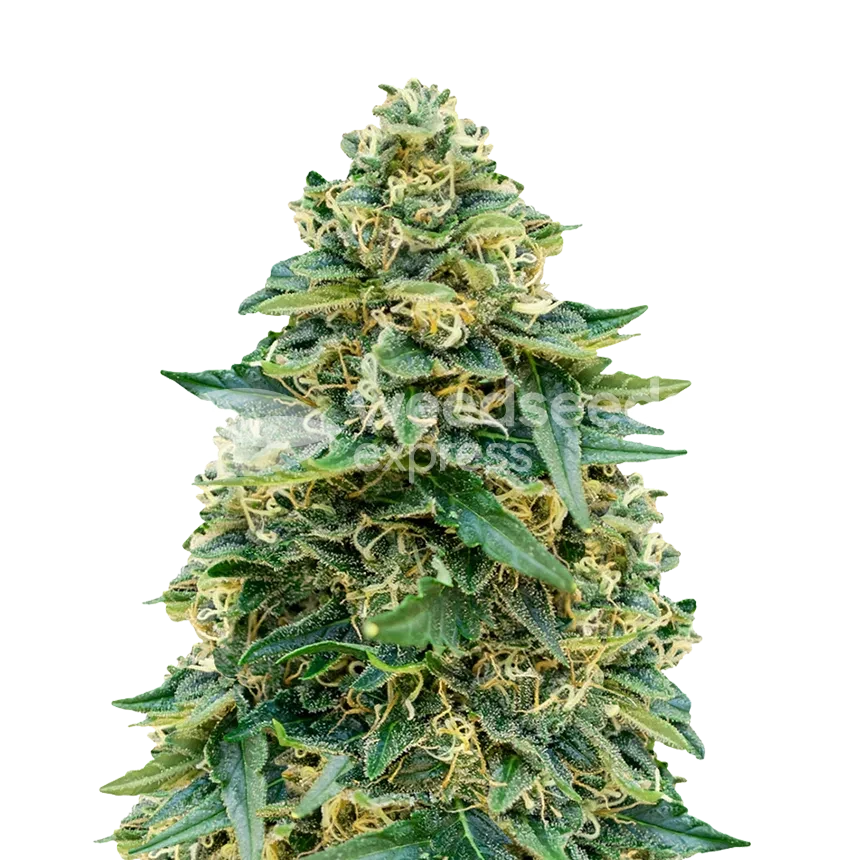 Stardawg Strain Info
Genetics
Chemdawg #4 x Tres Dawg
Yield indoor
400-500 grams per m2
Yield outdoor
300-400 grams per plant
Height outdoor
160-220 cm
Flowering time
63-70 days
Cultivation
Indoor, Outdoor, Greenhouse
Climate
Mediterranean, Arid, Tropical, Temperate
Flavors
Citrus, Lemon, Skunk, Pine, Diesel, Sweet
Effects
Creative, Energetic, Happy, Relaxed, Social, Talkative, Euphoric, Giggly
Terpenes
Nerolidol, Fenchol, Phytol, Borneol, Camphene, Terpinolene, Alpha Pinene, Linalool, Limonene, Eugenol, Citral, Alpha Cedrene
Stardawg feminized seeds
With its dynamic effects, Stardawg (also known as Stardog) is perfect for lively parties and late-night conversations. Having a genetic lineage dating back to the classics of the 1990s, it has excellent genetics.
Although originating in the United States, Stardawg has become increasingly popular in Europe and especially the UK. Understandably so! Stardawg's glittering crystal trichomes are a thing of beauty. While not for the faint of heart, Stardawg is perfect for those who love intense and supercharged strains.
Why you should buy Stardawg feminized seeds:
Extremely potent THC levels
Perfect for those who love intense strains
Uplifting effects that are perfect for patients
A joy to grow
Want to know more about feminized Stardawg seeds? Read on for details.
Growing Stardawg feminized seeds (indoors and outdoors)
Growing Stardawg feminized is a joy, but it's best to have some experience under your belt. While there's nothing particularly tricky about the process, you need to understand the intricacies of Sativa plants and their life cycle. So put in the effort, and she'll reward you with a fantastic harvest. We recommend high-quality organic soil, although hydroponics is also an excellent way to go.
When you have sufficient space available, Stardawg seeds can be cultivated indoors. However, with the potential to reach 180 cm in height, you'll have to top and crop if you're growing in tight areas. Stardawg has good resistance to mold and mildew, but it's still important to control and restrict humidity. Ideally, maintain room humidity levels of between 40% to 50%.
Low-stress training techniques are a real asset if you want to boost Stardawg's yields and promote resinous buds. ScrOG, in particular, is a helpful method to grow colas under a single light evenly. This technique will enable an above-average production of buds and allow you to maintain a tight growing space. In addition, pruning branches below the screen (or lower sections if you're not applying ScrOG) is essential to boost productivity.
Stardawg marijuana seeds are well suited to outdoor environments, but conditions must be ideal. Dry and warm, Mediterranean-like climates are best. Pick a spot that gets plenty of sunlight for harvesting in October. If your weather permits, you can plant her early, but watch out for downpours and cold waves.
Flowering time
The flowering time of the Stardawg generally takes between 9 and 10 weeks. This quick and reliable flowering period makes it ideal for those less patient growers.
Plant height
With Stardawg feminized seeds, you grow a versatile Sativa-dominant strain that can be trained to adapt to its surroundings. When growing Stardawg indoors, expect medium to tall heights of 120 to 180 cm. Outdoors, Stardawg truly thrives with heights of between 160 and 220 cm.
Stardawg yield
Yields depend on the quality of your nutrients, light, and space. A well-maintained Stardawg plant can produce harvests of between 400 and 500 grams per m² indoors. Yields tend to be more significant in outdoor setups, where you can expect between 300 and 400 grams per plant. You can optimize your yields by using low- or high-stress training, depending on your preference or experience.
Effects
Stardawg is a potent strain with THC levels that reach 24%. It brings about long-lasting euphoric effects that are typical of energetic Sativa strains. These uplifting and creative effects make this a popular party strain that induces giggles and deep conversations. Limit your dosage, and it's a fantastic wake-and-bake option too.
Side effects
Stardawg's high THC levels can adversely affect consumers with a low THC tolerance. These effects can include anxiety, palpitations, dizziness, and typical side effects like a dry mouth and dry eyes. However, the latter can be easily remedied by keeping hydrated. Stardawg is also renowned for inducing munchies – so mind your consumption if you are on a calorie-restricted diet.
Smell and taste
Stardawg is a winner among lovers of spicy and robust diesel aromas. These are characterized by rich forest and pine flavors and typical Sativa skunkiness.
Acidic, chemical, and umami undertones are all part of its complex flavor pallet, in which you will even discover light notes of citrus.
Please bear in mind that these dank and gas-like petrol aromas can fill the room quite quickly, making it less suitable for discrete situations.
Origin
Stardawg was created by crossing the renowned strains Chemdawg 4 with Tresdawg. The resulting hybrid combines the best of their vigor and zest, producing a supercharged strain and guaranteed to turn heads. While Sativa is dominant at 90%, there's roughly 10% Indica in there. Stardawg was named after the song "Stardog Champion" by proto-grunge band Mother Love Bone, in keeping with the "dawg" tradition. Star is also apt as it describes the strain's glittering appearance.
The strain itself was born in the United States and can be traced to a bag of mysterious Dog Bud that was bought in Colorado in the 1990s. Replicated and refined by the New York-based Top Dawg Seed Company, Stardawg is a 90s throwback with contemporary appeal. It didn't take long for the Stardawg cannabis seeds to make their way to California, where they gained a loyal fan base before their popularity spread across Europe.
The best Stardawg feminized seeds for sale at Weedseedsexpress
Pick up high-quality Stardawg seeds today at Weedseedsexpress and start your next home grow. Weedseedsexpress is your go-to platform for the best cannabis seeds, from old-school classics to future-proof stars. Every order comes with a germination and delivery guarantee, with safe and secure packaging that's always discreet.
Order Stardawg feminized seeds today and get introduced to an intense classic of the Chemdawg family.
Payment & Delivery
You might also like these seeds
Stardawg feminized seeds alternatives