Stardawg
autoflower seeds
We all have stars in our eyes when we look at the plants grown from Stardawg autoflower seeds. Now it's time to grow your own!
Jump to description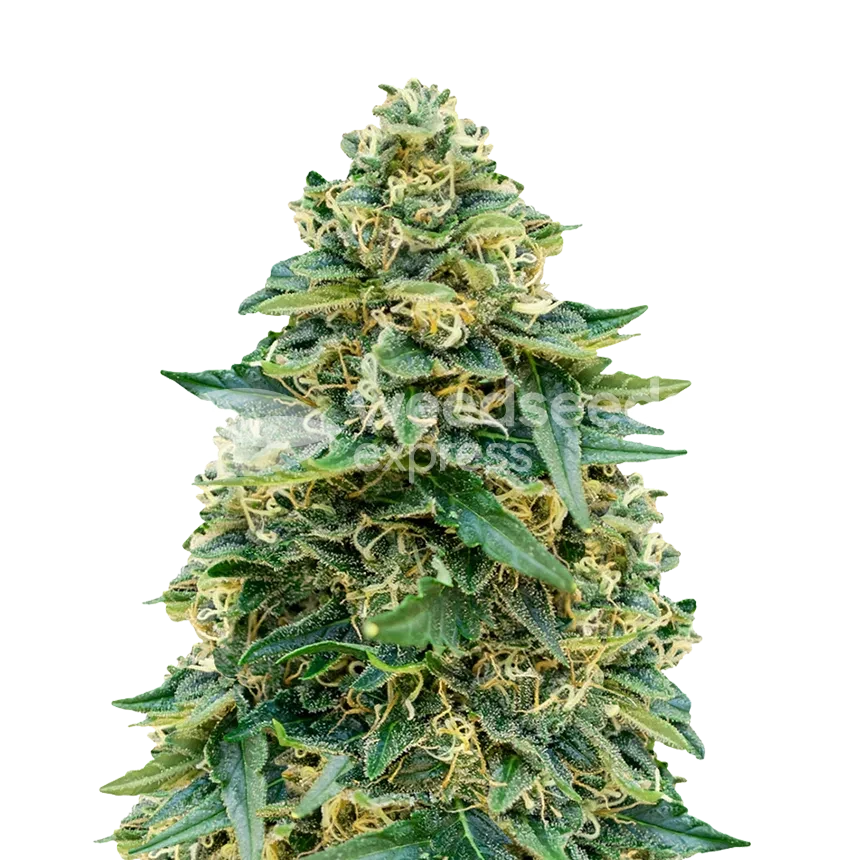 Stardawg autoflower Strain Info
Genetics
Stardawg Autoflower
Yield indoor
450-500 grams per m2
Yield outdoor
50-200 grams per plant
Flowering time
49-56 days
Cultivation
Greenhouse, Indoor, Outdoor
Climate
Cold, Temperate, Mediterranean
Flavors
Citrus, Pine, Lemon, Diesel, Earthy
Effects
Cerebral, Relaxed, Euphoric, Social, Giggly
Terpenes
Alpha Pinene, Alpha Cedrene, Borneol, Camphene, Citral, Eugenol, Fenchol, Linalool, Nerolidol, Phytol, Terpinolene
Stardawg autoflower seeds
The Stardawg autoflowering version of this very potent strain offers a very strong cerebral experience, just like the original, yet with a much faster growth cycle.
Her genetic lineage dates back to the classics of the 1990s, and boy does she have excellent genetics. By crossing the renowned strains Chemdawg 4 with Tresdawg, the resulting hybrid combines the best of their vigor and zest, producing a supercharged strain that induces a strong cerebral rush of euphoria.
With its light green color, a thick layer of crystalline resin, and orange pistils, Stardawg Auto develops absolutely stunning buds.
Can't wait to find out more about what more Stardawg autoflower seeds have to offer? Carry on then. Do you happen to be a grower with more experience and a bigger hunger for buds? Make sure not to pass by our Stardawg feminized seeds.
Why you should buy Stardawg auto-feminized seeds:
Growing Stardawg auto-feminized seeds (indoors and outdoors)
The addition of Ruderalis genes to this world-renowned variety resulted in an autoflowering strain that is very easy to grow, both indoors and outdoors. Stardawg Auto will grow relatively tall for an auto-flowering strain, so ensure that she has enough room to grow to her full potential.
Stardawg (sometimes written as Stardog) has good resistance to mold and mildew, but it's still important to control and restrict humidity. Ideally, with your indoor grow, maintain room humidity levels of between 40% and 50%. You may also want to invest in a good carbon filter, as the strain can be pretty fragrant.
With widening side branches flanking a tall main cola, this strain will display an aesthetically pleasing cola structure. She produces these girthy colas thanks to the ideal internodal spacing. Stardawg autos crystallized and bright trichomes covering the bright green buds are a sight to behold.
Like all our autoflowering varieties, the auto Stardawg strain is feminized. This means that your crop will be guaranteed to consist of female plants that won't create seeds, so you will know for sure the plant grows only smokable buds.
Flowering time
Stardawg auto-feminized seeds have a short flowering period of only 49 to 56 days. This means that you can treat yourself to a harvest of top-shelf green buds twice per season when growing outdoors.
Plant height
As mentioned, Stardawg Auto grows fairly tall for an autoflowering variety. This robust plant can reach a maximum height of 120 cm, both indoors and outdoors.
Stardawg auto yield
Like most chem crops, the autoflower Stardawg cannabis plant offers excellent yield potential.
Expect to harvest between 450 and 500 grams per m² indoors. Grown outdoors, you can obtain about 50 to 200 grams of fat buds per plant. These indications are based on ideal growing conditions.
Effects
The high concentration of THC (22%) in this fairly balanced hybrid gives the user a pleasant, uplifting, and energizing experience.
Stardawg effects also include a powerful Sativa head high accompanied by a rush of euphoria, making socializing easy and turning random conversations into the most hilarious things you've ever heard. The Indica properties ensure a major bodily heaviness due to the fact that all tension is released and muscles are completely relaxed.
Medicinally, Stardawg's uplifting effects could also be beneficial to help patients combat stress, anxiety disorders, and fatigue, as well as reduce nausea.
Side effects
Consumers with a low tolerance to THC may be adversely affected by the high THC levels of this very potent strain. These symptoms can include anxiety, palpitations, dizziness, and common side effects like dry mouth and dry eyes.
If you're on a calorie-restricted diet, also be mindful of Stardawg's tendency to induce munchies.
Smell and taste
Stardawg auto is characterized by the taste of rich citrus and pine with that quintessential chemical diesel and just a hint of skunkiness that oozes from her dense buds.
This smoke delivers a strong pine flavor with notes of diesel, delicious citrus, and earthy flavors for your taste buds. The perceptive user will detect acidic, chemical, and umami elements, as well as bitter undertones, which are all part of her complex flavor pallet.
Origin
This original hybrid strain was originally developed in the Bay Area of California as a cross between Chemdawg 4 and Tres Dawg.
Stardawg's name was likely derived from a combination of her crystalline trichomes (appearing like bright stars) and her Chem/TresDAWG progenitors. Stardawg is a 90s throwback with a contemporary appeal that rapidly gained a loyal fan base in both the US and across Europe.
Adding ruderalis genes into the Stardawg genetic mix ensured an even faster-growing variety of this old-school classic without compromising on yield or vigor.
The best Stardawg auto seeds for sale at Weedseedsexpress
Weedseedsexpress offers a wide range of high-quality cannabis seeds, from old-school classics to future-proof varieties. Every order comes with a germination guarantee, and we ship in stealth packaging that's always discreet.
If you are looking for an absolutely stunning variety with glittering crystals and orange pistils adorning fat buds that ooze a petrol and lemon scent, we have got the strain for you!
Stardawg auto consists of a balanced mix of top-notch genes from Chemdawg 4 and Tres Dawg mixed with a highly potent Ruderalis to ensure you can enjoy your Stardawg weed even faster! So pick up some high-quality Stardawg seeds today at Weedseedsexpress and get introduced to an intense classic of the Chemdawg family.
Payment & Delivery
You might also like these seeds
Stardawg autoflower seeds alternatives