Sour Tsunami CBD
feminized seeds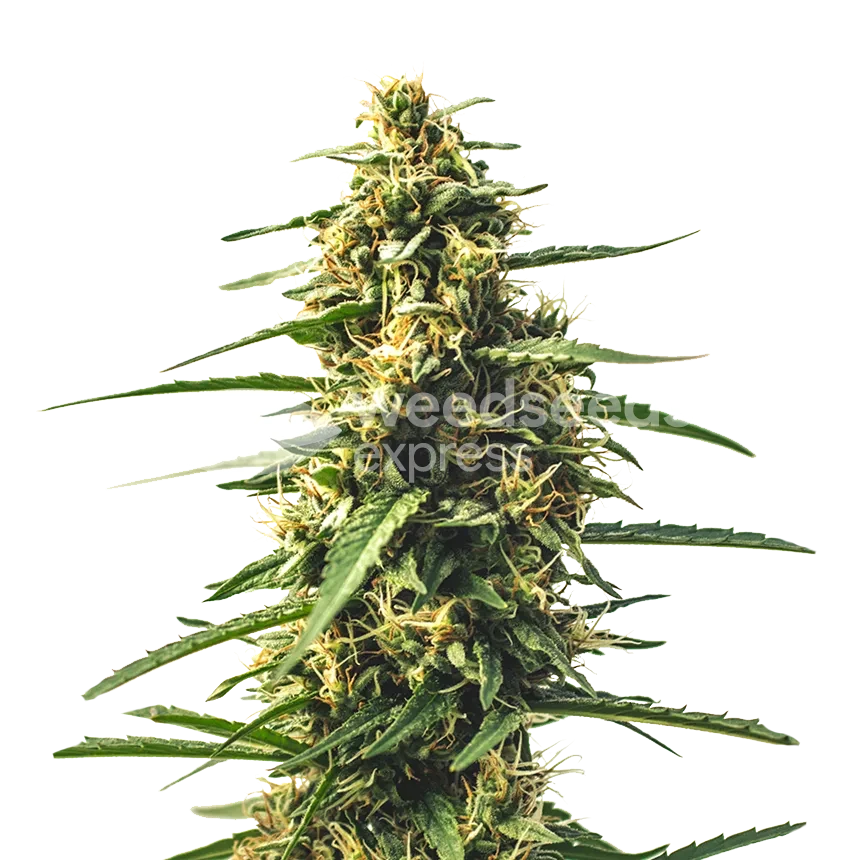 Sour Tsunami CBD Strain Info
Genetics
Sour Diesel X NYC Diesel X CBD
Yield indoor
350-450 grams per m2
Yield outdoor
400-600 grams per plant
Height outdoor
110-170 cm
Flowering time
49-63 days
Cultivation
Indoor, Outdoor, Greenhouse
Climate
Polar, Temperate, Mediterranean, Arid
Flavors
Sour, Diesel, Flowery
Effects
Energetic, Focused, Happy, Relaxed, Social
Terpenes
Alpha Bisabolol, Terpineol, Linalool
Sour Tsunami CBD feminized seeds
Just like our Sour Diesel, she is a Sativa dominant hybrid. However, unlike that Diesel strain, Sour Tsunami has very high CBD levels, around 13%.
CBD is known for its relaxing and calming properties and is a non-psychoactive cannabinoid. Thus, it does not have psychotropic effects that affect the nervous system or even the psyche (perception, mood, consciousness).
However, CBD does offer many medical qualities: analgesic, anti-inflammatory, and also anti-epileptic and anxiolytic. It is mainly used for diseases such as fibromyalgia or multiple sclerosis, but can be used for various purposes and is therefore a perfect strain for anyone who wants to experience the benefits of CBD pleasantly. So buy the feminized Sour Tsunami seeds and grow this rare CBD strain yourself!
Why you should buy Sour Tsunami seeds:
High in CBD and (very) low in THC

Good yields

Can be grown in a variety of conditions

Delicious sour, flowery, diesel taste
Growing Sour Tsunami CBD (indoor and outdoor)
Sour Tsunami is a fantastic CBD strain to grow. She is an Indica (40%) - Sativa (60%) hybrid strain and therefore slightly Sativa dominant.
You can grow this wonderful variety under different circumstances. You can think of indoor growing (in a grow tent), in a greenhouse or in the open air. The choice is yours!
As a Sativa-dominant hybrid, Sour Tsunami is recommended for people with some gardening experience. In fact, you have to be careful with temperature and humidity. The fact that these seeds are feminized, however, makes the task of growing a good yield a lot easier. 
Flowering time
It doesn't take long before you can collect and dry your harvest. All in all, the flowering phase of Sour Tsunami CBD takes about 49 to 63 days.
After this short flowering period, you can look forward to cutting off all the buds. In doing so, there is a good chance that you will realize a great harvest.
Tip
Take great care in the drying and curing process for ultimate quality weed.
Plant height
Sour Tsunami is an exceptionally stocky Sativa dominant strain when it comes to height, which will please those with limited indoor space. She grows to between 90 and 130 cm indoors and reaches a maximum height of 170 cm outdoors.
Sour Tsunami yield
Sour Tsunami cannabis plants are known to develop lots of weed. The maximum yield indoors is 350 - 450 g/m². Outdoors, in warm, sunny conditions, the harvest is usually better with 600 grams per plant not being uncommon.
Tips
Harvest in early October for optimal results

Optimize your harvest by using a training method like SOG or SCROG
Effects of Sour Tsunami CBD 
CBD buds are often used in self-medication to "feel good". For example, they help to recover after exercise or improve the quality of sleep. All these properties make Sour Tsunami an excellent choice for those looking to treat (a range of) medical conditions.
Sour Tsunami CBD is a powerful medicinal strain. Its psychoactivity ranges from mild to none. It may be suitable for people with multiple sclerosis, epilepsy, muscle spasms or chronic pain. She is also known for her relief of arthritis and other inflammatory diseases.
With an absolute maximum of 1% THC, you won't get high from Sour Tsunami. However, people who want to relax will love it.
Side effects
Sour Tsunami is not associated with any adverse side effects other than the infamous dry eyes and mouth. So keep a bottle of water nearby to stay hydrated.
Smell and taste
One of the most notable features of Sour Tsunami is its wonderful smell and taste, which can best be described as citrus, flowery and sour.
Sour Tsunami is also known for its complex terpene profile. A cannabis plant's terpenes provide the distinguished aroma, but experts believe they may also provide medical benefits. The main terpenes in Sour Tsunami are Linalool, Alpha-bisabolol and Terpineol
Origin
Sour Tsunami belongs to the first generation of CBD strains that have become incredibly popular. This high CBD content strain is the result of a cross between Sour Diesel and NYC Diesel. 
Originally, Sour Tsunami was developed in Humboldt, California, by Laurence Ringo of the Southern Humboldt Seed Collective. Ringo suffered from severe back pain and was unwilling to take opioid medication. So he developed this variant to use on himself. It ultimately took Ringo four years to create the Sour Tsunami strain. However, the results were nothing short of fantastic.
The best feminized Sour Tsunami CBD seeds for sale at Weedseedsexpress
For years, Sour Tsunami feminized seeds were extremely difficult to find. Now, growers all over the world are happy to have the chance to grow this amazing strain themselves.
Pungent flavors and a pleasant high are waiting for you, so don't miss out! At Weedseedsexpress we have the best Sour Tsunami CBD seeds for sale! Not only can we stand for our high quality Sour Tsunami marijuana seeds, among other strains, we also offer germination guarantee, discrete shipping and free seeds with every order!
So don't fret and order your next batch of Sour Tsunami CBD feminized seeds now!
Payment & Delivery
You might also like these seeds
Sour Tsunami CBD feminized seeds alternatives