Sour Diesel
feminized seeds
Do you love Sativa dominant weed and are you ready to grow a true classic? Sour Diesel feminized seeds are what you are looking for!
Jump to description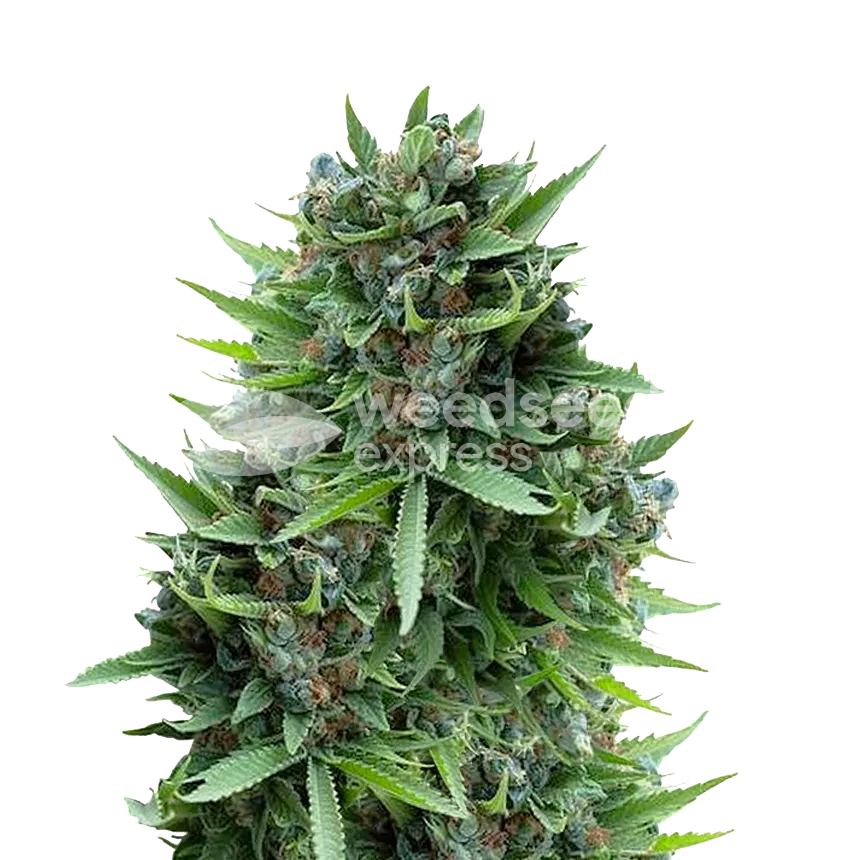 Sour Diesel Strain Info
Genetics
Chemdawg 91 x Super Skunk
Yield indoor
400-500 grams per m2
Yield outdoor
500-600 grams per plant
Height outdoor
160-300 cm
Flowering time
63-70 days
Cultivation
Indoor, Outdoor, Greenhouse
Climate
Temperate, Mediterranean, Arid, Tropical
Flavors
Herbal, Citrus, Pine, Diesel
Effects
Creative, Energetic, Focused, Happy, Relaxed, Uplifting
Terpenes
Camphene, Alpha Bisabolol, Beta Phellandrene, Terpinolene, Alpha Pinene, Beta Caryophyllene, Linalool, Limonene, Beta Farnesene, Humulene
Sour Diesel feminized seeds
The Sour Diesel cannabis strain is a strain of the highest quality, known for her potency and resinous buds. Her Sativa seeds are quite easy to grow, and her weed has great flavors, plus insanely uplifting effects!
Wondering what the Sour Diesel cannabis seeds have to offer for your next grow? Keep reading and be tempted by this Sour D strain.
If you want to grow Sour Diesel buds even faster? Consider checking out our Sour Diesel autoflower seeds as well!
Why buy feminized Sour Diesel seeds:
Suitable cannabis seeds for beginners

Short growing time of just over ten weeks

Great harvest potential

Powerful, cerebral, and uplifting high

Unique lemon and diesel flavor and aromas
Flowering time
The flowering time for this mostly sativa strain is relatively short, somewhere between nine and ten weeks for these female plants.
Buying Sour Diesel seeds means that a harvest of wonderful buds is never far away.
Yield
Considering you don't have to wait crazy long to enjoy the fruits of your labor, you probably want to know how many Sour Diesel flowers you can consume after finishing the growing process.
Outdoors, these cannabis seeds for sale have a harvest potential of up to 600 grams per plant. Indoor growers can expect up to 500 grams per m2 under ideal conditions when growing Sour Diesel marijuana seeds.
Are you growing outdoors in the Northern Hemisphere? You should be able to harvest in early October.
Effects
The Sour Diesel strain is hugely popular with recreational users looking for improved mood and increased energy levels. You will experience a strong feeling of obvious euphoria.
Sour Diesel is therefore considered to be a real stimulant. This energy boost can also fuel your creativity, opening up your brain for new ideas. Just make sure you have your pen, brushes, or keyboard close by when the inspiration hits you.
As a Sativa dominant strain, her Indica effects are barely noticeable. Her typical qualities provide the consumer with intense cerebral experiences.
Sour Diesel's high has a fast, long-lasting effect that you can still feel five hours later. This weed is therefore ideal to smoke during the day or in the early evening.
Another great advantage of Sour Diesel is the fact that this strain will never make you paranoid. Like most sativa dominant strains, she can make you rather social and even turn you into a very talkative character.
The weed also possesses medicinal qualities. Consumers may use it in a healthy dose to relieve depression, pain, stress, and other lesser ailments.
THC Level
Once upon a time, Sour Diesel would have been considered an extremely potent strain. Yet with some of our high THC weed seeds reaching over 30%, Sour Diesel is on the modest side, with 20% THC content.
But don't be fooled by this moderately high level of THC. She can still creep on the novice cannabis consumer and those who are sensitive to THC.
Smell & Flavors
As you might expect with the name Sour Diesel, the taste has a distinct diesel-fuel-like tone that can be quite pungent but is wonderfully nuanced by lemony herbal flavors.
While the Sour Diesel smell may seem a tad intense at first, it is actually quite pleasant. Soft, citrusy, and earthy.
Height
Sour Diesel cannabis seeds will grow into tall plants. When grown indoors, her average height is between 120 cm and 160 cm.
When grown outdoors in the open ground, the height of Sour Diesel plants can reach somewhere between 160 cm and 300 cm.
Origin
Sour Diesel, which is also known as Sour D, is a descendant of Super Skunk x Chemdawg 91. Sour Diesel's parents have resulted in a strain that took respectable spots as Cannabis Cup seeds.
In 2014, she took third place in Denver for the People's Choice Cup: Flowers. She moved up to second place in 2020 for the Sativa Flower Winners, down in Illinois.
Like many legendary strains, Sour Diesel originated on the sunny west coast of California in the 1990s. Currently, she is considered one of the best hybrid genetics on the cannabis market, with her high quality seeds beguiling many growers.
Grow Tips
Prefers dry, warm climates with low humidity.

Can reach heights up to 300 cm in ideal outdoor conditions.

Suitable for indoor or greenhouse cultivation.

Ensure ample space when growing indoors.

Be vigilant; the strain is susceptible to mildew.

Maintain a clean and sterile growing environment.

Consider pruning to manage plant height.

Grow in small pots to further control size.

Utilize training methods, like ScrOG (Screen of Green), for size management.

Use high-intensity lights for indoor cultivation.

Give roots adequate space for optimum growth.
Why buy feminized Sour Diesel seeds at WeedSeedsExpress?
Stellar Customer Support - Our company is built on customer service, and we aim to reply to all emails within 24 hours or less.
Germination Guarantee - We are confident in the quality of our cannabis seeds. That's why we guarantee that they will germinate. If they don't, we'll replace them for free.
Fast Worldwide Shipping - We pride ourselves on our fast shipping. With distribution centers in the US and EU, we can ship seeds to most of our customers as quickly as three days.
Free Seeds - Get FREE seeds included with any order when purchasing five or more seeds.
Payment & Delivery
You might also like these seeds
Sour Diesel feminized seeds alternatives