Skywalker OG
autoflower seeds
You don't need to travel to a galaxy far far away, to try this cosmic strain. Just force pull yourself a pack of Skywalker OG autoflower seeds and start growing!
Jump to description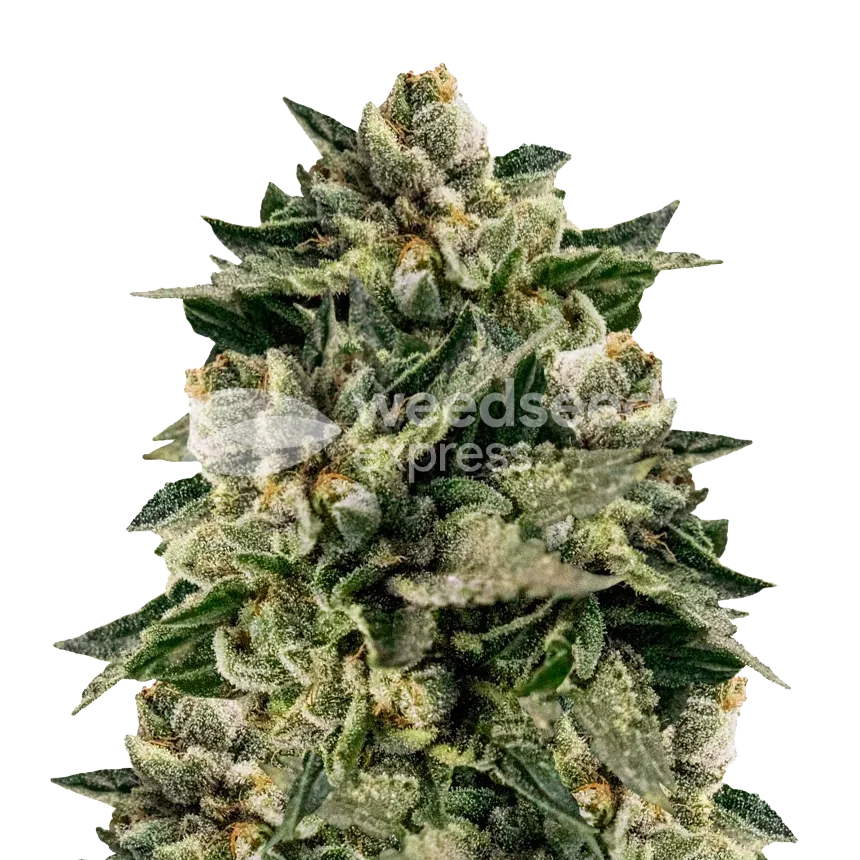 Skywalker OG autoflower Strain Info
Genetics
Skywalker Kush Cut (selected from DNA seeds) x Triangle F3
Yield indoor
350-400 grams per m2
Yield outdoor
80-120 grams per plant
Flowering time
44-49 days
Cultivation
Greenhouse, Indoor, Outdoor
Climate
Cold, Mediterranean, Temperate
Flavors
Earthy, Pine, Sweet
Effects
Relaxed, Cerebral, Stoned, Euphoric
Terpenes
Beta Caryophyllene, Camphene, Camphor, Eugenol, Fenchol
Skywalker OG autoflower seeds
"You must unlearn what you have learned". Yoda could not have been more right, because Skywalker OG auto is a major game-changer when it comes to highly potent OG Kush varieties.
This variety offers all the amazing genetic features of the original Skywalker OG. Expertly wrapped into a juicy and astonishing autoflower package with 22% THC content. Impressive yield, glistening THC crystals, and her high quality make this OG Kush variety one of the most beloved strains throughout the galaxy.
Find out all there is to know about this intergalactic strain, and keep reading. In case you have more experience as a grower, and you would love an even higher yield, make sure to also take a look at our Skywalker OG feminized seeds.
Why you should buy auto Skywalker OG seeds:
Induces relaxation and mental clarity

Created with the original US genetics of Skywalker OG

Fast flowering and incredible yields
Growing Skywalker OG autoflowering seeds (indoors and outdoors)
Skywalker OG autoflower is an Indica-dominant cannabis strain that thrives both indoors and outdoors. When grown outdoors, she prefers a temperate to dry and warm climate, such as that on Tatooine or, a bit closer, California.
Keep in mind that, when the humidity levels are high, the plant has an increased risk of mold growth. Skywalker OG auto grows into medium-sized, strong plants that grow without much foliage.
By employing a simple process of leaf tucking, you can encourage her to shoot branches up without interfering with overall growth. Her open structure allows good air and light penetration and therefore increased yields. Her moderate internodal length makes her very manageable.
She gains a very distinctive appearance during the flowering stage. The flowers produce fine, pointy leaves with a tendency to curl upward. The buds, whilst not outright singularly large, are incredibly dense.
Furthermore, the dense buds on this aromatic autoflower literally explode with shiny white trichomes. The glorious kushy flowers dripping with abundant resin reveal the immense potency of this super auto. Like Princess Leia and all of our autoflowering varieties, Skywalker OG auto is 100% female!
Flowering time
Another major benefit of Skywalker OG auto is that she has a very short flowering time of only 44 to 49 days. This allows the outdoor grower to realize multiple harvests of this pine-flavored Christmas tree per season!
Plant height
Skywalker OG auto is an exquisite little beauty. With an indoor height of only 80 to 90 cm, she lends herself perfectly when your grow space is limited. Outdoors, the Skywalker OG auto plants only grow slightly taller to a maximum height of 120 cm.
Skywalker OG autoflower yield
While she might be little short for a stormtrooper, in terms of yield Skywalker OG super auto is a force to be reckoned with.
In an indoor setting under optimal growing conditions, the plant will yield 350–400 grams per m². The outdoor yield will vary between 80 and 120 grams per plant.
Effects 
The force is strong with Skywalker OG, making her a potent weed strain with intense effects. Smoking Skywalker OG auto can be quite an exhilarating experience which can feel quite mind-expanding.
Expect full body relaxation with a light psychedelic edge. As would be expected from an Indica dominant strain with a high THC content, this Skywalker OG auto strain leaves you feeling relaxed and slightly euphoric.
Side effects
"Fear is the path to the dark side..." So to avoid pesky adverse effects like anxiety or paranoia, moderation is key.
A typical side effect is dry mouth and eyes. After consumption, you may also experience the munchies and possibly feel the need to take a nap.
Smell and taste
Skywalker OG is a powerful weed with an intense flavor. Many smokers report that the taste starts with a piney Kush flavor that slowly turns into a lemon with a tone of diesel. Therefore, it is quite an experience to taste Skywalker OG.
Origin
Skywalker OG has an undeniably catchy name. However, unlike the movie franchise, this outstanding autoflowering cannabis strain is not a George Lucas production. Rumor has it that the strain was originally created as "Sativa OG", but because the main breeder on this cultivation project was named Luke, she was later renamed Skywalker, after the famous movie character.
The auto Skywalker OG was created with a Skywalker Kush Cut (selected from DNA seeds) x Triangle F3.
The best Skywalker OG auto seeds for sale at Weedseedsexpress
At Weedseedsexpress we offer high-quality seeds, discrete delivery, and a germination guarantee on all of our weed seeds.
Skywalker OG offers everything that a grower could ask for in a strain. Mind-blowing effects, fast flowering, and a unique flavor palette make this autoflower strain so special. This super auto offers all the amazing genetic features of the original Skywalker OG, now as a powerful autoflowering variety with 22% THC content.
Buy the best Skywalker OG autoflower seeds today at Weedseedsexpress, and experience firsthand what this outstanding autoflowering cannabis strain has to offer!
Payment & Delivery
You might also like these seeds
Skywalker OG autoflower seeds alternatives