Sexxpot
feminized seeds
It is common knowledge that cannabis can be mildly aphrodisiac. However, one strain has been purposely bred to take this property to the next level: Sexxpot. 
Jump to description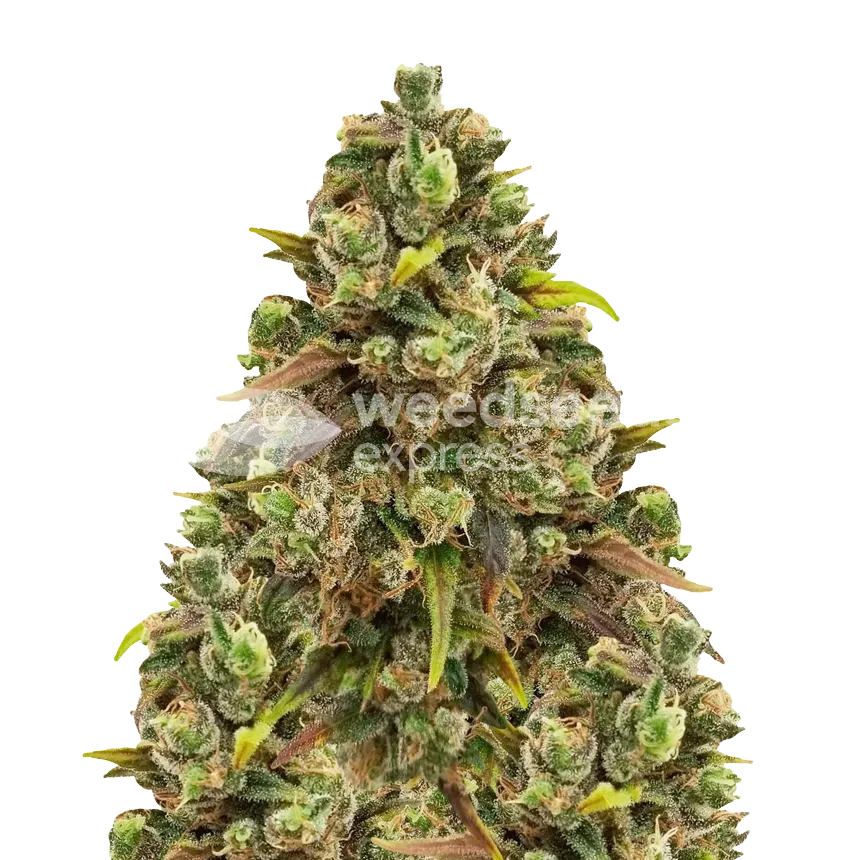 Sexxpot Strain Info
Yield indoor
500-600 grams per m2
Yield outdoor
700-800 grams per plant
Height outdoor
110-130 cm
Flowering time
56-63 days
Cultivation
Indoor, Outdoor, Greenhouse
Climate
Polar, Temperate, Mediterranean
Flavors
Berry, Coffee, Nutty, Skunk, Peach, Treefruit
Effects
Arousing, Energetic, Euphoric, Focused, Happy, Relaxed, Social
Terpenes
Terpinolene, Beta Pinene, Alpha Pinene, Beta Caryophyllene, Linalool, Limonene, Beta Caryophyllene Oxide, Humulene
Sexxpot feminized seeds
Sexxpot feminized is a great indica strain that is ideal if you want to improve your love life!
The plants grown from Sexxpot feminized seeds contain low levels of THC, is fairly easy to grow and features a short flowering time. It is a pure Indica strain with aphrodisiac properties.
Why you should buy Sexxpot seeds:
Suitable for beginners to grow

Pleasant taste

Aphrodisiac properties

High yields
Growing Sexxpot (indoors and outdoors)
The feminized Sexxpot cannabis seeds grow into fantastic cannabis plants with an average THC content of 15% and a CBD content of around 0.8%. Sexxpot is a pure indica and therefore easy to grow. Indoors, outdoors or in a greenhouse.
Her high mold resistance allows you to place the plants close together. For indoor growing, you can therefore successfully apply SOG and/or SCROG. Outdoors, she actually thrives in any climate. From cold to warm. The only thing she does not like is a high humidity environment.
The buds from Sexxpot feminized seeds are exactly what you would expect from an Indica. Nice and compact, dark green with amethyst tones. As Sexxpot matures, you'll notice that her aroma is reminiscent of ripe peaches with a hint of coffee.
Flowering time
Sexxpot boasts a relatively short flowering time of 56 to 63 days (8-9 weeks), making it ideal for when you can't wait to smoke this weed strain.
Plant height
Grown outdoors, this cannabis plant grown from Sexxpot feminized seeds will reach a height between 110 cm and 130 cm. If you grow this beauty indoors, she will be between 80 cm and 100 cm tall.
Sexxpot yield
Whatever your growing conditions, Sexxpot feminized seeds have a very considerable yield potential. Grown indoors under ideal conditions, she produces excellent yields that can reach 500 - 600 grams per square meter. Outdoors, she can even yield up to 800 grams per plant.
Effects
It will not surprise you that smoking Sexxpot in the right setting will lead to arousal. The high usually starts with a slight tingling sensation at the back of the neck and gradually moves down to the limbs.
Most users experience this feeling as an intense sense of relaxation, freeing the body and mind from worries and concerns.
In addition to being an aphrodisiac, Sexxpot can also help relieve pain, mild depression and anxiety. Most users report an immediate improvement in their mood after consumption.
Cannabis harvested from has a lower THC content than usual: about 15%, while smokers usually prefer strains of 18-20%. Sexxpot, with its low THC levels, regulates the endocannabinoid system and helps balance hormones without compromising its therapeutic properties.
That's the real benefit of Sexxpot. She offers a sultry sensation without ever lapsing into numbness that would prevent users from enjoying it.
Side Effects
Side effects are very rare with Sexxpot, besides dry mouth and/or eyes. It's always a good idea to have a bottle of water in arm's reach, to stay hydrated.
Smell and taste
If you smoke Sexxpot, you will find that it has a strong skunky smell. Just like her aroma, the taste is skunky with undertones of coffee flavors. When the smoke hits your taste buds, you can also savor hints of tree fruit, like peaches, berry and nuts.
Origin
The lady who led to the creation of this unique cannabis strain is named Karyn Wagner. She was inspired to develop Sexxpot after experiencing a night of great sex. This gave her the idea to expand the strain further: if she could get such an extraordinary sexual experience from this weed, who knows how great she would feel if she found a way to develop a strain just for her pleasure?
Karyn began her journey by discovering that the weed she was enjoying was a variety called Mr. Nice. She spent the next few years crossing Mr. Nice, separating the sexually stimulating elements of the strain and focusing on creating an incredibly intense variety for middle-aged women or those who need a little extra help with their arousal levels.
The best Sexxpot feminized seeds for sale at Weedseedsexpress
Sexxpot is a strain that has been explicitly developed for increasing sexual pleasure. Smoking it will increase your libido and physical sensations, leading to an exciting time between the sheets. Furthermore, Sexxpot's lower than average THC level means that you don't have to worry about getting too stoned to perform!
Intrigued? Buy your feminized Sexxpot feminized seeds at Weedseedsexpress! Grow them and enjoy!
Payment & Delivery
You might also like these seeds
Sexxpot feminized seeds alternatives