Purple Punch
feminized seeds
This heavyweight strain is considered the Mike Tyson of marijuana seeds, and has mesmerized the cannabis industry with its potency and massive yields, since her first appearance in 2013.
Jump to description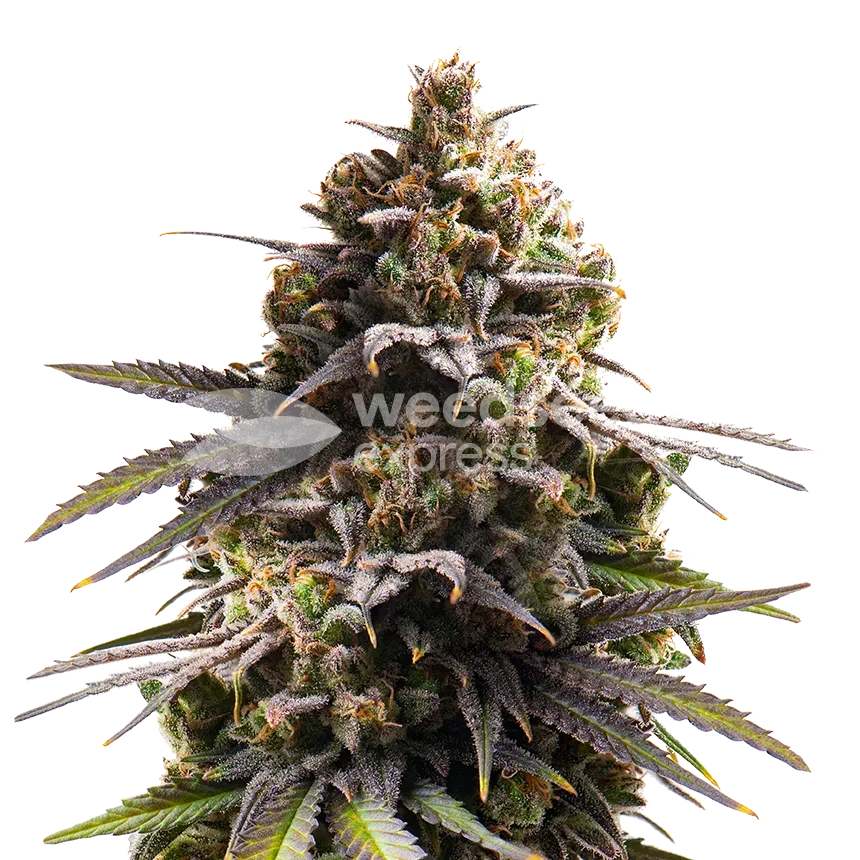 Purple Punch Strain Info
Genetics
Larry OG x Granddaddy Purple
Yield indoor
550-650 grams per m2
Yield outdoor
700-800 grams per plant
Height outdoor
120-150 cm
Flowering time
56-70 days
Cultivation
Indoor, Outdoor, Greenhouse
Climate
Polar, Temperate, Mediterranean, Tropical
Flavors
Berry, Fruity, Herbal, Sweet
Effects
Euphoric, Relaxed, Sleepy
Terpenes
Nerolidol, Fenchol, Phytol, Borneol, Camphene, Terpinolene, Linalool, Limonene, Eugenol, Citral, Alpha Cedrene
Purple Punch feminized seeds
Resulting from an innovative cross between Granddaddy Purple and Larry OG, Indica dominant hybrid Purple Punch fem displays a stunning purple hue during the flowering stage. Add fruity, berry, and herbal flavors to the mix with euphoric and deeply relaxing effects, and you know you've got an absolute champion on your hands! Can't wait to find out more about this incredible variety? Read on!
Why you should buy feminized Purple Punch seeds
Potent Indica dominant hybrid
Delicious blueberry muffin aroma
Exceptional yields
Beautiful purple hues during the flowering phase
Growing Purple Punch feminized seeds (indoor/outdoor)
Purple Punch feminized cannabis seeds grow well indoors and outdoors.
There are many advantageous genetic features to this unique variety due to its indica dominance (80%).
The strong lateral branches give this strain the capacity to support the weight of heavy buds.
And while Purple Punch feminized seeds may not be the easiest seeds to grow, we promise you: they are more than worth the extra effort.
Growing indoors will provide you with the advantage of control over climate and humidity, allowing her to thrive. Purple Punch feminized also responds well to Sea of Green (SOG) which is recommended for obtaining maximum results.
Outdoors, she prefers warm, dry climates like temperate, tropical, or Mediterranean. Be advised that the plants are slightly susceptible to pests like caterpillars. This can easily be remedied by defoliating but is still something to consider.
As well as avoiding unwanted guests, defoliation increases light exposure and improves airflow both indoors and outdoors.
Provide her with ideal circumstances, and nothing stands in your way of cultivating bushy, frosty resin-covered, violet-colored, and high-yielding plants.
Flowering time
Purple Punch feminized has an average flowering time of 56 to 70 days.
If you start your grow in April, expect Purple Punch feminized to finish flowering by late September or early October.
Plant height
Purple Punch marijuana seeds don't grow very tall, making them ideal for all growing spaces, both indoors and outdoors.
When growing in an indoor environment, the plants grow to a modest height between 60 and 90 cm.
Feminized Purple Punch seeds grown outdoors will reach a height of approximately 120 to 150 cm max length.
Purple Punch feminized yield
Despite being indica dominant, she owes her growth patterns to her Sativa genetics, which ensure an excellent yield from your Purple Punch feminized marijuana seeds.
Indoors, Purple Punch fem can realize significant harvests of 550 to 650 grams per m².
However, its full potential is reached outside, where the outdoor yield can add up to no less than 700 to 800 grams per plant!
Effects of Purple Punch feminized
Don't let the sweet aroma of blueberry muffins fool you because Purple punch packs, well, quite the punch! Thanks to a THC percentage of 20%, the potent effect delivers an almost instant cerebral buzz that brings about waves of euphoria. Subsequently, the Indica dominant characteristics present themselves by relaxing the muscles from head to toe, ensuring a sense of serene tranquility and pleasant languor.
The profoundly relaxing properties are especially appreciated by medicinal users, which many claims to be a great aid with muscle spasms, chronic pain, and improve better sleep.
Side effects
Despite the potent yet not too overwhelming THC percentage, moderation when consuming is key to experiencing the full range of effects this divine strain has to offer. Conversely, overdoing it can result in lethargy, drowsiness, and couch-lock.
Smell and taste
Prepare your taste buds for an absolute feast because feminized Purple Punch is like nothing you've smelled or tasted before. Purple Punch feminized seeds grow into deliciously fragrant cannabis plants that mesmerize your senses and linger for a long time.
Her grape candy aromas complemented by mild citrus and sweet blueberries will take your breath away. After the initial hit of sweet grapes, you will notice the base notes of rich, smooth vanilla and herbal essences slowly becoming increasingly more pronounced.
Even real blueberry muffins can't match this delectable treat!
Origin
Created by Supernova Gardens in 2013, it didn't take the Purple Punch strain long to acquire commercial recognition and usher in the era of "Punch."
While initially reluctant to share these one-of-a-kind genetics, Supernova Gardens, for some reason, decided to entrust breeder the Budologist with a clone to during a trip in Southern California,
With the consent of Supernova Gardens, the clone eventually found its way to breeder The Village, leading to the popularity of Purple Punch genetics reaching levels unlike any other among the Californian cannabis community.
Purple Punch feminized owes its stellar genetic background due to the ingenious cross between Granddaddy Purple x Larry OG.
A winning combination that merges the critically acclaimed relaxing traits of the famous Granddaddy Purple with wonderfully uplifting characteristics expected from a member of the famous ocean-grown (OG Kush descendants) strain family.
Ultimately resulting in Indica dominant feminized marijuana seeds that develop into stunning plants that display beautiful purple hues during the flowering phase and, after harvest, have a fantastic effect on both the body and mind.
Today, Purple Punch has become so widely recognized that it is rare to find a cannabis cup contest without Purple Punch genetics competing in it.
The best Purple Punch feminized seeds for sale at Weedseedsexpress
Not only do we offer the best Purple Punch strain seeds for sale, but you will also find her much-acclaimed progenitor Granddaddy Purple in our shop. Furthermore, we offer tracked shipping discreetly to most countries worldwide, the most competitive price, free seeds with every order, secure payment methods, and more! We ship high-quality, fast-germinating seeds with stabilized genetics swiftly. Are you ready for your next purchase of high-quality seeds? Buy Purple Punch feminized seeds today at Weedseedsexpress. 
Payment & Delivery
You might also like these seeds
Purple Punch feminized seeds alternatives