Purple Lemonade
autoflower seeds
Purple Lemonade (also known as Pink Lemonade and Purple Lemon) autoflower seeds are the best way to indulge in beautful purple buds with that sweet, yet tangy citrus taste.
Jump to description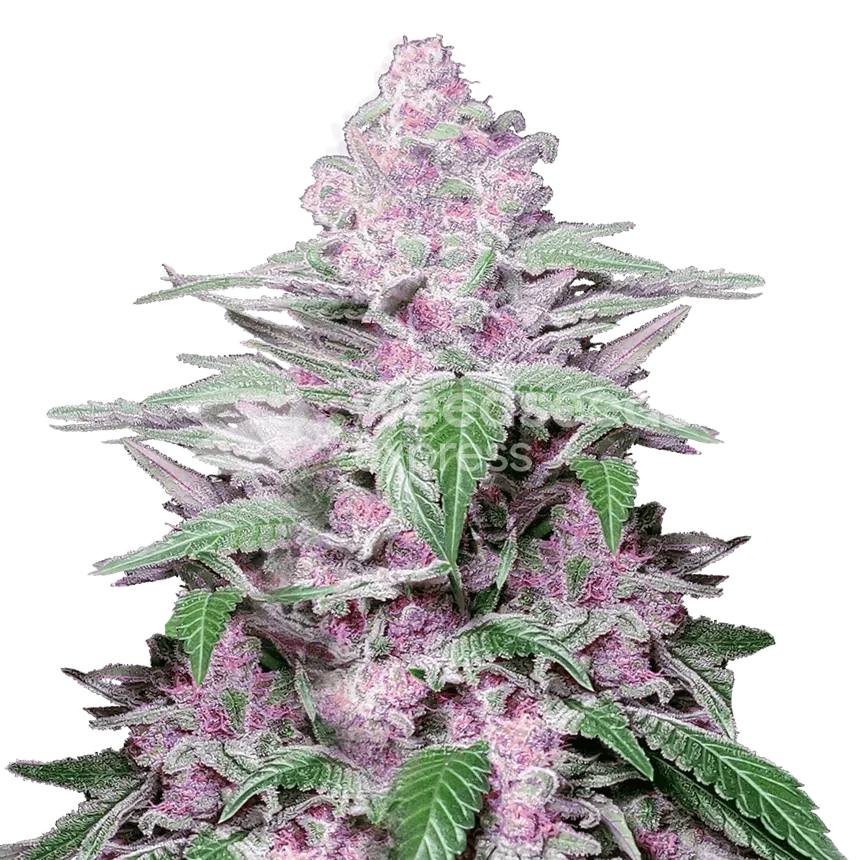 Purple Lemonade autoflower Strain Info
Genetics
Purple Lemonade x Rudelaris
Yield indoor
400-500 grams per m2
Yield outdoor
100-120 grams per plant
Flowering time
49-56 days
Cultivation
Indoor, Outdoor, Greenhouse
Climate
Mediterranean, Temperate, Arid
Flavors
Sweet, Citrus, Lemon, Sour, Tropical
Effects
Powerful, Euphoric, Relaxed
Terpenes
Linalool, Delta Limonene, Myrcene, Alpha Humulene, Geraniol
Purple Lemonade autoflower seeds
What do you get when you mix Lemon Skunk x Purple Kush and autoflowering genetics? You get wonderful beautiful purple seeds, that create buds that will seduce you with their sweet and sour flavors, and a relaxing high.
You don't need to be a veteran grower to enjoy growing this wonderful plant. As she is part of our weed seeds for beginners, even complete newbies can cultivate Purple Lemonade.
Why buy autoflowering Purple Lemonade seeds:
Beautiful purple buds with rich orange pistils

Seed-to-harvest time of only nine to ten weeks

Easy to grow for beginners

Sweet and sour like a refreshing lemonade

Euphoric Indica-hybrid; daytime buzz without drowsiness or couch-lock.
Flowering Time
Purple Lemonade auto seeds will see rapid dark purple bud development once the flowering stage comes around. Lightning fast, with a flowering time of only seven to eight weeks.
Because this strain is part of our autoflower seeds collection, this means that our auto Purple Lemonade cannabis seeds can grow, seed to harvest, in less than two and a half months.
Yield
Come harvest time, the moment has arrived to snip those gorgeous purple buds, with bright orange hairs, from these autoflower plants.
Grown indoors, the Purple Lemonade auto strain can yield up to 400 to 500 grams per square meter. If you grow Purple Lemonade autoflower seeds outdoors, you can expect a yield of up to 120 grams per plant.
Effects
Purple Lemonade is a unique Indica-dominant hybrid, offering an initial euphoric lift that might induce giggles, followed by a gentle body relaxation.
Perfect for daytime use or a relaxed evening buzz, this strain ensures you remain alert and won't glue you to the couch. Ideal for those seeking upliftment without the drowsiness.
THC Level
With her 22% THC levels, Purple Lemonade autoflower weed is quite potent, so very casual smokers might need to hit her a bit slower than our less powerful strains.
Considering her relatively high THC levels, Purple Lemonade auto is part of our high THC autoflower seeds.
Smell & Flavors
Purple Lemonade auto entices with a persistent citrus aroma from flowering to curing. Her flavor mirrors the scent, boasting a dominant tangy lemon on the inhale, enriched by a subtle sweet and sour backdrop.
As you exhale, she blossoms into tropical undertones, offering an overall refreshing bittersweet lemonade taste. A delightful sensory journey for both aroma and taste enthusiasts.
Height
Purple Lemonade auto is a vigorous and sturdy grower, displaying a bright green stem. These small weed plant seeds do sprout a rather compact plant, perfect for growers with limited grow space.
Indoors, they reach a height of 70-110 cm, while outdoors they can stretch a bit taller, ranging from 80-130 cm. Complementing her stature, eye-catching purple sugar leaves growing around her buds.
Origin
Created by LA breeders Fast Buds, the vibrant Purple Lemonade, an Indica-rich strain with purple and citrus Cali genetics, was turned into an autoflower version by adding a secret autoflower breed.
By blending Lemon Skunk x Purple Kush with a mystery auto, she was granted the ability to flower on her own. This blend ensures nothing stands in your way to grow another great purple variety with ease.
Grow Tips
Multiple bud sites support LST methods to potentially boost yields.

Vigorous and sturdy, performs well both indoors and outdoors.

Doesn't demand strong feeding; up to 1EC in veg and 1.2EC in flower recommended.

Best flushing time: start 2 weeks before harvest for better taste and clean burning.

Aroma control is recommended for indoor cultivation due to her potent smell.

When grown in soil, moderate to low nutrients suffice; although quality nutrients can enhance results.

Remember, even without intense feeding, Purple Lemonade autoflower thrives, but refining her care can boost both yield and quality.
Why buy Purple Lemonade autoflowering seeds at WeedSeedsExpress?
Stellar Customer Support - Our company is built on customer service, and we aim to reply to all emails within 24 hours or less.
Germination Guarantee - We are confident in the quality of our cannabis seeds. That's why we guarantee that they will germinate. If they don't, we'll replace them for free.
Fast Worldwide Shipping - We pride ourselves on our fast shipping. With distribution centers in the US and EU, we can ship seeds to most of our customers as quickly as three days.
Free Seeds - Get FREE seeds included with any order when purchasing five or more seeds.
Payment & Delivery
You might also like these seeds
Purple Lemonade autoflower seeds alternatives