Pink Runtz
feminized seeds
Pink does not need to be your favorite color to enjoy this wondrous strain. If you love strong hybrids, Pink Runtz feminized seeds are a logical next choice.
Jump to description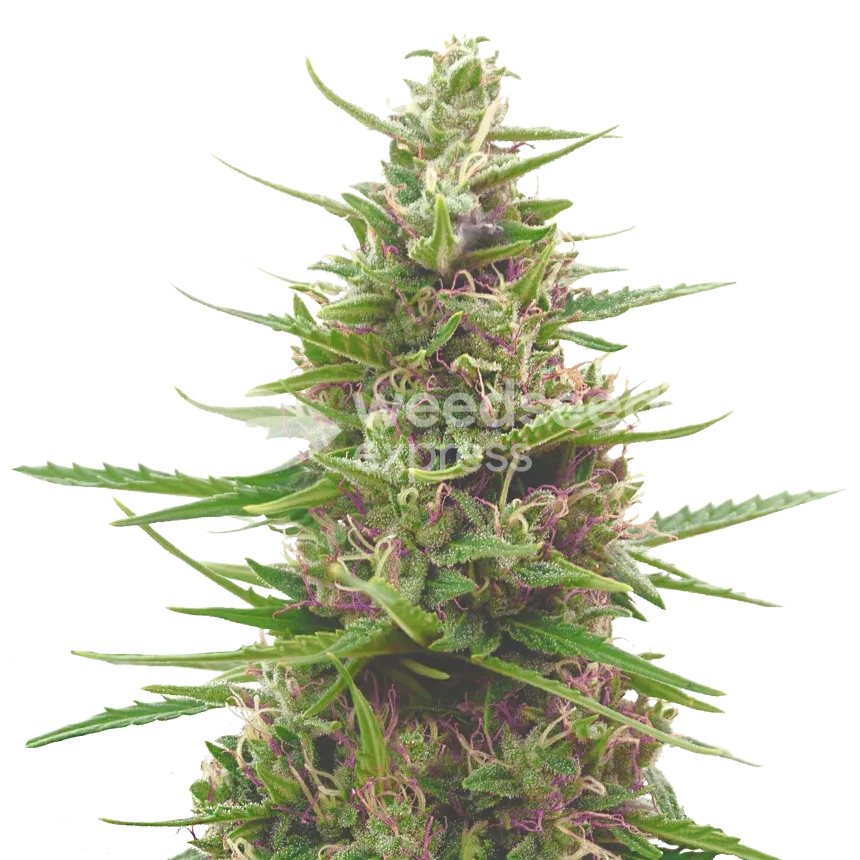 Pink Runtz Strain Info
Genetics
Pink Panties x Rainbow Sherbet
Yield indoor
350-400 grams per m2
Yield outdoor
400-450 grams per plant
Height outdoor
120-180 cm
Flowering time
49-63 days
Cultivation
Indoor, Outdoor, Greenhouse
Climate
Mediterranean, Arid
Flavors
Sweet, Fruity, Cherry, Diesel, Sour
Effects
Euphoric, Giggly, Happy
Terpenes
Limonene, Myrcene, Linalool, Geraniol, Valencene, Beta Caryophyllene, Beta Ocimene, Terpineol, Humulene, Caryophyllene Oxide, Hexyl Butyrate, Ethyl Butyrate, Alpha Ionone, Alpha Bisabolol, Nerolidol, Decanol, Nerol
Pink Runtz feminized seeds
Aerosmith once sang: "Pink is my new obsession" and we couldn't agree more! Pink Runtz is an evenly balanced hybrid cross between the delicious Rainbow Sherbet x Pink Panties strains. With a 24% THC content that delivers happy and giggly effects on top of a sweet and fruity flavor profile, it's also referred to as a euphoric pick-me-up.
If you want instant happiness in just a few puffs, Pink Runtz feminized is your new go-to strain! If you provide her with optimal circumstances, Pink Runtz plants will provide you with a high yield of sour candy fragrant buds.
Are you new to growing and want to treat yourself to an effortless and bountiful harvest? Check out our amazing Pink Runtz autoflower seeds.
Why you should buy feminized Pink Runtz seeds
Bountiful harvests

Happy Euphoric high

Perfectly balanced hybrid
Growing Pink Runtz feminized marijuana seeds (indoor/outdoor)
Pink Runtz feminized can be grown indoors and outdoors. She does require some previous growing experience, but her rewards will be worth it.
Grown outdoors, she definitely prefers Mediterranean and arid climates. Make sure to meticulously monitor temperature fluctuations - a few degrees below her ideal can disrupt her growth as well as yield potential.
During the vegetative stage, you will notice Pink Runtz's Sativa-like growth characteristics. This is also the biggest challenge that indoor growers face: a large number of fan leaves. For optimal indoor cultivation, make sure she has plenty of room by doing low-stress training, ScrOG, or applying defoliation. Using these techniques, you can ensure the highest bud density and yield possible.
During the flowering phase, Pink Runtz features dense, spade-shaped light green buds rimmed with leaves in pink and purple hues, thin orange pistils, and thick frosty coatings of white crystal trichomes. Pink Runtz buds are also incredibly fragrant, which is a feast for your nose.
Flowering time
The Pink Runtz strain has a relatively short flowering time of only 49 to 63 days.
Runtz plants grown in the Northern Hemisphere are ready for harvest around mid-October.
Plant height
Pink Runtz cannabis plants generally grow to a medium height of 120 -180 cm indoors and outdoors. Take this into account when preparing her growing environment, or consider applying low-stress training.
Pink Runtz feminized yield
Feminized Pink Runtz seeds grow into cannabis plants capable of providing you with a very impressive yield.
Indoor growers can expect their Pink Runtz plants to yield about 350–400 grams per m². Outdoors, Pink Runtz feminized weed plants grown under optimal circumstances can muster up to 400–450 grams per plant!
Effects of Pink Runtz feminized
Pink Runtz feminized is the epitome of a perfectly balanced hybrid. Think bursts of euphoria and creativity due to her powerful Sativa genetics, complemented by typical Indica properties such as outstanding pain relief and full body relaxation.
A delightful rush of cerebral effects, varying from euphoria to unstoppable giggles, will immediately dissolve any dark cloud of negative thoughts and replace them with instant bliss. As the initial buzz gradually fades, a warm tingle spreads throughout your entire body, leaving you completely relaxed and pain-free.
Medicinally speaking, her potent, uplifting effects can make her an ideal choice for alleviating various mental conditions like depression, fatigue, anxiety, and (chronic) stress.
Side effects
Pink Runtz weed is incredibly potent, so moderation is key. Novice smokers or those sensitive to THC may find themselves launched to infinity and beyond when overdoing it (which can be rather overwhelming).
However, when taking the proper dosage, any adverse effects will be limited to the prevalent dry eyes and mouth.
Smell and taste of feminized Pink Runtz
The terpene profile is dominated by caryophyllene, closely followed by limonene and myrcene.
This amazing combination is responsible for Pink Runtz distinctive sweet, fruity cherry flavor with sour notes that finishes off with just a hint of diesel. Her aroma mostly matches her flavor, with a stronger sour candy overtone that intensifies with continued burning.
Origin of Pink Runtz marijuana seeds
Pink Runtz is one of the most wanted strains that the West Coast has brought forth the last decennium. There are two varieties in circulation of this popular strain. One is derived from a selected phenotype of the original Runtz strain (Zkittlez x Gelato), and the other is a Rainbow Sherbet and Pink Panties. While both strains consist of different parents, it is said that they share a common progenitor, which explains the almost identical features.
The best Pink Runtz feminized cannabis seeds for sale at Weedseedsexpress
At Weedseedsexpress, we offer high-quality cannabis seeds from world-renowned strains and exciting new varieties.
As a more than worthy addition to the OG Runtz family tree, Pink Runtz is quickly making a name for herself with an appealing terpene profile, delightfully sweet and sour aroma, and excellent medicinal properties.
Can't wait to try this Pink Panties x Rainbow Sherbet hybrid yourself? Buy feminized Pink Runtz cannabis seeds today at Weedseedsexpress.
Payment & Delivery
You might also like these seeds
Pink Runtz feminized seeds alternatives