Pink Runtz
autoflower seeds
We think life would be much better if everyone would grow Pink Runtz in their garden. Get started on your own with Pink Runtz autoflower seeds.
Jump to description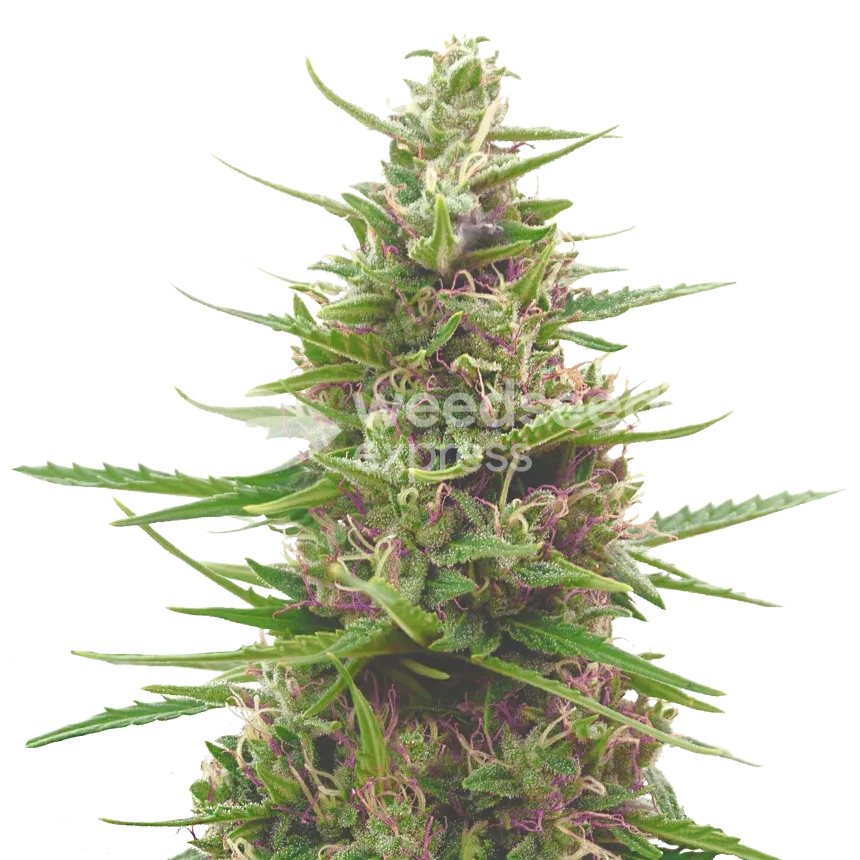 Pink Runtz autoflower Strain Info
Genetics
Pink Runtz x Ruderalis
Yield indoor
400-500 grams per m2
Yield outdoor
120-140 grams per plant
Flowering time
56-63 days
Cultivation
Indoor, Outdoor, Greenhouse
Climate
Mediterranean, Arid, Temperate
Flavors
Cherry, Fruity, Sour, Sweet
Effects
Energetic, Euphoric, Relaxed, Uplifting, Giggly
Terpenes
Limonene, Myrcene, Linalool, Geraniol, Valencene, Beta Caryophyllene, Beta Ocimene, Terpineol, Humulene, Caryophyllene Oxide, Hexyl Butyrate, Ethyl Butyrate, Alpha Ionone, Alpha Bisabolol, Nerolidol, Decanol, Nerol
Pink Runtz autoflower seeds
Some say you shouldn't look at life with rose-colored glasses, but they didn't say anything about Pink Runtz. This autoflower version of Pink Runtz seeds brings the best of the wonderful Pink Runtz strain: her sweet candy taste, powerful balanced effects, and beautiful physical appearance.
What sets Pink Runtz autoflower apart from her photoperiod sister, is her strong ruderalis genes. This makes this variety even easier to grow, and quicker to harvest due to her shorter vegetative stage. You simply don't have to wait long until you can enjoy the sweet fruits of your labor.
Want to learn more about everything Pink Runtz auto has to offer you? Just keep reading! If you are more of a photoperiod fan, you should check out our Pink Runtz feminized seeds too.
Why you should buy Pink Runtz autoflower seeds:
Easy to grow

Delivers a balanced body stone and head buzz

Lovely cherry candy flavors and aroma
Growing autoflowering Pink Runtz seeds
Growing the Pink Runtz autoflower strain is a piece of cake, even for growers with less experience. If you do need some help to get started, you can always check out our grow guide for beginners.
Pink Runtz auto seeds can be grown in indoor, outdoor, and greenhouse growing environments. Pink Runtz plants grow into relatively short bushes with dense, and compact nugs. Both her leaves and buds show red and pink hues among the more typical green cannabis tones. Pink Runtz' trichomes truly make her buds look like sugary pink candies, as if topped off with a layer of sugar. Her name seems to be relevant to more than just her flavors.
If you are an advanced grower and want to get the most out of this Pink Runtz autoflower strain, applying ScrOG is a great way to promote the horizontal growth of your plants. This allows them to grow even bigger buds for your harvesting pleasure.
Flowering time
Pink Runtz auto plants are not only quick to grow to maturity, but they also have a short flowering stage. In eight to nine weeks, they are done with flowering. So, you are looking at a short three-month period, from seed to harvest, when you buy Pink Runtz autoflower seeds.
This short growing cycle means you can easily plan multiple grows with this autoflower strain within one outdoor growing season.
Plant height
Due to her ruderalis genetics, plants grown from Pink Runtz autoflower seeds are not known to grow into gigantic plants. Yet, she is not the smallest among autoflower strains.
Indoors, you can expect a height of 60 to 140 cm. Outdoors, she can stretch to 150 cm.
Pink Runtz auto yield
Among autoflower seeds, Pink Runtz shows a rather impressive yield potential.
When your grow space is inside the house, Pink Runtz auto plants can yield about 400-500 per square meter. If you want to grow autoflowering Pink Runtz outside, you can, in optimal conditions, harvest a maximum of 140 grams per plant.
Effects of Pink Runtz weed
Due to her balanced nature, you do not have to be afraid to become one with the couch when consuming Pink Runtz weed. While you will feel a wave of relaxation crashing over you, the uplifting head buzz will actually give you an energy boost. If you turn on a funny show or hang with like-minded friends, you might get stuck in fits of uncontrollable laughter.
A creative mind can also benefit from Pink Runtz autoflower, as her effects are long-lasting and can boost your creativity. Whether you are an artist, writer, or designer, Pink Runtz weed can help you gain new insights. Just make sure to shout out Weedseedsexpress if you manage to create your magnum opus.
Not only do recreational users love Pink Runtz, but her medical benefits are also often touted as well. The Pink Runtz autoflower strain can help with both mental issues (due to her cerebral buzz) and physical pains like body spasms, nausea, and inflammations, to name a few. All thanks to her hybrid status.
Side effects
While growing autoflowering Pink Runtz weed might be suitable for beginners, smoking her is a different beast altogether. As her THC content is on the high side, you can experience dizziness and feelings of anxiety or paranoia, so it is advised to start slow with first-time consumption. Dry eyes and mouth tend to pop up as well, as with most cannabis strains, so stay hydrated.
Smell and taste of autoflowering Pink Runtz
If you are a sugar fiend, you will love Pink Runtz. Her buds smell and taste sweet and fruity, like cherry candy. Luckily for those with a sweet tooth, smoking Pink Runtz weed can scratch that itch, without consuming a single calorie (as long as you do not give into the potential munchies, of course).
Origin of Pink Runtz auto seeds
The history of Pink Runtz is a bit murky. Some cannabis connoisseurs believe she is simply an offspring of the original Runtz, being a cross of Gelato x Zkittlez. Other experts claim Pink Runtz is a cross between Rainbow Sherbet x Pink Panties. No matter her backstory, this strain is one of the most popular strains in the Westside of the United States.
And now mixed with ruderalis genetics, Pink Runtz is easier and faster to grow than ever, without having to compromise on the wonderful flavors and effects of this amazing strain.
The best Pink Runtz autoflower seeds for sale at Weedseedsexpress
Weedseedsexpress is your one-stop shop for high-quality cannabis seeds, offering many amazing strains in both (photoperiod) feminized and autoflower seeds. In case you are looking for our newest releases, head to our blog section to stay up to date.
If you choose Pink Runtz autoflower seeds, you are in for an easy grow, with a harvest of beautiful and delicious pink-hued buds with cherry candy flavor. Balanced effects will help you relax and let loose when you smoke Pink Runtz auto.
Can't wait to get started on this popular West Coast strain? Buy autoflowering Pink Runtz cannabis seeds today at Weedseedsexpress. If you have already grown this strain, we would love it if you could leave a review!
Payment & Delivery
You might also like these seeds
Pink Runtz autoflower seeds alternatives