Permanent Marker
feminized seeds
Mark it down, Permanent Marker feminized seeds will grow you loads of wonderful buds, good for daytime use and a late night smoke.
Jump to description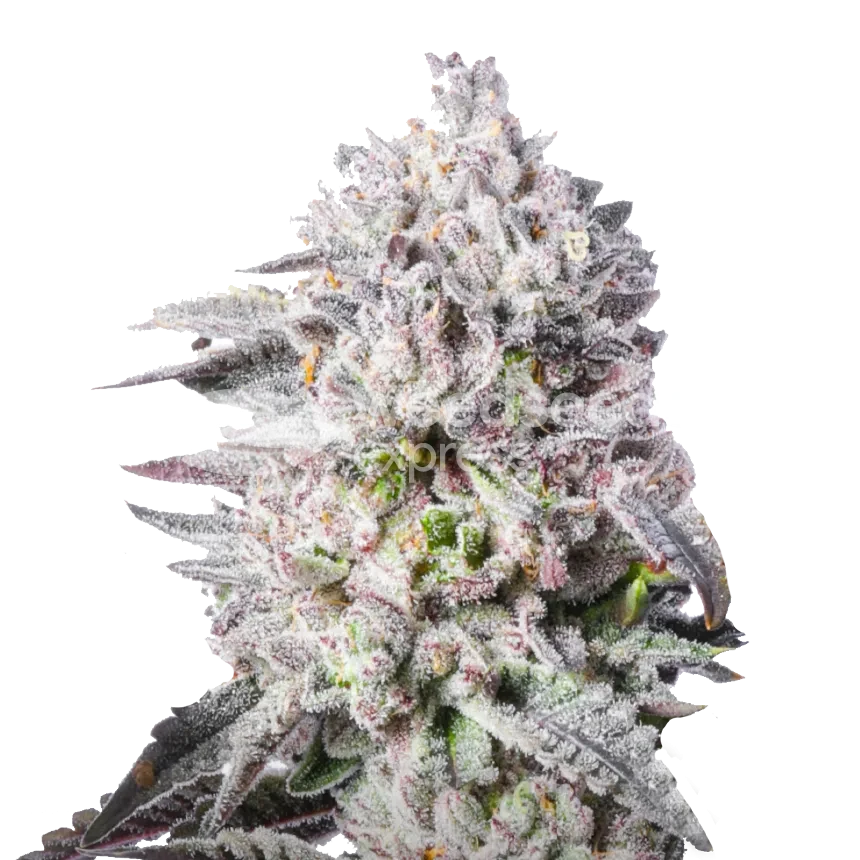 Permanent Marker Strain Info
Genetics
Biscotti x Jealousy x Sherbet Bx
Yield indoor
500-550 grams per m2
Yield outdoor
700-850 grams per plant
Height outdoor
120-200 cm
Flowering time
56-70 days
Cultivation
Indoor, Outdoor, Greenhouse
Climate
Mediterranean, Arid
Flavors
Flowery, Sweet, Pungent, Soap, Candy
Effects
Creative, Euphoric, Happy, Relaxed, Powerful, Uplifting
Terpenes
Caryophyllene, Limonene
Permanent Marker feminized seeds
As the offspring of a remarkable three-way of Biscotti x Jealousy x Sherb Bx, feminized Permanent Marker seeds bring the finest combination of genetics to your garden.
While these indica seeds are not the easiest strain to grow, her beautiful buds with light sedative properties will be very much worth the effort.
Why buy feminized Permanent Marker seeds:
Potent effects with a THC content of 34%.

Suitable for both daytime and nighttime use without heavy sedation.

Soapy funk flavors with hints of sweet candy and floral gas.

Flowers in just eight to ten weeks.

Moderate to a tall height suitable for various setups.

Generous yields, especially outdoors
Flowering Time
Our Permanent Marker seeds stand out for their swift flowering phase, typically spanning eight to ten weeks.
This quick flowering period qualifies them as part of our fast flowering seeds collection, making them a top choice for those eager for timely harvests.
Yield
When grown indoors under optimal conditions, Permanent Marker cannabis seeds can yield a generous 550 grams per square meter.
Take them outside, and you're in for a real treat. Outdoor cultivation of these feminized seeds can produce a staggering 850 grams per plant!
For those looking to build a substantial and potent stash of resinous buds, Permanent Marker strain seeds are an unmatched choice.
Effects
Permanent Marker is a potent cannabis strain known for her balanced effects. Users often experience a deep physical relaxation paired with an uplifting mood boost, making her ideal for both relaxation and creativity.
While she can help alleviate tension, anxiety, and minor pain, this indica hybrid strain doesn't typically induce heavy drowsiness. This means users can enjoy its benefits without feeling overly sedated, making it suitable for both daytime and nighttime use.
Her versatility and harmonious blend of effects make our Permanent Marker strain seeds a popular choice to grow for both recreational and medical purposes.
THC Level
Weed grown from our Permanent Marker strain seeds can leave you in a high state, especially when you are an infrequent user of cannabis. An impressive THC content of 34% is partially responsible for these powerful effects.
This level of THC also makes her one of our favorite high THC seeds we have to offer.
Smell & Flavors
Permanent Marker weed boasts a unique aroma and taste profile. Upon first scent, she catches you with her floral and soapy notes, blending seamlessly with a candy-like sweetness.
When you take your first inhale, her pungency carries through with a distinct soapy funk, complemented by hints of candy sweetness and a subtle touch of floral gas tones.
This intricate blend offers a memorable sensory experience for those looking to indulge in her rich flavors.
Height
Permanent Marker cannabis plants display a moderate to tall height, perfect for various cultivation setups. When grown indoors, they typically reach a stature of 80 to 170 cm.
Opting for an outdoor environment gives them a bit more vertical stretch, with heights ranging from 120 to 200 cm.
This manageable growth makes them suitable for both spacious gardens and more constrained indoor spaces.
Origin
Permanent Marker is a combination of Biscotti x Jealousy x Sherb Bx, originally concocted by SoCal breeders Seed Junky Genetics.
Biscotti offers a rich blend of sweet and spicy notes, bringing the sweetness to the table. Jealousy steps in with her impactful effects, infusing an uplifting euphoric twist. Meanwhile, Sherb Bx, rooted in the esteemed Sunset Sherbet family, brings her robust genetics and sought-after characteristics to the table.
Together, like peanut butter and jelly, they form a harmonious fusion of flavor and effect.
Grow Tips
Thrives best in warmer areas.

Harvest time: Mid-to-late October in the Northern Hemisphere.

Can be grown in soil or hydroponic systems.

Be wary of poor ventilation leading to mold, mildew, and pests. Dense foliage can create breeding grounds for these issues. Regular pruning or lollipopping helps mitigate these problems.

Use pruning to keep plants compact and tidy. Mostly done during the vegetative phase, with added attention at the flowering onset.

Use LST (Low-Stress Training) to increase yields, help in maintaining an inconspicuous height, and allow more light penetration to buds.

Apply Sea of Green (SOG) to grow multiple small plants instead of a few large ones. This also promotes early flowering and shorter vegetative phase and encourages plants to bloom early, reducing the flowering time.

Grow these feminized seeds (instead of regular seeds) to avoid male plants, as a female plant will provide you with guaranteed buds.
Why buy feminized Permanent Marker strain seeds at WeedSeedsExpress?
Stellar Customer Support - Our company is built on customer service, and we aim to reply to all emails within 24 hours or less.
Germination Guarantee - We are confident in the quality of our cannabis seeds. That's why we guarantee that they will germinate. If they don't, we'll replace them for free.
Fast Worldwide Shipping - We pride ourselves on our fast shipping. With distribution centers in the US and EU, we can ship seeds to most of our customers as quickly as three days.
Free Seeds - Get FREE seeds included with any order when purchasing five or more seeds.
Payment & Delivery
You might also like these seeds
Permanent Marker feminized seeds alternatives