Peanut Butter Breath
feminized seeds
If you are nuts about peanut butter, then we have a strain for you. Grow your own nutty weed with Peanut Butter Breath feminized seeds!
Jump to description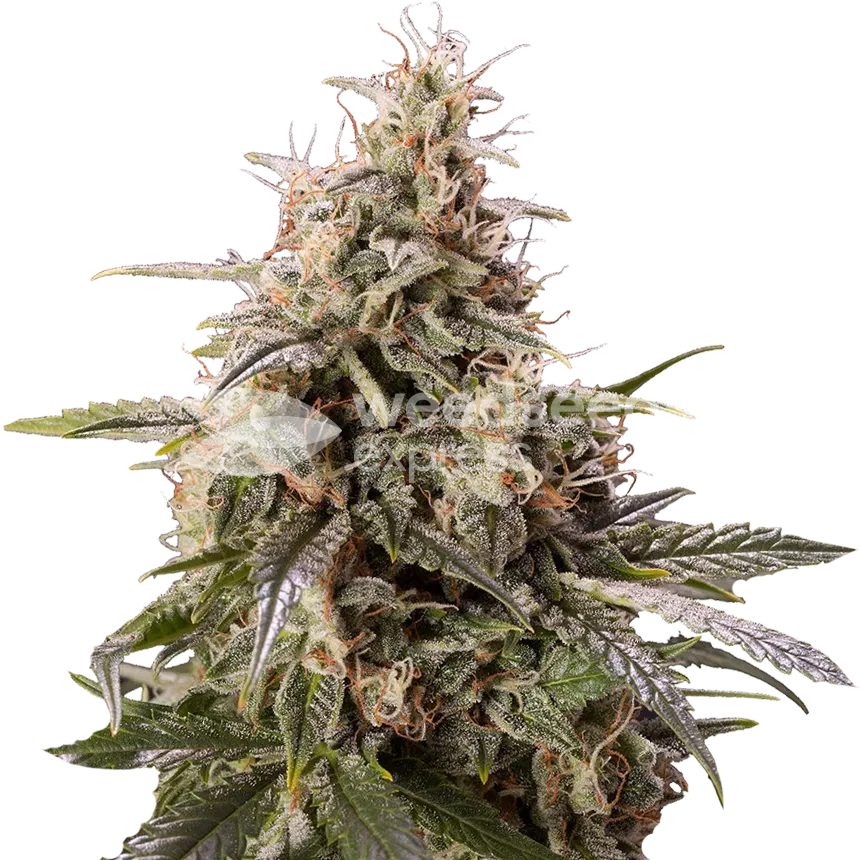 Peanut Butter Breath Strain Info
Genetics
Do-si-Dos x Mendo Breath F2
Yield indoor
250-300 grams per m2
Yield outdoor
300-350 grams per plant
Height outdoor
180-220 cm
Flowering time
56-63 days
Cultivation
Indoor, Outdoor, Greenhouse
Climate
Arid, Mediterranean
Flavors
Nutty, Herbal, Earthy
Effects
Relaxed, Powerful, Calming, Uplifting
Terpenes
Alpha Bisabolol, Pinene, Alpha Cedrene, Alpha Terpineol, Delta Limonene, Eugenol, Fenchol, Linalool, Nerolidol, Phytol, Terpinolene
Peanut Butter Breath feminized seeds
Peanut Butter Breath, also known as Peanut Butter or Peanut Breath, is a cross between Do-si-Dos x Mendo Breath F2, which are both favorites among many growers.
The Peanut Butter Breath strain is a balanced hybrid, which grows into a hardy plant from our cannabis seeds, with a lovely nutty aroma, and amazing balanced effects.
To learn more about Peanut Butter Breath feminized seeds, continue reading and uncover why this strain is worth growing in your cannabis garden!
Why you should buy Peanut Butter Breath feminized cannabis seeds
Interesting peanutty flavor profile

Balanced, but relaxing effects

Responds well to training techniques
Growing feminized Peanut Butter Breath seeds (indoor/outdoor)
Our Peanut Butter Breath feminized seeds can be used for both indoor and outdoor cultivation, offering flexibility to growers with varying space and climate considerations. As she is pretty hardy, she is far from the hardest strain to grow.
When growing in an indoor grow room, Peanut Butter Breath plants require a stable environment with consistent temperature and humidity control. Ideal temperatures for cultivating our Peanut Butter Breath seeds range between 20 and 26° C (68 and 78 °F) while maintaining a relative humidity of 40-50% during the vegetative stage and 30-40% during the flowering stage. Adequate air circulation is also crucial to prevent mold and other pests from ruining your peanut butter cup dreams.
Outdoors, the Peanut Butter Breath strain thrives in a Mediterranean-like climate, with plenty of sunlight and moderate temperatures. Make sure to select a location that provides shelter from harsh winds, as this will help your plants grow strong and healthy. Peanut Butter Breath plants are typically ready for harvest in mid to late October.
During the vegetative stage, Peanut Butter Breath cannabis plants exhibit a bushy growth pattern, with strong lateral branches that benefit from regular pruning and trimming. This strain responds well to various training techniques, such as the Screen of Green (SCROG) method, which encourages the development of multiple bud sites.
Our Peanut Butter Breath seeds are feminized seeds, ensuring that your garden will be full of female plants and produce the high-quality buds you desire.
Flowering time
After your Peanut Butter Breath plants stop stretching, a flowering phase of eight to nine weeks follows.
Within two months after the vegetative stage, you can harvest your own Peanut Butter Breath buds.
Plant height
Grown indoors, Peanut Butter Breath cannabis plants stay on the more compact side. You can expect them to grow somewhere between 90 and 150 cm.
Grown outdoors, this hybrid strain stretches quite a bit further, with a maximum expected length of 220 centimeters.
Peanut Butter Breath feminized yield
When harvest time comes, it is always a treat to see how much your plants have yielded. Indoor growers worldwide can harvest up to 300 grams of Peanut Butter Breath weed per square meter.
Growing outdoors, this cannabis strain can yield up to 350 grams per plant of your own homegrown cannabis.
Effects of Peanut Butter Breath feminized weed
As Peanut Butter Breath is a hybrid marijuana strain, she is both capable of lifting your spirits and calming your nerves. We think that she is most suitable for a night at home with friends, playing a few rounds of Catan, Mario Party, or Charades.
Medical marijuana users have reported potential benefits when combatting pain, stress, depression, anxiety, and PTSD. As Peanut Butter Breath can induce a heavy set of munchies, she can also help with stimulating your appetite.
Side effects
Common side effects are dry eyes and dry mouth, which are easy to combat with a glass of water and eye drops. As mentioned, your appetite can be whipped into a frenzy, so keep your snacks stocked if you can't deny your growling stomach.
Smell and taste of feminized Peanut Butter Breath weed
The Peanut Butter Breath strain carries her name for a good reason. Her terpene profile is on the nutty, earthy side, which translates into an aroma and flavor that is actually somewhat reminiscent of peanut butter.
Origin of Peanut Butter Breath feminized marijuana seeds
This phenomenal strain appeared after American breeder ThugPug Genetics crossed popular strains Do-si-Dos x Mendo Breath F2.
With her interesting aroma and strong yet balanced effects, Peanut Butter Breath quickly took the cannabis community by storm, like many of the Girl Scout Cookies descendant strains.
The best Peanut Butter Breath feminized seeds for sale at WeedSeedsExpress
At WeedSeedsExpress we offer premium cannabis seeds in an ever-expanding catalog. Our seed bank also offers stellar customer support and a germination guarantee on all purchased seeds.
Growing Peanut Butter Breath is quite the experience, which will dawn on you when you smell her unique nutty and earthy aroma. The balanced experience she offers is just as alluring, especially if you have a laid-back night planned with friends.
You and this strain are like peanut butter and jelly, so buy Peanut Butter feminized seeds today!
Payment & Delivery
You might also like these seeds
Peanut Butter Breath feminized seeds alternatives