OG Kush
feminized seeds
Want to grow a true Indica dominant classic and one of the most consumed strains in California (USA), Canada, and the UK? Check out the possibilities of the feminized OG Kush strain seeds!
Jump to description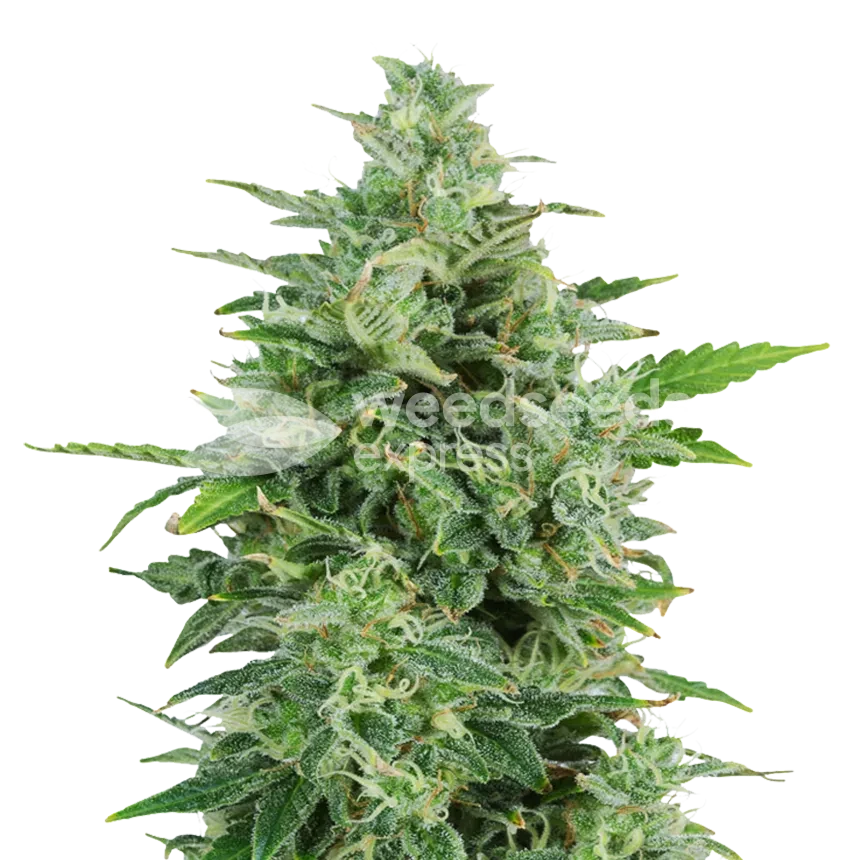 OG Kush Strain Info
Genetics
ChemDawg x Pakistani x Lemon Thai
Yield indoor
425-475 grams per m2
Yield outdoor
500-550 grams per plant
Height outdoor
160-200 cm
Flowering time
56-63 days
Cultivation
Indoor, Outdoor, Greenhouse
Climate
Polar, Temperate, Mediterranean, Arid
Flavors
Earthy, Woody, Citrus, Pine
Effects
Euphoric, Hungry, Calming, Energetic, Happy, Relaxed, Sleepy
Terpenes
Nerolidol, Fenchol, Phytol, Borneol, Camphene, Ocimene, Terpinolene, Alpha Pinene, Beta Caryophyllene, Linalool, Limonene, Eugenol, Cadinene, Citral, Alpha Cedrene, Humulene
OG Kush feminized seeds
The OG Kush is a plant whose exact origin is still a mystery today. Yet, the legendary OG Kush family has received maximum recognition from the stoner community. She is unique, delicious in taste, and loved by growers with some experience and cultivation experts.
We can say that the overall view of this impressive plant is impressive in all areas, from robust growth to a generous harvest with high yields to intensely tasting buds.
Are you wondering where to buy the feminized OG Kush strain seeds? At Weedseedsexpress, we have the best OG Kush seeds for sale! So please read on, or buy your seeds directly in our online store. 
Why you should buy feminized OG Kush seeds:
Fast bloomer
Pretty easy to grow
Requires little maintenance
Ideal for medicinal use
Growing OG Kush feminized seeds (indoors and outdoor)
Crossing ChemDawg x Pakistani x Lemon Thai has resulted in an exceptionally diverse plant with all the qualities that will make you happy as a hobby grower. An easy-to-grow plant for the grower with some experience, a relatively short flowering time, and excellent yield potential.
OG Kush feminized seeds are suitable for indoor and outdoor growing but prefer to be grown indoors. Growing outdoors can be particularly challenging, especially at low temperatures.
When growing outdoors, another thing to keep in mind is the smell that spreads widely during flowering and attracts people who are better off not seeing the thick buds. Outdoor growers are therefore advised to keep a close eye on their surroundings.
Finally, the OG Kush is known for its susceptibility to mildew, mites, and other diseases. Therefore, regular monitoring of the growing conditions is necessary so that you can react in time.
Do you grow indoors? Then it is recommended to use a hydroponic culture. It is efficient and will improve the yield and potency of the buds.
Flowering time
The flowering period is pretty short. When grown indoors, the flowering time is about 8 to 9 weeks. Outdoor harvesting can take place in September. During the flowering phase, the plant develops lime green buds on a large scale that are very close together and covered with a thick resin layer.
Plant height
With the OG Kush strain seeds, you grow a solid medium to large plant, whether you grow indoors in pots or outdoors in the open ground.
When grown indoors, the plant can reach a height of 160 cm. Outdoors, the height can reach over 2 meters! In both cases, ensure sufficient space for the plant to develop well.
OG Kush yield
A good yield is a rule rather than the OG Kush cannabis strain exception. Outdoor growers can get up to 550 grams per plant. Indoors, the yield is usually 425 to 550 grams per m².
Effects of OG Kush
OG Kush is a weed with high potency and possesses THC levels up to 26%, in which the properties of both Sativa and Indica are evident even to a novice smoker.
OG Kush is a great strain to spend a relaxing evening or start the day in the right way. The high comes from the Sativa and is accompanied by a relaxing bliss from the Indica that medicinal users especially appreciate. Euphoria and feelings of happiness allow you to forget your worries and fully relax. You may even feel a little energetic after consuming OG Kush.
Moreover, rolling a blunt with OG Kush weed is a piece of cake, and thanks to the large fluffy buds with few twigs, you don't even need a grinder.
Side effects
OG Kush weed can give the smoker a dry mouth and dry eyes. Therefore, keep some goodies to drink at hand. The weed can also cause paranoia or anxiety at high doses, so take it easy.
Smell and taste of OG Kush
The aroma of the weed is simultaneously woody and earthy, combined with a fiery and refined splash of the freshness of lemon combined with a hint of pine oil. Yes, OG Kush is a very aromatic weed.
OG Kush has a slightly earthy taste and pine aroma combined with a hint of wood, which is truly delicious. OG Kush also releases a bit of petroleum aroma, leaving a pleasing yet pungent aftertaste.
Origin
OG Kush originated in California, where OG stands for Ocean Grown (or original gangster, according to some).
Although the origin of this species is clear, its genetic origin is not. Still, many experts agree that the plant contains the following genetics: Chemdawg x Pakistani Kush x Lemon Thai.
Buy the best OG Kush seeds at Weedseedsexpress
With large yields and a relatively low-maintenance vegetative phase, OG Kush seeds are suitable for the moderately experienced grower looking for a high-quality weed. Lush buds, covered with a thick layer of crystalline trichomes, indicating the high THC content, provide a perfect overall picture of the OG Kush strain. Feminized OG Kush seeds are now for sale at Weedseedsexpress.
Payment & Delivery
You might also like these seeds
OG Kush feminized seeds alternatives