OG Kush CBD
feminized seeds
Looking for a CBD-rich strain with a really intense flavor and generous crops? Our Sativa dominant CBD OG Kush seeds are the high CBD version of the all-time fan-favorite classic: OG Kush.
Jump to description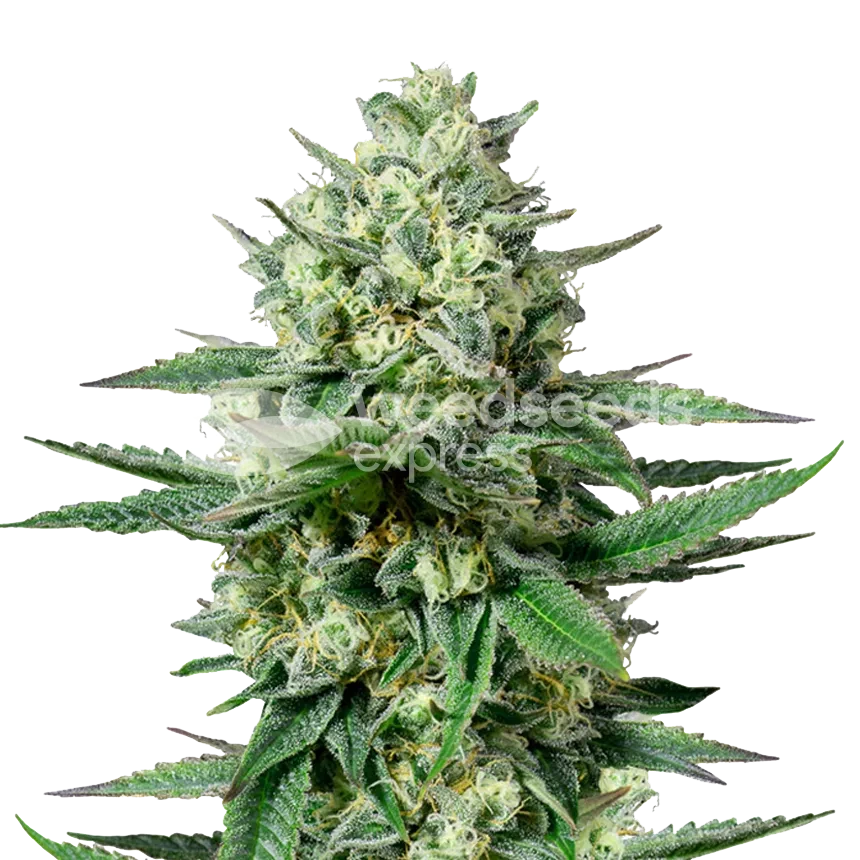 OG Kush CBD Strain Info
Genetics
OG Kush X Elite CBD
Yield indoor
350-450 grams per m2
Yield outdoor
450-550 grams per plant
Height outdoor
150-250 cm
Flowering time
60-65 days
Cultivation
Indoor, Outdoor, Greenhouse
Climate
Temperate, Mediterranean, Arid
Flavors
Earthy, Kush, Tropical
Terpenes
Nerolidol, Fenchol, Phytol, Borneol, Camphene, Ocimene, Terpinolene, Alpha Pinene, Beta Caryophyllene, Linalool, Limonene, Eugenol, Cadinene, Citral, Alpha Cedrene, Humulene
OG Kush CBD feminized seeds
We all know OG Kush as the legendary and powerful strain from the United States. It's a species that is enormously popular because of its potential. Yet, its powerful effect also excluded a large group looking to grow this strain for therapeutic purposes. Luckily, there is an answer to that: the high CBD variety that you can grow easily with our OG Kush CBD seeds.
Can't wait to learn more about the many benefits this CBD-rich cannabis plant has to offer, keep reading for more information.
Why you should buy OG Kush CBD feminized seeds
High CBD content

Complex flavors

Ideal for medical purposes
Growing OG Kush CBD feminized seeds (indoor/outdoor)
The OG Kush CBD is a cross between a pure elite CBD and the original OG Kush. The result is a Sativa dominant strain (60/40) with an average CBD content of 10% and a THC content of 8%. In short, a very interesting choice if you are looking for a high CBD strain to make your own (oil) extract.
OG Kush CBD cannabis seed produces a plant that is easy to grow and is able to yield a lot. This feminized cannabis strain can be grown indoors, outdoors, and in a greenhouse.
The structure of the plant is like you would expect from a Sativa. OG Kush CBD feminized seeds grow into slender plants that have high fungal resistance, a large internodal distance, and fluffy, compact and smelly buds.
Moreover, the plant doesn't stretch out too much, so you can easily grow them indoors, but grown outdoors these plants will thrive as well.
These feminized seeds grow into guaranteed female plants, so you don't have to worry about male plants pollinating or otherwise ruining your crop.
Flowering time
Despite its Sativa dominant properties, the CBD OG Kush features a relatively short flowering time that lasts up to 65 days when grown indoors.
Outdoor growers are advised to harvest in mid-October.
Plant height
Grown indoors, OG Kush CBD reaches a typical height of approximately 100 to 150 cm, so SoG and ScroG methods are recommended.
Grown outdoors, OG Kush CBD feminized seeds grown in full soil can grow quite tall (up to 250 cm).
OG Kush CBD feminized yield
The OG Kush CBD strain is a productive strain that can yield about 350 - 450 grams per m² indoors, especially with methods like SoG and ScroG.
Outdoors when exposed to sufficient sunlight, growers can expect a generous harvest since this Sativa dominant variety is capable of yielding up to 550 grams per plant.
Effects of OG Kush CBD feminized
OG Kush CBD feminized contains high levels of cannabinoid CBD, the substance from which it derives its name.
CBD, as opposed to THC, is not psychoactive but, unlike plain hemp seeds, does provide a relaxing effect on both the body and mind.
After just one hit, its long-lasting relaxing effects are instantly evident and reduce anxiety and melt away stress like the polar ice in July.
Many users report experiencing a sense of clarity, serenity, and tranquility.
This gentle effect makes OG Kush CDB also highly suitable for producing concentrates and other medical extractions for those looking to benefit from the properties CBD has to offer, but prefer not to smoke.
Medicinal users looking to relieve physical discomforts like muscle tension and who were previously reliant on expensive pre-made CBD pure medicinal oil can now easily create their own.
Side effects
CBD is a substance that counteracts THC's effects, so OG Kush CBD is unlikely to cause any adverse effects.
Smell and taste of OG Kush CBD
It will not surprise you that the taste of this CBD OG Kush has remained unchanged. A lovely rich flavor that consists of fresh, lemony, and earthy tastiness.
This intense flavor is also represented in its distinct aroma of sweet lemon scent with just a hint of pine.
Just like her parent strain, she will be loved by all cannabis enthusiasts, even on the taste alone.
Origin of OG Kush CBD feminized marijuana seeds
OG Kush CBD was created by Dinafem seeds due to the growing demand for CBD rich varieties of renowned classics.
With the immense popularity of the traditional THC-rich OG Kush variety on the rise, Dinafem discovered that many users were looking for a similar flavor without the intense psychoactive effects.
According to many, Dinafem seeds belong in the hall of fame of the Dutch cannabis seed legacy.
And for good reason, because strains like this cross of OG Kush feminized seeds x Elite CBD took the already extensive fan base of the OG Kush to an even higher level.
Buy the best OG Kush CBD feminized seeds at Weedseedsexpress
Why should you shop at Weedseedsexpress? We send cannabis seeds with convenient order track usage and guaranteed delivery worldwide.
We offer high-quality seeds, both as feminized and autoflowering versions of high THC seeds and strains rich in CBD.
Are you looking for anxiety relief without the high? We have got the perfect strain for you! OG Kush CBD offers all the intense flavors and delectability of the original OG Kush strain without the high.
Instead, you'll feel more Zen than the Dalai Lama and Buddha on a deserted island. Sounds pretty relaxed, doesn't it?! Treat that stressed-out mind to a mini-break and order OG Kush CBD feminized seeds or one of our other CBD strains today at Weedseedsexpress!
Payment & Delivery
You might also like these seeds
OG Kush CBD feminized seeds alternatives