Master Kush
feminized seeds
Master Kush results from a cross between two ancient Indica mastodons from the Himalayas: the Hindu Kush and Skunk #1.
Jump to description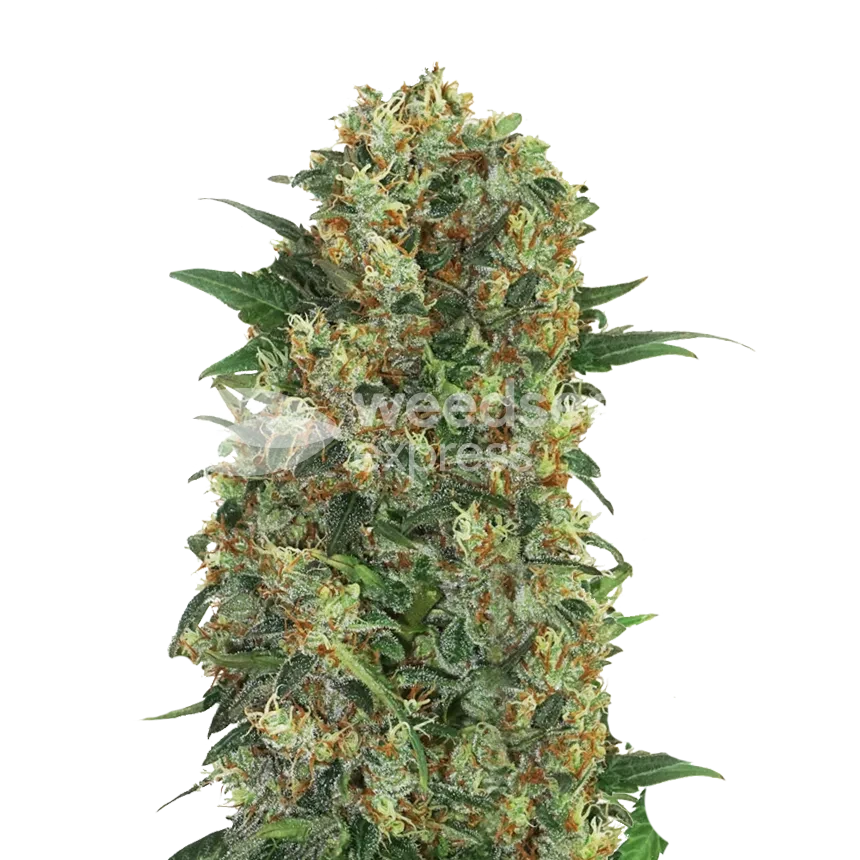 Master Kush Strain Info
Genetics
Hindu Kush x Skunk #1
Yield indoor
350-450 grams per m2
Yield outdoor
450-550 grams per plant
Height outdoor
130-160 cm
Flowering time
56-70 days
Cultivation
Indoor, Outdoor, Greenhouse
Climate
Temperate, Mediterranean
Flavors
Earthy, Kush, Pungent, Pine
Effects
Euphoric, Relaxed, Calming, Sleepy, Uplifting
Terpenes
Fenchol, Borneol, Camphene, Ocimene, Alpha Pinene, Beta Caryophyllene, Eugenol, Cadinene, Citral, Alpha Cedrene, Humulene
Master Kush feminized seeds
Master Kush feminized is a strain that honors her origins, and in fact, we can say that it is hard to find a strain that can match her.
The result of this cross is a super resinous, compact cannabis strain that produces vast amounts of trichomes. She has long been an established fixture on the scene, a favorite among growers in Canada and other countries who want to make hashish. The solid buds can be enjoyed in dry form or smoked or vaped immediately.
Curious about the possibilities of our Master Kush seeds for your grow? Then read on!
Why you should buy feminized Master Kush seeds:
Almost pure Indica
Low odor during flowering
Grows to a height that is easy to control
Relaxing and long-lasting high
Growing Master Kush feminized seeds (indoor and outdoor)
The feminized Master Kush strain seeds are suitable for indoor and outdoor cultivation and grow into small, robust, compact plants. She is suitable for the more experienced grower who enjoys an exceptionally high-quality weed.
Growing Master Kush feminized indoors gives excellent results without too much space. This strain is also not very sensitive to mistakes made during cultivation. Nevertheless, she is not easy to grow. She needs to be pruned considerably to prevent the development of mold. Also, due to its limited fungal resistance, it does not tolerate too high humidity. Therefore, keep an eye on the humidity level during the cultivation!
Because she is winter hardy, she can withstand moderate climates and delivers excellent results outdoors. Moreover, her small size and short flowering time allow her to be grown discreetly and quickly. Finally, it is one of the most discreet cannabis varieties because it does not develop too many intense odors during its flowering.
Feminized Master Kush cannabis seeds only produce female plants, so you don't have to worry about removing male plants.
Flowering time
Typical for an Indica, Master Kush's flowering starts relatively early and lasts about 56 to 70 days.
Plant height
As mentioned, the Master Kush plant is relatively small.
Indoors, she usually reaches a height of 100 to 120 cm. Outdoors, she grows a little taller but will not often exceed 160 cm.
Master Kush yield
In terms of yield, this variety is not the most productive Indica. Nevertheless, her yield will not disappoint you, especially if the quality is more important to you than quantity.
When growing Master Kush strain seeds indoors, very decent yields of between 350 to 450 grams per m²  are yours for the taking! 
Outdoors she can even yield an impressive 450 to 550 grams per plant.
Effects of Master Kush weed
Master Kush is one of the best varieties from the Hindu Kush mountain range, and this is evident in the quality of the weed and its effects.
The effect is very physical. Typical of the Kush, you will experience an enveloping and powerful stone that puts you in a meditative state. The dreamlike and euphoric high envelops the brain from the first few puffs.
The stone settles quietly but surely, relaxing the muscles and great for relaxing without falling asleep. This herb is smoked as part of meditative rituals in the countries of origin.
She is also greatly appreciated among medicinal users for relieving pain without the ill effects of many prescription painkillers.
Side effects
Side effects of Master Kush are the usual dry eyes and mouth. At higher doses, she may induce a slight feeling of dizziness or paranoia.
Smell and taste
Master Kush is typical of the flavors of the Himalayas and is undoubtedly reminiscent of Charas and Afghan that come from this strain. In short, a Kush as a Kush should be.
Master Kush is known for its sweetly pungent earthy smell and taste with woody, spicy undertones. The buds are covered in a thick layer of crystalline trichomes and pistils in stunning hue when ready for harvests.
You'll fall in love with the earthy flavor, interspersed with spicy, almost peppery notes; it's an exceptionally fresh and spicy flavor with fruity hints that Indica lovers highly appreciate.
The smoke is thick and spicy, again a sign of the origin of this plant. It may make you cough at first, but once you get used to it, you will fully appreciate the atypical and assumed flavors of this Kush. Eventually, the taste becomes soft and pleasant on the throat, and also, the smoke is sometimes a bit heavy and biting; you will cough less.
Origin
Master Kush finds its origin in the Hindu Kush mountains. Anyone who knows anything about cannabis knows that the world's best, pure Indica genotypes come from there.
Both ancestors (both the Hindu Kush and Skunk #1) are landrace strains from the Hindu Kush region. Master Kush, by the way, is a unique tetraploid strain, meaning she has four times as many haploid chromosomes as diploid cannabis strains.
The best Master Kush feminized seeds for sale at Weedseedsexpress
In conclusion, Master Kush feminized is an original strain that will delight Indica fans looking for authentic strains from the Hindu Kush mountain. She thrives both indoors and outdoors, and her compact size makes these seeds the ideal choice for those who value discretion.
Ready for a real Kush grow? Buy Master Kush feminized seeds today at Weedseedsexpress!
Payment & Delivery
You might also like these seeds
Master Kush feminized seeds alternatives