Lithium OG Kush
feminized seeds
Lithium OG Kush will leave you happier than a clam, so growing her fantastic buds is always worth your while.
Jump to description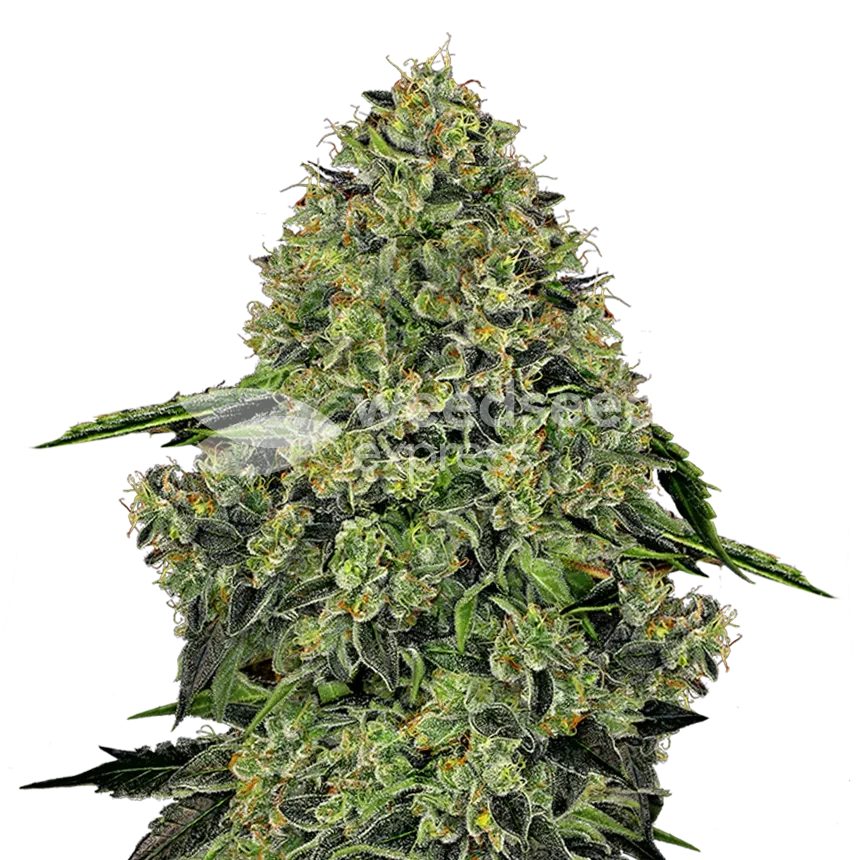 Lithium OG Kush Strain Info
Genetics
OG kush x Master Kush
Yield indoor
450-500 grams per m2
Yield outdoor
550-650 grams per plant
Height outdoor
120-200 cm
Flowering time
56-63 days
Cultivation
Indoor, Outdoor, Greenhouse
Climate
Mediterranean, Arid, Tropical
Flavors
Citrus, Diesel, Fruity, Pine, Kush
Effects
Energetic, Euphoric, Happy, Relaxed, Uplifting
Terpenes
Nerolidol, Fenchol, Phytol, Borneol, Camphene, Ocimene, Terpinolene, Alpha Pinene, Beta Caryophyllene, Linalool, Limonene, Eugenol, Cadinene, Citral, Alpha Cedrene, Humulene
Lithium OG Kush feminized seeds
Lithium OG Kush is a splendid cross between the California OG Kush and Master Kush. This unique strain offers many benefits and is an excellent choice for lovers of the unique and pleasant taste of the Kush.
Why you should buy Lithium OG Kush seeds:
Popular strain with an excellent yield potential
Easy to grow indoors, even for inexperienced growers
High THC and low CBD content for a euphoric and calming high
Aromatic and fruity with a unique flavor
Want to know more about Lithium OG Kush feminized seeds? Read on for details.
Growing Lithium OG Kush seeds (indoors and outdoors)
Our Lithium OG Kush feminized strain seeds are easy to grow indoors and can tolerate nutrients. The seeds grow into bushy plants with a nice Indica-dominant appearance. You can expect your plant to reach a height of roughly 70 to 120 cm, producing light green buds with a creamy white resin.
Do you prefer to keep your plant compact? Then you can prune or top your plants for indoor management. This will also ensure that the light reaches the buds better.
Many growers choose to Fim the Lithium OG Kush to increase the yield. This involves cutting off up to 75% of the top of the plant to produce more bud colas. While easy enough for a beginner to apply such a technique, some experience comes in handy when maintaining the Lithium OG Kush plant.
Caution
Because the plant has average mold resistance, preventative measures are recommended.
Growing outside is also an option and generally yields larger harvests and plant sizes. Growers will need experience in outdoor growing, however. As with other strains, bad weather can hinder growth potential, so you need to be familiar with your environment. Due to California origins, the plant requires plenty of light and heat. The Mediterranean, arid and tropical climates are especially ideal for outdoor growth.
Tip:
Is the climate where you grow (like here in the Netherlands) not optimal? Then grow in a greenhouse. 
Flowering time
After a growth period of about 1.5 to 2 months (when grown indoors), Lithium OG Kush needs a flowering time of between 8 and 9 weeks to reach harvest maturity. 
Plant height
Indoors, you can expect your Lithium OG Kush to grow between 0.70 and 120 cm tall. With proper care and control, you'll get a significantly stocky, heavy, and fully bushy plant. Grown outdoors, the plant can reach a height of up to 200 cm.
Lithium OG Kush feminized yield
Treat the plant with care, and you'll reap the rewards of this popular OG Kush-scented cannabis strain. 
Lithium OG Kush is a solid and robust strain with incredible growth and harvest potential. With careful pruning and care, indoor growers can achieve harvests of up to 500 grams per m². For those growing outdoors, the harvests are even more impressive, and you can achieve yields of up to 650 grams per plant.
Effects
Lithium OG Kush cannabis boasts a low CBD content and a high THC content. This offers an active and euphoric high that can stimulate the mind. Moreover, it offers a calming high that is perfect for those seeking relaxation.
Because the psychoactive effect is relaxing, it is ideal for recreational and medicinal use and offers uplifting, mood-enhancing effects. It also helps as an energy boost, with positive, upbeat after-effects.
Side effects
Because Lithium OG Kush has a high THC content of 20%, typical side effects may occur. These include a mild form of dizziness and dry eyes/mouth.
Smell and taste
The Lithium OG Kush has a unique aroma that is aromatic and kerosene-like. It is somewhat similar to diesel and is similar to the smell found in Sour Diesel. She also has fruity, citrus notes.
In terms of taste, the Lithium OG Kush strain is nicely fruity. For example, you can taste the lemon but also the freshness of the grapefruit. If you are familiar with the OG Kush, you will be delighted by the similar aroma.
Origin
Lithium OG Kush is an Indica-dominant strain created by a cross between the OG Kush and Master Kush. The result is a distinct Indica structure that is easy to grow and offers a unique, spicy aroma. The plant itself is named after the band Nirvana and their famous song "Lithium." Much like Kurt Cobain's lyrics "I'm so happy", the Lithium OG Kush is designed to be an uplifting strain with calming effects. The strain has garnered worldwide acclaim and a solid fan base that praises its convenient indoor growing capabilities.
The best Lithium OG Kush feminized seeds for sale at Weedseedsexpress
At Weedseedsexpress, you choose from a seed pack of 5 to 10 seeds. On top of that, you get 20% free seeds of the same strain. With constant special offers and quick and easy payment, you can rely on Weedseedsexpress's delivery guarantee. If an item is damaged in transit, you will be sent a replacement. Packaging is always discreet, and we offer a wide range of payment methods. 
Order Lithium OG Kush seeds today and starts your home grow with this popular strain.
Payment & Delivery
You might also like these seeds
Lithium OG Kush feminized seeds alternatives