Jealousy
feminized seeds
No need to be jealous of anyone who gets their hands on these amazing buds. You can grow your own with our Jealousy feminized seeds.
Jump to description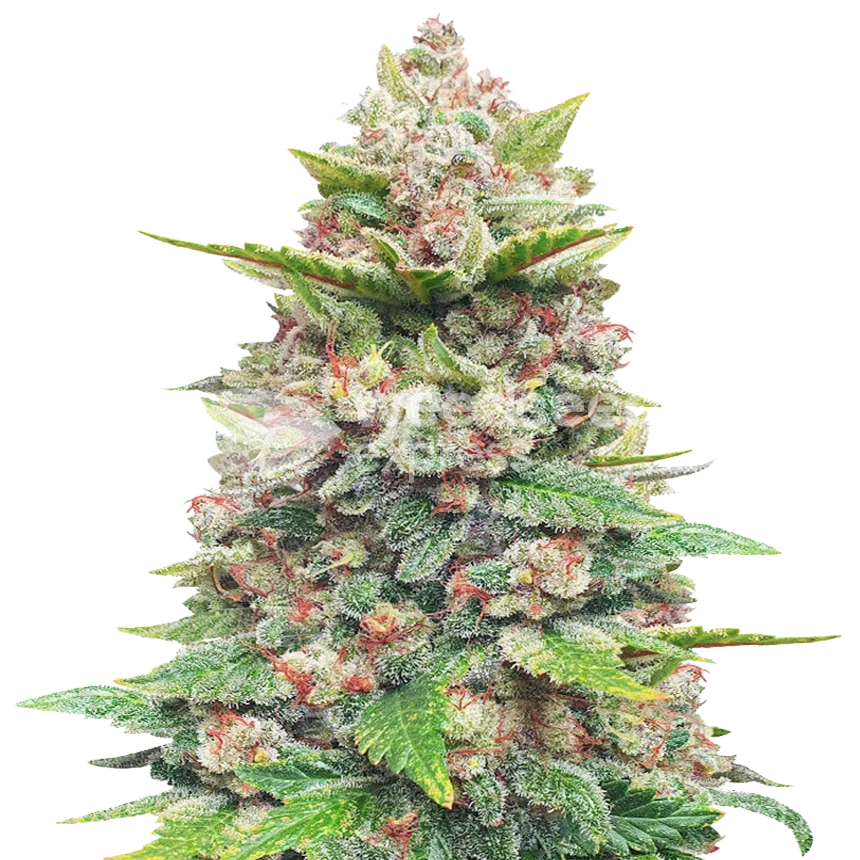 Jealousy Strain Info
Genetics
Sunset Sherbet x Gelato
Yield indoor
400-450 grams per m2
Yield outdoor
450-550 grams per plant
Height outdoor
180-200 cm
Flowering time
56-70 days
Cultivation
Indoor, Outdoor, Greenhouse
Climate
Mediterranean, Temperate
Flavors
Nutty, Pepper, Pungent, Sweet, Cream, Citrus, Lavender, Orange, Kush
Effects
Happy, Relaxed, Uplifting, Euphoric, Creative, Calming
Terpenes
Caryophyllene, Limonene, Myrcene
Jealousy feminized seeds
Growing Jealousy strain seeds is something every cannabis grower should have tried in their cannabis cultivation career. Not only does she offer an amazing flavor experience, her highly powerful effects will both relax and uplift you.
The cannabis plants of our Jealousy strain are also very low maintenance, being part of our marijuana seeds for beginners.
Why buy feminized Jealousy seeds:
Potency for days

Fast flowering time

Beginner-friendly

Complex flavor profile, with sweet, fruity, and peppery notes

Perfect for unwinding, while still leaving you euphoric

Leafly Strain of the Year for 2022
Flowering time
Our Jealousy strain seeds hit the ground running as soon as the flowering stage approach. About eight to ten weeks of patience is needed to harvest, when this stage begins.
When you see her wonderful resinous buds developing, you only have to wait two months to harvest your own Jealousy cannabis.
Yield
When the flowering period has passed, it's time for harvest of the Jealousy cannabis strain.
Under optimal indoor cultivation, growing Jealousy cannabis seeds can generate up to 450 grams per square meter. Outdoor growers could generate even more if they have the space.
Grow our Jealousy feminized seeds outdoors, and you can expect a yield of up to 550 grams per plant. Plenty of buds to be enjoyed, wouldn't you say?
Effects
This mostly Indica strain is a highly sought-after strain for both recreational and medical users. The Jealousy strain effects induce intense psychoactive euphoria and mental stimulation, closely mimicking Sativa strains. This makes her an excellent choice for creatives seeking a boost in imagination.
Evening users find our Jealousy marijuana strain particularly helpful. She can lend a calming effect that aids relaxation before sleep and relieves those contending with insomnia, chronic stress, and/or pain.
Despite her vivid mental stimulation, Jealousy remains mindful of your need to unwind, making this cannabis strain an excellent companion for your end-of-day relaxation ritual.
However, remember to consume her mindfully to avoid a potential couch-lock scenario. Enjoy Jealousy responsibly and relish her multifaceted charm.
THC Level
Novice users beware, consuming weed grown from our Jealousy strain seeds is not for the faint of heart. With a THC level of 30%, she is clearly part of the upper echelon of our high THC seeds. If you are sensitive to THC, we advise you to moderate the dosage on the buds harvested from our Jealousy seeds for sale.
Smell & Flavors
The Jealousy cannabis strain tantalizes the senses with a sweet, creamy aroma laced with vibrant citrus and calming lavender undertones.
As for the taste, she's a delightful fusion of tangy orange soda and smooth ice cream, spiked with the contrasting warmth of black pepper and the invigorating zest of kush spice.
This enticing blend makes Jealousy a true sensory treat, offering a dessert-like experience that captures the best of her parent strains.
Height
Jealousy cannabis plants are relatively tall, reflecting their vigorous growth. Indoor cultivation typically sees them reach heights between 120 and 150 cm, making them suited for spacious grow rooms.
If you're considering an outdoor grow, these hybrid strain marijuana plants can stretch even further, soaring to an impressive 180 to 200 cm. Remember to account for this robust growth when planning your garden, ensuring each Jealousy plant has ample space to flourish.
Origin
Jealousy feminized marijuana seeds is a captivating Indica-dominant creation of Seed Junky Genetics from Southern California.
She's born from a unique blend of Gelato, known for her sweet, fruity flavors and stress-relieving properties, and Sunset Sherbet, another Indica-rich strain celebrated for her sedative yet euphoric effects.
This flavorful, well-balanced hybrid carries the best traits of her parent strains, including Girl Scout Cookies genetics, promising a richly complex and soothing experience for anyone who enjoys this type of weed.
Grow Tips
Gather necessary supplies: Jealousy seeds, tweezers, distilled water, paper towels, and plates.

Soak the seeds in lukewarm distilled water for 14–18 hours.

Use the paper towel method to germinate cannabis seeds. Keep the seeds in a dark, damp environment.

Ensure the Jealousy plants receive ample light: 18–24 hours during the vegetative stage, 12 hours during flowering.

Maintain temperatures between 70-85 °F (20-30 °C) during the day and about 4 to 5 °C (7 to 9 °F) cooler at night.

Aim for 40-70% relative humidity for seedlings, 40-70% in the vegetative stage, and 40-50% during flowering.

Use light, well-draining soil rich in organic matter with a pH level between 6.0 and 7.0.

Balance nutrients: Nitrogen (N), Phosphorous (P), and Potassium (K), along with other micronutrients.

Water thoroughly, allowing the top inch of soil to dry between watering sessions.

Monitor the plant's growth regularly, ensuring optimal conditions for her high THC content.
Why buy feminized Jealousy seeds at WeedSeedsExpress?
Stellar Customer Support - Our company is built on customer service, and we aim to reply to all emails within 24 hours or less.
Germination Guarantee - We are confident in the quality of our cannabis seeds. That's why we guarantee that they will germinate. If they don't, we'll replace them for free.
Fast Worldwide Shipping - We pride ourselves on our fast shipping. With distribution centers in the US and EU, we can ship seeds to most of our customers as quickly as three days.
Free Seeds - Get FREE seeds included with any order when purchasing five or more seeds.
Payment & Delivery
You might also like these seeds
Jealousy feminized seeds alternatives