Jack Widow
feminized seeds
Whether you have a nostalgic yearning for the Amsterdam of the 90s or are a cannabis enthusiast looking for rare gems, Jack Widow feminized seeds are what you are looking for.
Jump to description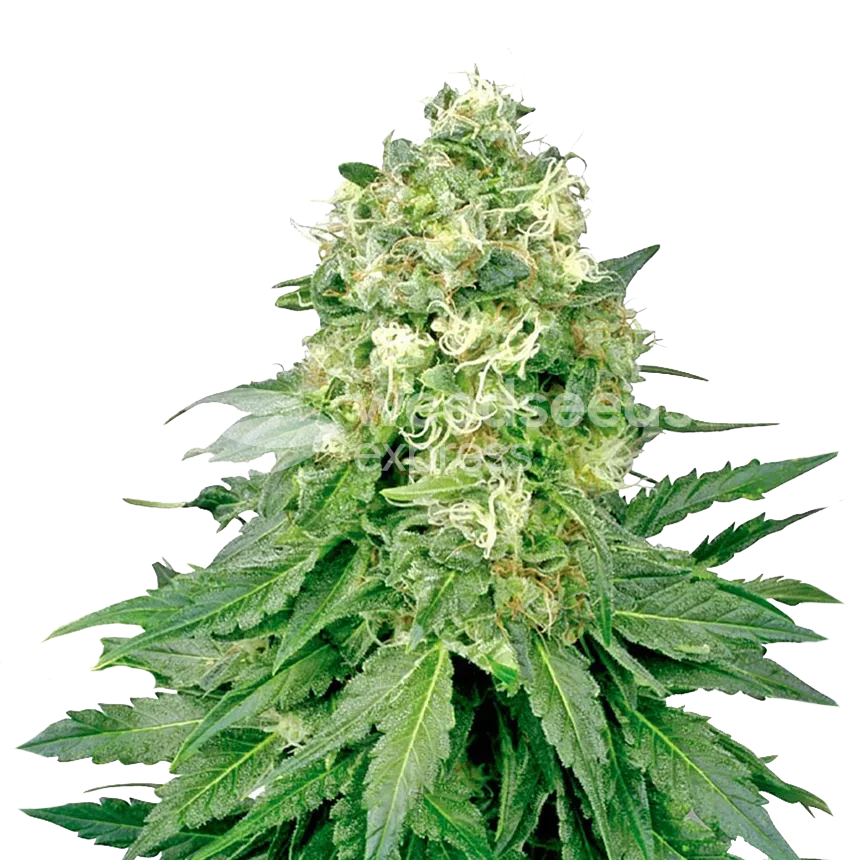 Jack Widow Strain Info
Genetics
Jack Herer x White Widow
Yield indoor
550-650 grams per m2
Yield outdoor
800-1000 grams per plant
Height outdoor
120-300 cm
Flowering time
63-70 days
Cultivation
Indoor, Outdoor, Greenhouse
Climate
Polar, Temperate, Mountains
Flavors
Lemon, Incense, Skunk, Spicy, Fruity, Haze
Effects
Relaxed, Sleepy, Uplifting, Social, Talkative
Terpenes
Ocimene, Terpinolene, Linalool, Humulene
Jack Widow feminized seeds
The famous Jack Widow is the union of the best clone of Jack Herer from Amsterdam and of the best clones of White Widow. With origins within the Golden Age of their genetics, combining these two legendary strains guarantee an experience that is both authentic and breathtaking.
Much easier to grow, faster than Jack Herer, and much more generous than White Widow, Jack Widow offers the best of both worlds.
Note: is this your very first time growing cannabis? Guarantee yourself a successful harvest by buying autoflowering Jack Widow seeds.
Why you should buy Jack Widow feminized seeds:
Huge yield potential
High THC levels
Delicious taste and aroma
Growing Jack Widow feminized seeds (indoors and outdoors)
With the feminized Jack Widow strain seeds, you have some excellent producers in your hands. While we think beginners can grow this strain, you have to keep an eye on her nutrients, so it might help if you have seen a grow or two before you start with this strain.
Jack Widow seeds can be a bit of a challenge for beginners, but doable, so don't be put off. In any case, the plant will reward you with a well-deserved and excellent-tasting supply of weed.
Flowering time
Despite its Sativa dominance, the flowering time is only 63–70 days, making it a fascinating Sativa dominant (80%) strain.
Plant height
The plants become relatively tall, with a height of up to 120 cm indoors, but this depends on the growing method and pot size. Outdoors, Jack Widow feminized can grow up to 300 cm tall!
Jack Widow feminized yield
Maximize yields by applying training methods like SCROG and FIM to Jack Widow. Her solid architecture and reliable cloning performance also make her a workhorse in SOG, where she can offer you her highest yields of 650 grams per m² in record time. Outdoors it is even possible to harvest huge yields of 1000 grams per plant, especially if you have some experience under your belt.
For a more therapeutic effect, we recommend harvesting after the 7th week. However, if you prefer a more relaxing effect, we recommend harvesting from the 8th week. Outdoors, you can harvest the first buds of this Jack Widow in the middle of October.
Effects
As you can expect from her parents, this strain produces a potent weed with a very high THC content that can reach up to 21% in the hands of a skilled grower. Therefore, this is not a weed to wake up to on a quiet Sunday morning. However, due to the considerable Sativa influence, the high is still energetic despite the high THC percentage, and you don't have to worry about a possible couch lock.
Jack Widow is also known to lift the spirits and relieve you of pains throughout the body, starting at the base of the neck, working down the spine. It can also promote social relaxation, helping people become more chatty and lively. Many reviewers have additionally noted that this strain effectively relieves nausea and insomnia.
Side effects
Aside from the familiar dry mouth and eyes, Jack Widow can induce dizziness or anxiety when smoked in higher than average doses.
Don't be surprised if the munchies strike either, as her THC content is over 20%. 
Smell and taste
The aroma is spicy lemon due to the Haze influence of the Jack Herer, with undertones of Skunk and incense. Exceptionally delicious! You will also find the hazy and fruity notes of Jack Herer as the sweet and voluptuous hashish flavor of White Widow.
Origin
Jack Widow feminized was all the rage for a long time in Amsterdam. A cross made between one of the best Jack Herer in Amsterdam and a White Widow from the best Dutch lines.
As the name suggests, Jack Widow is a hybrid cannabis strain and the product of the world-famous White Widow and the equally famous Jack Herer plant.
The best feminized Jack Widow seeds for sale at Weedseedsexpress
Delivering a top blend from Dutch coffee shops was the goal, but the result exceeded our expectations with the Jack Widow. Her perfect hybridization goes from the shoot to the last note, as powerful as it is sweet in an incredibly balanced high.
Relive the golden age of the 90s with the Jack Widow, a sure bet you won't regret having on your side all year round to guide your daily life. Jack Widow is a strain for true cannabis connoisseurs and is waiting to be grown by you. So buy your Jack Widow feminized seeds from Weedseedsexpress today!
Payment & Delivery
You might also like these seeds
Jack Widow feminized seeds alternatives