Jack Herer
feminized seeds
Jack Herer is a cannabis legend who is one of the undisputed heroes of the cannabis world. The strain owes its name to an American activist who championed the legalization of marijuana and the broader use of hemp in many industries.
Jump to description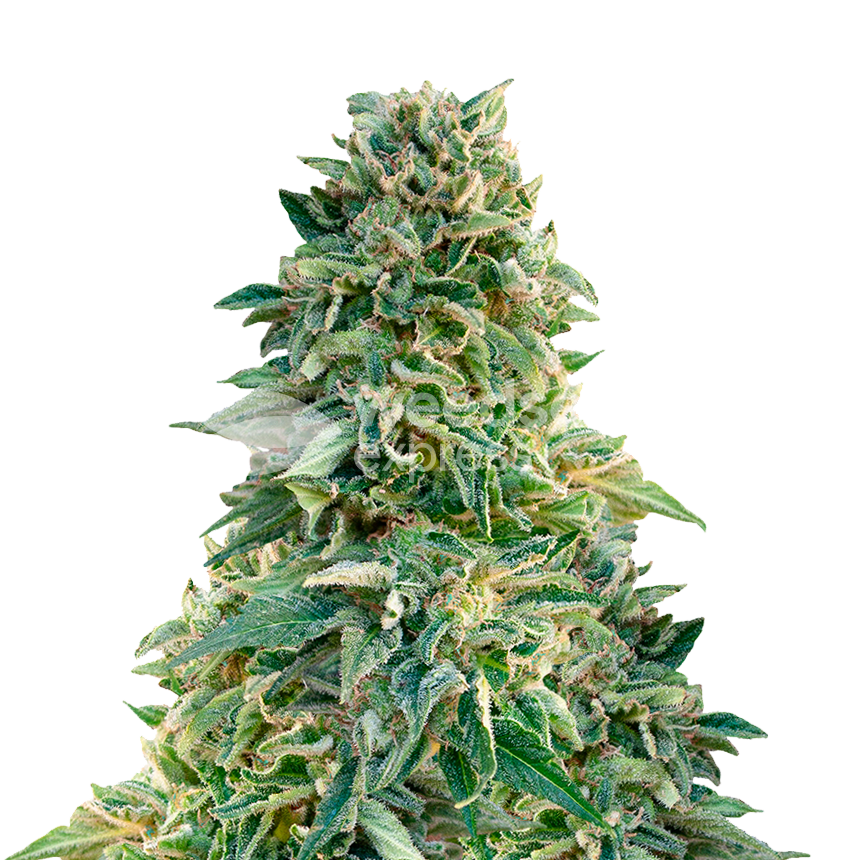 Jack Herer Strain Info
Genetics
Haze x Shiva Skunk x Northern Lights #5
Yield indoor
500-600 grams per m2
Yield outdoor
600-700 grams per plant
Height outdoor
130-180 cm
Flowering time
60-70 days
Cultivation
Indoor, Outdoor, Greenhouse
Climate
Mediterranean, Arid
Effects
Energetic, Euphoric, Focused, Happy, Social, Calming, Relaxed
Terpenes
Nerolidol, Trans Nerolidol, Delta 3 Carene, Terpinolene, Alpha Pinene, Limonene, Eugenol, Alpha Phellandrene, Cymene, Gamma Terpinene
Jack Herer feminized seeds
The plant version earned a reputation for its stability and excellent results without too much skill and effort on the grower's part.
Feminized Jack Herer seeds offer the best elements of Sativa (55%) and Indica (45%) in terms of cultivation and its effect. Furthermore, Jack Herer won nine Cannabis Cup medals over the years, which speaks for itself. Therefore, it is not surprising that Jack Herer seeds are extremely popular among growers in the USA (especially in California and Colorado), Canada, and the UK.
Note: Is this your first grow and seeking a successful harvest without too much effort? Buy Jack Herer autoflower seeds. 
Why you should buy Jack Herer feminized seeds:
Produces good-sized buds
Complex, pleasant flavor
High therapeutic potential
Growing Jack Herer feminized seeds (indoors and outdoors)
As for cultivation, Jack Herer is a reasonably thick and productive plant that produces enormous buds. Make sure that the branches are supported to prevent snapping. Most Sativa plants should be controlled indoors by training or pruning a little. She is pretty rapacious when it comes to nutrients but, in return, offers impressive results under the right growing conditions.
Outdoors, Jack Herer prefers warm, dry climates such as the Mediterranean coast, where she will give outstanding results with large, productive trees. However, you would be well-advised to use a greenhouse if growing in a cooler, wetter region. In addition, she does not develop a strong odor until after harvest and good ripening, which makes Jack Herer an ally of choice in terms of discretion.
Jack Herer's genetics achieve excellent yields indoors or outdoors in the right conditions.
Flowering time
Flowering time takes between 60 and 70 days when grown indoors.
Plant height
Jack Herer seeds grow into relatively compact strains. Its height indoors is 90 to 130 cm, and typical sizes outdoors range from 130 to 180 cm.
Jack Herer feminized yield
Indoors, the maximum yield is 500 to 600 grams per m².
Yields outdoors are generally higher, with 600 to 700 grams per plant.
Effects of Jack Herer
First, the smoke is heavy and lingers in the mouth; you won't want to light yourself up a cigarette right after smoking Jack Herer. This bud is perfect for chilling with friends having a little fun. For film lovers, it's the ideal choice! The high that lasts a little is sure to keep your interest in the plot as long as the stone nails you, even seeing the time pass.
The effect is a pleasant balance between a full-bodied stone and a cerebral high, although the stone is powerful and dominant. Jack Herer will be suitable for daytime smoke to improve your mood and feel relaxed. However, the buzz won't bring on couch-lock if you need to get things done.
Despite low levels of CBD (0.8%), Jack Herer is highly rated for stress, anxiety, depression, pain, fatigue, migraine headaches, and appetite.
Side effects
Users frequently report that Jack Herer can make them feel dehydrated, particularly in the mouth and eyes. So make sure you have plenty of fluids to hand to combat this side effect.
Smell and taste
The Haze taste is excellent, a flavor that takes different paths depending on the seeds. But very often, you will find the typical Indica aromas which mingle with the sweet notes of Sativa, quite fruity, lemony with earthy and skunky undertones. In addition, you may experience sweet nuances of fruit reminiscent of sandalwood or even pine forest smells.
Jack Herer has become famous for its medicinal benefits over the years. The strain is straightforward and will produce a good yield if grown in the right conditions. Jack Herer produces copious quantities of THC, so much that you can practically see the branches glistening with the sticky resin.
Origin
Jack Herer was created in the Netherlands in the mid-1990s as a tribute to the infamous activist and author. Consisting of Haze x Shiva Skunk x Northern Lights #5 genetics, she quickly rose on the bestsellers list in Dutch coffeeshops for being a reputable and reliable medical-grade variety. 
Buy the best feminized Jack Herer seeds at Weedseedsexpress 
In our opinion, Jack Herer is one of those strains that you should have grown once. Regardless of whether you prefer Indica or Sativa (dominant) strains. The vast majority of growers and smokers consider this strain unique and a true treat for the senses. So order your Jack Herer feminized seeds at Weedseedsexpress today and discover what makes this variety so amazing! 
Payment & Delivery
You might also like these seeds
Jack Herer feminized seeds alternatives