Ice Cream Cake
feminized seeds
Can't keep your hands to yourself when it comes to the frosting? With our Ice Cream Cake feminized seeds, you can have your cake and smoke it too!
Jump to description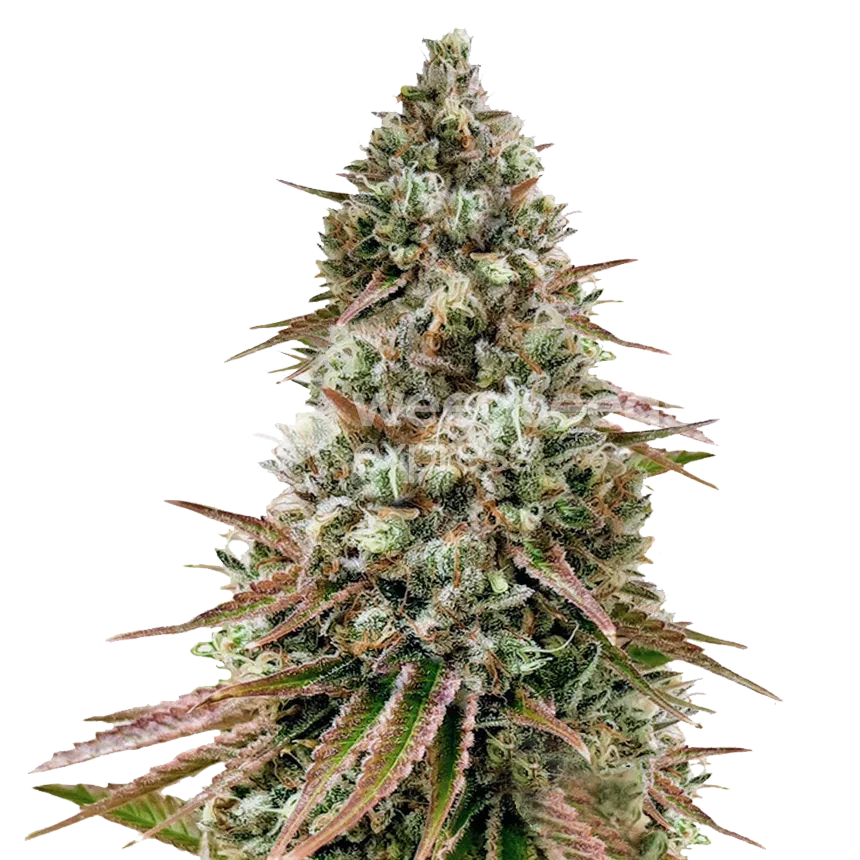 Ice Cream Cake Strain Info
Genetics
Gelato x Wedding Cake
Yield indoor
400-450 grams per m2
Yield outdoor
600-700 grams per plant
Height outdoor
150-200 cm
Flowering time
60-65 days
Cultivation
Indoor, Outdoor, Greenhouse
Climate
Mediterranean, Temperate, Tropical
Flavors
Pine, Citrus, Sweet, Cream, Vanilla, Earthy, Nutty, Flowery, Herbal, Orange, Lavender
Effects
Relaxed, Sleepy, Happy, Calming, Euphoric
Terpenes
Beta Caryophyllene, Alpha Humulene, Limonene, Myrcene, Linalool, Nerolidol, Beta Pinene, Geranyl Acetate, Alpha Pinene, Eucalyptol, Alpha Phellandrene, Caryophyllene Oxide, Delta 3 Carene, Terpinolene
Ice Cream Cake feminized seeds
Ice Cream Cake feminized seeds are a combination of two famous dessert strains: Wedding Cake x Gelato.
Our Ice Cream Cake seeds grow buds that are just as delightful as the dessert she's named after. A cacophony of sweet flavors and aromas, combined with a powerful high that can melt away your worries like an actual ice cream cake on a hot summer day.
With our Ice Cream Cake feminized seeds the cake is definitely not a lie, so continue reading and find out why this strain should be part of your garden or grow room ASAP.
Why you should buy feminized Ice Cream Cake seeds
A great mix of sweet, ice cream-like flavors

Great yield potential of frosty buds

Potent effects that will help you wind down
Growing Ice Cream Cake feminized seeds (indoor/outdoor)
Growing Ice Cream Cake feminized seeds is a fantastic project for experienced cannabis cultivators. The strain's sturdy and compact structure combined with its moderate growth difficulty makes it an appealing option for those looking for a rewarding growing experience. Especially because this strain, like all our feminized seeds, only grows female plants, meaning you can count on a guaranteed harvest.
Starting with a high-quality substrate, such as perlite, peat, or coco coir, is crucial for your Ice Cream Cake plants. These materials are fantastic for retaining moisture, an essential element for your seeds as they transform into thriving plants. Ensuring a good balance of moisture and drainage will help your Ice Cream Cake plants develop strong roots and vibrant foliage.
Whether you're growing this Wedding Cake x Gelato offspring indoors, outdoors or in a greenhouse, it's all about creating the optimal environment. Indoor growers should consider the use of vertical spaces and the ScrOG method, known to increase the size of lower flowers and promote a uniform growth plane. This growing technique involves weaving the plants through a horizontal screen, allowing light to reach all the buds equally.
Meanwhile, if you plan to go the outdoor route, aim to plant your seeds in an area that receives ample sunlight. Cultivating cannabis outdoors offers the advantage of natural lighting, but remember to select the best time to grow, taking into account your region's climate and the daylight hours.
A crucial aspect of nurturing your Ice Cream Cake plants is maintaining a good temperature range. Your sweet plants grow best if the daytime temperatures are between 20 to 21° C (68 to 80° F). Nighttime temperatures should be about 4 to 5° C (7 to 9 °F) cooler for the Ice Cream Cake plants to thrive.
Another key factor is humidity control. During the vegetative phase, keep the relative humidity (RH) levels at 55%-60%. You can then reduce RH to around 40% during the flowering phase, dropping to 30% around harvest time.
Ice Cream Cake grows into weed plants with a striking appearance: their dense, colorful buds (sometimes even showing a subtle purple tint) contrasted against dark green foliage. They also develop a beautiful frosting of trichomes, much like the dessert they're named after, making them a truly appealing sight in any grow room or garden.
Lastly, don't forget about the importance of feeding your cannabis garden. Your Ice Cream Cake plants need to be well-fed from the seedling stage through to flowering. Incorporating a balanced diet for your plants will ensure they grow robustly and produce high-quality buds.
Flowering time
While not the fastest growers, the Ice Cream Cake strain flower within a timely manner. From the moment your Ice Cream Cake plants start developing buds, they should need a little over nine weeks of flowering time.
Plant height
Indoors, Ice Cream Cake seeds can sprout a plant of medium height, ranging somewhere between 90 and 110 centimeters.
If you are more of an outdoor cultivator, you can expect the Ice Cream Cake strain to stretch quite a bit further. In a warmer climate, this indica dominant hybrid can reach a height of two meters.
Ice Cream Cake feminized yield
Get your jars ready, because you will be able to harvest plenty of frosty frosted buds. Grown inside a grow room, a yield of up to 450 grams per square meter is not out of the ordinary.
Outside in your cannabis garden, grow in optimal conditions, you can harvest up to 700 grams per plant. That should net you quite the stash.
Effects of Ice Cream Cake feminized weed
If you're looking for an experience that delivers serenity akin to a leisurely afternoon indulging in your favorite dessert, Ice Cream Cake might just be your strain of choice. A coveted indica dominant hybrid, this strain captivates with its extraordinary capacity to soothe both body and mind, a perfect choice for a tranquil evening wind-down.
Embarking on the Ice Cream Cake journey is akin to drifting into a gentle, calming embrace. Her potent effects swiftly dial down life's volume, easing away stress and worries that might have been your unwanted companions throughout the day. It's a godsend for those grappling with anxiety, its tranquilizing properties providing an effective relief that permeates both the physical and mental spheres.
But Ice Cream Cake's magic goes beyond her potent effects. As you dive into her enchanting world, you'll find a symphony of terpenes playing a remarkable role. Limonene and myrcene work in tandem to create a blanket of relaxation and calm, while caryophyllene adds a subtle but powerful anti-inflammatory and analgesic touch.
One other noteworthy characteristic of Ice Cream Cake is her potential to induce a hearty appetite. Whether you're battling nausea or finding it hard to enjoy meals due to a lack of appetite, the strain could be your unexpected ally. She's known to cause a case of the munchies, and users often find themselves reaching for their favorite snacks soon after partaking.
Side effects
With her deceptively sweet name, Ice Cream Cake might encourage newcomers to dive in headfirst. However, they should proceed with caution. While many find solace and joy in the strain's tranquilizing effects, those unaccustomed to strains grown from high THC seeds might experience less-than-pleasant reactions. Dizziness and nausea can surface, disrupting the calming journey that Ice Cream Cake promises.
It's also common for your eyes and mouth to get a bit dry when consuming Ice Cream Cake weed, just like any other cannabis strain. Make sure you stay hydrated, while you indulge in her sweet buds.
Smell and taste of feminized Ice Cream Cake weed
Feminized Ice Cream Cake weed is a fragrant strain that captivates the senses with a tapestry of scents and flavors. Her remarkable scent profile is unique and unforgettable; an enchanting aromatic experience that parallels the delights of a gourmet bakery or an artisanal ice cream parlor.
From the moment you encounter it, you're ensnared by the potent wafts of creamy vanilla, an aroma so pure, it brings to mind the tantalizing aroma of fresh ice cream on a hot summer day. This scent is delicately complemented by an inviting nuttiness that rounds out her sweetness and adds an intriguing depth to the strain.
As the feminized Ice Cream Cake weed blooms, her aroma evolves and matures, displaying her dynamic scent profile. The creamy vanilla is met with a gentle wave of citrus in the early stages of flowering, a zesty note that balances the sweetness and adds a refreshing twist to the mix. But the voyage your nose will take doesn't end there; as the flowering process reaches its zenith, the citrus undertones subtly transition into a more floral and earthy aroma, grounding the earlier sweet and citrusy notes with her innate, rustic charm.
As intriguing as her scent, the taste of our Ice Cream Cake strain continues to dazzle. Each inhale brings forth a symphony of flavors, dominated by the strong, creamy vanilla that translates perfectly from her scent. The sweetness on the palate is gently countered by a cool, crisp undertone of citrus, bringing a refreshing touch to balance the initial sweetness.
And just when you think you've got this strain figured out, your taste buds are treated to an unexpected turn on the exhale—an herbal earthiness that gives a rustic edge to the overall flavor profile. Astute connoisseurs might even detect delicate whispers of orange, cinnamon, and lavender, notes that lend a surprising twist and add to the overall complexity and richness of this Ice Cream Cake strain.
Origin of Ice Cream Cake seeds
Picture this - a prestigious lineage of two powerful strains meeting in a harmonious union, resulting in a unique cannabis variety that has swept the world off its feet. This is the story of the origin of Ice Cream Cake seeds, a strain that's as fascinating in her genesis as she is in her flavors and effects.
Ice Cream Cake hails from a marriage of two respected strains in the cannabis world: Wedding Cake and Gelato. The former, Wedding Cake, known for her potent psychoactive effects, sweet tangy flavor, and generous resin production. The latter, Gelato, a fan favorite for her delightful dessert-like aroma and profound relaxation-inducing properties.
The coming together of these two champions wasn't just a fortunate coincidence, but a carefully planned match. Her original breeders, Seed Junky Genetics and Mad Scientist Genetics, aimed to merge the best characteristics of both parents, crafting a strain that encapsulates a balance of potency, flavor, and physical benefits. Thus, Ice Cream Cake feminized seeds was born.
The best feminized Ice Cream Cake seeds for sale online at WeedSeedsExpress
At WeedSeedsExpress, we're thrilled to provide Ice Cream Cake feminized seeds—a remarkable strain that combines flavor, aroma, and high potency for an unparalleled cannabis journey.
With every purchase, you don't just acquire a top-tier strain, you also become part of our growing family, a community supported by amazing customer service, an ironclad germination guarantee, and an exciting bonus of free seeds with every 5- or 10-pack purchase.
Dive into the captivating world of Ice Cream Cake, and watch as our weed seeds for sale transform your grow space into a delightful aroma and flavor oasis. Ready to elevate your cannabis cultivation experience? Bring home your Ice Cream Cake seeds today and get ready for the grow of a lifetime!
Payment & Delivery
You might also like these seeds
Ice Cream Cake feminized seeds alternatives