Hellfire OG
feminized seeds
Grow your own devil's lettuce, with Hellfire OG feminized seeds and experience her frosty buds, which will even impress Lucifer himself.
Jump to description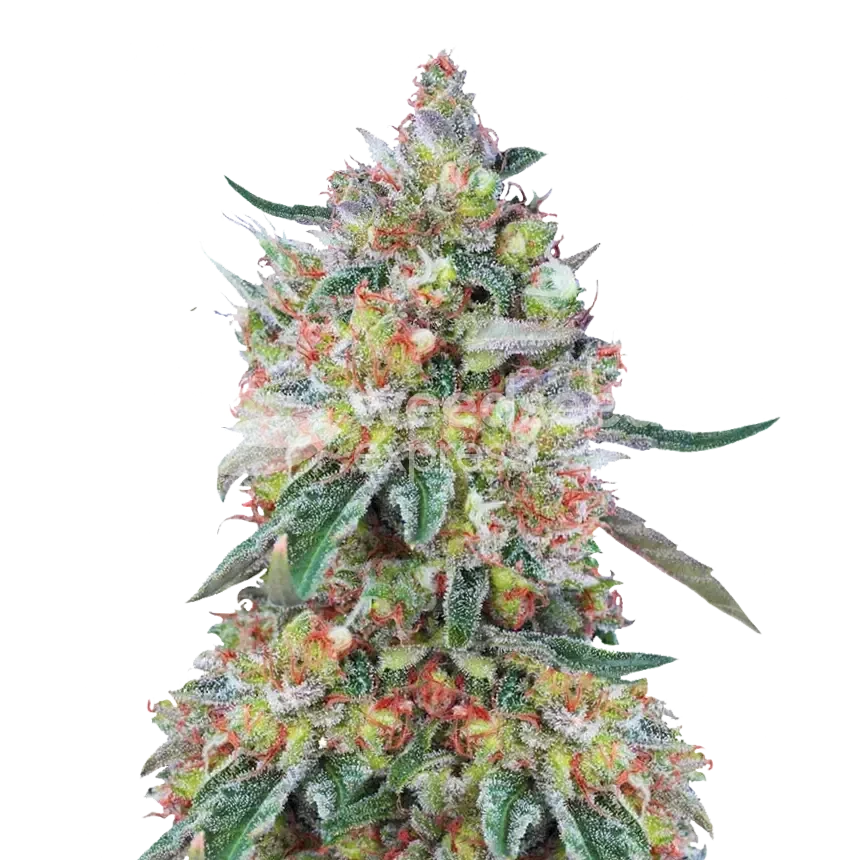 Hellfire OG Strain Info
Genetics
OG Kush x SFV OG Kush
Yield indoor
400-500 grams per m2
Yield outdoor
600-700 grams per plant
Height outdoor
150-200 cm
Flowering time
55-65 days
Cultivation
Greenhouse, Indoor, Outdoor
Climate
Temperate, Mediterranean
Flavors
Citrus, Diesel, Earthy, Herbal, Lemon, Pine, Spicy
Effects
Creative, Euphoric, Focused, Hungry, Relaxed, Talkative
Terpenes
Nerolidol, Fenchol, Phytol, Borneol, Camphene, Ocimene, Terpinolene, Alpha Pinene, Beta Caryophyllene, Linalool, Limonene, Eugenol, Cadinene, Citral, Alpha Cedrene, Humulene
Hellfire OG feminized seeds
Hellfire OG will ignite a fire in your soul! This balanced hybrid grows vigorously and produces abundant yields of resinous buds. Her ease of growth makes Hellfire OG seeds perfect for growers of all skill levels.
Hellfire OG delivers profoundly relaxing effects and intense spicy pine and citrus flavors and aromas.
Ready to find out more about our feminized Hellfire OG seeds? Prepare to get all fired up when you see which amazing features this devilish strain has to offer! If you are just starting out as a grower, or want to grow this strain even quicker, make sure to also check out our Hellfire OG autoflower seeds.
Why you should buy Hellfire OG seeds:
Extremely high THC levels

Amazing Kush hybrid strain

Descendant from two world-famous weed strains
Growing Hellfire OG feminized seeds (indoors and outdoors)
Hellfire OG feminized seeds can be grown indoors, outdoors, and in a greenhouse. She does prefer a warm climate, which can be essential to reach her full potential.
Hellfire OG marijuana seeds grow into short and bushy plants, with sturdy branches to support the trichome-coated dense buds, and mint-green leaves. Due to her bushy growth, this variety will require regular pruning, especially in the vegetative phase.
There is a lovely aroma of lemon peel, citrus, and pepper emanating from the shimmering sticky resin-covered buds, which evokes a damp pine forest floor.
You know that harvest time is approaching when the pistils exhibit sunset orange hues during the late flowering stage.
One of the amazing things about feminized marijuana seeds, is that they have been specially designed so that they contain no male chromosomes. In other words, your entire crop will consist of 100% female plants!
Flowering time
Hellfire OG cannabis seeds produce plants with a relatively short flowering time of about 55 to 65 days.
Outdoors, this means that harvest time will be around mid-October (in the Northern Hemisphere).
Plant height
Hellfire OG is a plant that can grow quite tall. Indoors she remains relatively short and generally reaches a height of 80 to 100 cm.
A Hellfire OG plant outdoors can stretch nicely and reach a height of 150 to 200 cm.
Hellfire OG strain yield
Our Hellfire OG feminized cannabis seeds are the perfect choice when you have high yields as your goal.
Under optimal growing conditions, the plant will yield 400-500 grams per m² when grown indoors.
Growing outdoors, she can even go for a harvest of up to 700 grams per plant.
Effects of Hellfire OG feminized
Hellfire OG marijuana offers perfectly balanced cerebral and physical effects for your body and mind.
As the massive THC content already reveals, this strain may be less than suitable for novice smokers. Hellfire OG's initial high sets in swiftly and incredibly intense with feelings of euphoria and joy.
After some while, this gradually transitions into a wave of relaxation taking over your body and relaxing the muscles. This blissful state may even make you want to surrender to a deep, peaceful slumber.
Medicinally, Hellfire OG also offers various benefits. Her potent anti-inflammatory properties may aid those suffering from chronic pain, sore joints and arthritis. And her deeply relaxing traits can benefit a variety of mental issues like depression, stress, and even bipolar disorder.
Side effects
Naturally, overdoing it is playing with fire, as this can result in anxiety and paranoia. But despite her sky-high THC percentage, weed grown from Hellfire OG seeds has surprisingly few adverse effects when used in moderation. A common side effect is dry mouth and eyes, simply remain hydrated and enjoy!
Smell and taste
Hellfire OG's buds emit the primary alluring scents of herbs, pine, and pepper. Among the prominent aromas are subtle tones of lemon citrus, earth, and exotic Thai incense.
With hints of kush, the smoke has a strong, spicy diesel fragrance. Lemon, pine, and peppery, spicy fuel flavors perfectly complement this wonderful concoction of scents.
Origin
Originating in sunny California, Hellfire OG feminized cannabis seeds' legendary heritage was shaped by the crossing of two celebrated strains - OG Kush and SFV OG Kush.
Cannabis enthusiasts from around the world love the classic OG Kush strain, which dates back to the 1960s. OG Kush contributed her powerful cerebral and physical effects to her Hellfire offspring.
The indica-dominant SFV OG Kush passed down her robust plant structure and delicious earthy and citrus flavors to Hellfire OG fem seeds.
Combing the amazing traits resulted in highly potent and easy-to-grow cannabis seeds, as well as a top medicinal marijuana choice.
The best Hellfire OG seeds for sale at Weedseedsexpress
At Weedseedsexpress we provide you with the highest quality cannabis seeds, discreet and guaranteed delivery, and a germination guarantee.
Hellfire OG feminized seeds actually have everything a discerning grower desires. Fast flowering, a massive harvest potential, an amazing effect, and a unique flavor palette with a diesel aftertaste is quite different from anything we have ever tasted before.
Buy the best feminized Hellfire OG marijuana seeds at Weedseedsexpress, and experience growing and smoking Hellfire OG homegrown cannabis firsthand!
Payment & Delivery
You might also like these seeds
Hellfire OG feminized seeds alternatives