Haze
autoflower seeds
Haze autoflower is a masterpiece that combines the uplifting effects of Haze, the classic Sativa, with the practical self-flowering properties of Ruderalis and the more compact stature of Indica.
Jump to description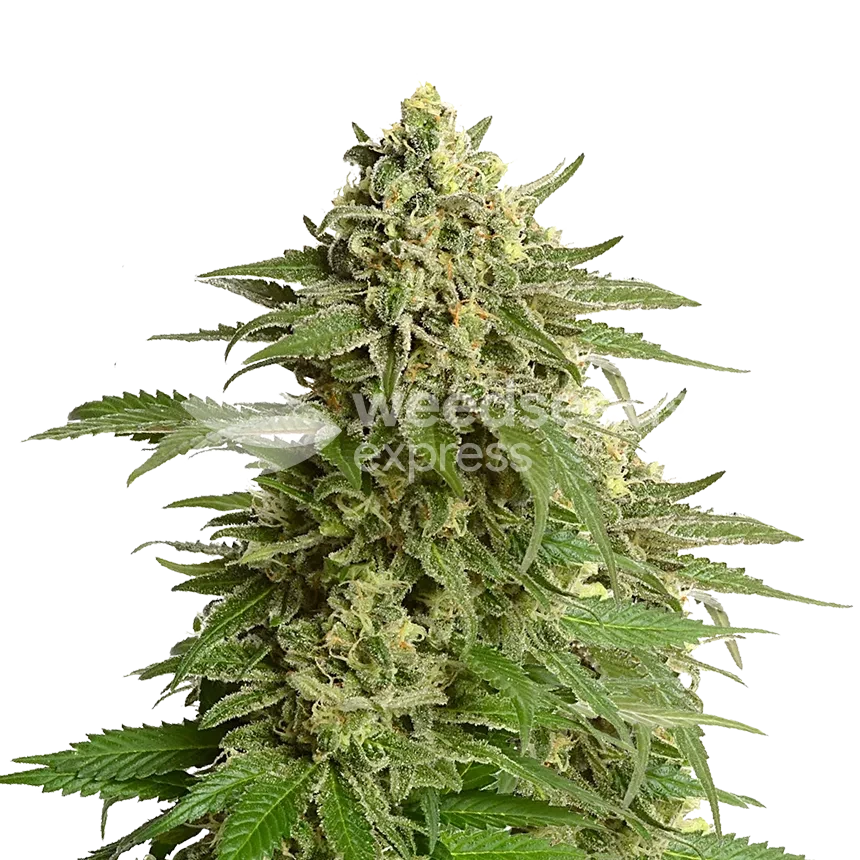 Haze autoflower Strain Info
Genetics
Haze x Ruderalis
Yield indoor
350-450 grams per m2
Yield outdoor
100-200 grams per plant
Flowering time
56-63 days
Cultivation
Outdoor, Greenhouse, Indoor
Climate
Mediterranean, Arid, Tropical
Flavors
Sweet, Haze, Earthy, Woody
Effects
Energetic, Creative, Euphoric, Relaxed, Uplifting
Terpenes
Terpinolene, Beta Caryophyllene, Linalool, Limonene, Cymene
Haze autoflower seeds
Haze Autoflower seeds develop into great cannabis plants, with a high THC content of 24% and a CBD content of 1.5%. This autoflower descends from the Original Haze and consists of 70% Sativa genes, 10% Indica, and 20% Ruderalis. It is a plant that is easy to grow and suitable for outdoor cultivation in the Mediterranean, arid and tropical climates.
Curious? Then read on!
Why you should buy Haze Autoflower seeds:
Suitable for beginners to grow
Fast time from seed to harvest
Delicious Haze weed with a sweet tropical taste
Growing Haze Autoflower (indoor and outdoor)
The difficulty level of the Haze Autoflower is classified as suitable for beginners. This is mainly due to her resistance to mold and the that she is an autoflower. However, it is also due to her relatively short flowering time, which gives mold no time to settle.
Autoflower strains usually stay a bit smaller than photoperiod strains. The advantages of autoflowers are therefore not in quantity. Instead, growers usually choose an autoflower for its speed and quality. However, the Haze Autoflower offers the best of both worlds because it is a strain that, despite its fast growth cycle, can still reach a decent size of high quality.
Finally, with the Haze autoflower, you can enjoy multiple harvests in one season. Plant, for example, five of these autoflowering giants in early April and do it again if necessary in early July. We can guarantee that you will have enough winter supply.
Point of attention
Compared to photoperiod varieties, she produces a bit more leaves. However, this is a Ruderalis characteristic that you will find in almost all autoflowering cannabis varieties.
Flowering time
Haze Autoflower features a flowering time of 56 days to 63 days. However, you no longer have to wait for a change in the light cycle; this incredible Haze hybrid begins to flower automatically after about 4 weeks of vegetative growth. The plant is still relatively small then, but that will recover during flowering.
Plant height
When grown indoors, this beautiful plant will grow into a plant with a pleasantly manageable height of 60 cm to 100 cm on average. Outdoors, the plant will grow taller and can reach a height of 150 cm.
The size of the plants depends on the pot and the medium in which it is grown used. If you put the Haze Autoflower in the garden in a place where she can enjoy the sun in peace, she can reach her maximum size of 150 centimeters.
If you prefer to keep her a little smaller - in a compact grow tent, for example - then that's possible too. Simply by putting her in a pot. In a 12-liter pot, she is more likely to reach a height of up to 60 centimeters.
Haze Autoflower yield
After finalizing your grow, you will be rewarded with a satisfying harvest of lush buds with a fresh, fruity aroma and an active euphoric high.
Growing Haze auto indoors, a generous yield of approximately 350 to 450 grams per m² awaits you.
Outdoors the results you obtain with your Haze auto plants are more dependent on external circumstances. Yet, average yields between 100 to 200 grams per plant are still very rewarding.
Effects
With 24% THC, one expects a potent effect, and Haze is ready to deliver! The powerful Sativa properties in this strain bring about uplifting and energetic effects. Slightly euphoric and bound to boost your creativity. Yet the smidge of Indica ensures you will feel completely relaxed. 
Side effects
When overdoing it, Haze cannabis can make some people anxious and paranoid. Therefore, it is advisable to take it easy, especially if you are not familiar with haze strains or consuming cannabis.
Smell and taste
Like all Haze varieties, this autoflowering plant has a distinctly spicy aroma when smoked, though citrusy and earthy scents are also quintessential to this variety.
The flavor of this Haze auto strain combines sweet and exotic flavors with earthy and woody tones and just a hint of citrus.
Origin
The Original Haze as we know it was discovered in the 1960s and originated in California, where the long growing seasons suited her longer than average flowering cycle. Since then, the Original Haze has become the mother of countless hybrids worldwide.
This incredible autoflowering variety owes her autoflowering abilities to crossing Haze with a Ruderalis.
Buy the best Haze Autoflower seeds at Weedseedsexpress
In the past, Haze strains were only grown by growers who could endure their 16-24 week flowering period and handle their great height, knowing that they would only harvest an average amount of buds as a reward. The incredible, joyful, and energetic cerebral high made this strain so attractive to grow.
That has changed with the advent of the latest generation of Haze strains. Especially with this autoflower that has considerably shortened both her flowering time and height.
Have you become curious? We have the best Haze autoflower seeds for sale at Weedseedsexpress. So order today and enjoy a delicious autoflowering Haze weed!
Payment & Delivery
You might also like these seeds
Haze autoflower seeds alternatives