Granddaddy Purple
autoflower seeds
Granddaddy Purple is a strain with a name you won't soon forget. And you can now grow her easier than ever, with this autoflower version.
Jump to description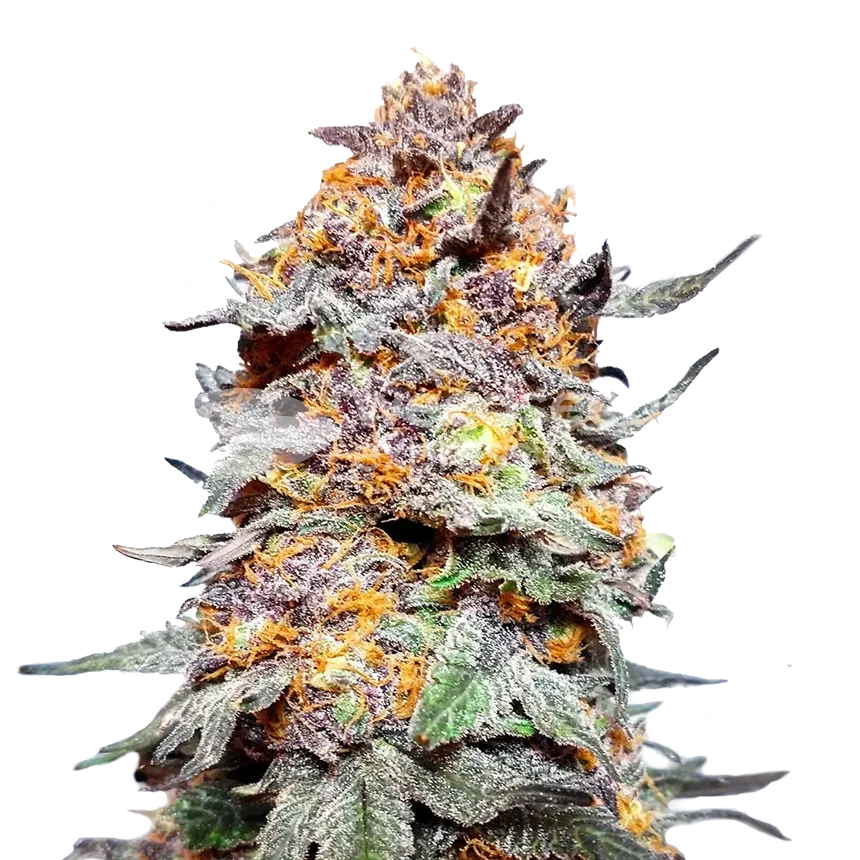 Granddaddy Purple autoflower Strain Info
Genetics
Granddaddy Purple x Ruderalis
Yield indoor
200-300 grams per m2
Yield outdoor
60-80 grams per plant
Flowering time
56-63 days
Cultivation
Greenhouse, Indoor, Outdoor
Climate
Mediterranean, Mountains, Polar, Arid, Temperate
Flavors
Berry, Fruity, Sweet, Pepper, Pine, Cherry, Sour
Effects
Calming, Relaxed, Sleepy, Energetic, Euphoric, Uplifting, Giggly
Terpenes
Camphene, Valencene, Alpha Pinene, Linalool, Limonene, Myrcene, Geraniol, Beta Caryophyllene, Beta Ocimene, Terpineol, Humulene, Caryophyllene Oxide, Hexyl Butyrate, Ethyl Butyrate, Alpha Ionone, Alpha Bisabolol, Nerolidol, Decanol, Nerol
Granddaddy Purple autoflower seeds
Granddaddy Purple autoflower possesses all the best features of the legendary Granddaddy Purple strain; her incredible appearance, sky-high THC levels, potent indica effects, and distinctive taste sensations. Now combined with the ease of growing and fast flowering abilities of Ruderalis!
The original Granddaddy Purple (a.k.a. Grand Daddy Purple, Granddaddy Purps, or GDP) cannabis seeds were created by crossing Big Bud x Purple Urkle and come from the California Bay Area. The autoflowering variety of this purple-hued strain arose from crossing those amazing genetics with potent Ruderalis genes.
Her generous yields and layers of fruity flavors have made her one of the most popular autoflowering cannabis strains.
Want to learn more about this almost pure Indica strain with its sweet earthy aroma? Find out everything there is to know about Granddaddy Purple autoflower and assure yourself of a bountiful harvest of high-quality weed. Do you have a little more patience and want to have an even bigger yield, make sure you also check out our Granddaddy Purple Feminized seeds.
Why you should buy Granddaddy Purple auto seeds:
Delicious sweet grape taste

Typical Indica bushy plants

A true West Coast classic
Growing autoflowering Granddaddy Purple seeds (indoors and outdoors)
The combination of hardy indica, and resilient ruderalis genetics, makes Auto Granddaddy Purple cannabis plants well-suited for a wide range of environmental conditions.
Her relatively short stature, and preference for humidity-controlled environments, make this Indica perfect for indoor growth. She will also thrive outdoors in mild and cooler climates with low humidity. The plant prefers a humidity level of around 50% for successful growth. We advise keeping the grow room well-ventilated.
As the cultivation process progresses, you'll soon notice that she's a true Indica. This is reflected in her internode spacing and broad-leaved fingers, used to efficiently absorb sunlight. Her light green buds are dense, and compact, and display an array of purple hues ranging from the deepest purple to mauve. The buds are also covered under a thick layer of glistening white trichomes.
Furthermore, this variety is also known for her high resistance to mold. This makes our Auto GDP autoflower seeds the perfect choice for all growers that like to grow high-quality weed, without too much fuss.
Flowering time
Auto Granddaddy Purple is a Ruderalis variety, which makes her not light-dependent. She, therefore, starts to automatically flower once the plant reaches a certain level of maturity. All in all, she has an 8 to 9-week flowering cycle before she is ready to harvest.
This short flowering period allows the outdoor grower to realize multiple harvests per outdoor season. Just make sure you complete your last harvest before the first frost sets in.
Plant height
These autoflowering marijuana seeds grow into a relatively short plant that reaches an average height of 60 to 100 cm both indoors and outdoors.
This convenient, manageable height makes her perfectly suitable for those with limited space available.
Granddaddy Purple autoflower yield
Despite the modest height, these compact plants still produce a very decent yield.
With indoor growing plants, you can harvest up to 300 grams per m². Outdoors, the average yield will be about 60 to 80 grams per plant.
The numbers above are based on healthy growth under ideal conditions, but advanced growers should be able to achieve similar results.
Effects of Granddaddy Purple auto
With the prodigious Indica stone, this autoflowering strain lives up to her Granddaddy Purple heritage.
She has slightly lower THC levels than her feminized original. This makes auto GDP seeds also a great option for those who want to enjoy the profoundly relaxing effects, while reducing the likelihood of the dreaded couch lock.
This strain offers a deeply soothing effect that calms the nerves and puts a stop to racing thoughts. In addition, users report a happy mild buzz accompanied by subtle waves of euphoria.
Medicinally, the potent sedative qualities are excellent for therapeutic use. Negative thoughts and mild headaches evaporate upon the first exhale, while the relaxing properties have a beneficial effect on sore muscles, muscle aches, and chronic pain.
Side Effects
High doses can lead to anxiety and mild paranoia. But by maintaining a moderate dosage the negative effects will be minimal besides the usual dry mouth and eyes.
Smell and taste
The distinct sweet and fruity flavor inherited from her popular parent strains makes for an irresistible smooth taste. The sweet grape aroma, combined with blended berries, tropical spices, and an earthy finish, exactly matches the expectations of this purple weed.
The scent is pretty similar but with earthy pine and tart, slightly sharp notes of citrus.
Origin
The original Granddaddy Purple was created in 2003 and was initially developed by Ken Estes. This beautiful purple-colored plant originated in the Bay Area (California) and resulted from a cross between the powerful Big Bud X Purple Urkle.
GDP was the answer to the growing demand for a strain that was effective at relieving pain, but also produced an easy-to-grow, high-yielding crop that can withstand cooler temperatures.
Adding potent Ruderalis genes into the mix ensured her compact size and a harvest for which one doesn't have to wait long.
The best Granddaddy Purple autoflower seeds for sale at Weedseedsexpress
At Weedseedsexpress, we strive to meet the needs of our valued customers as much as possible. That also means offering something for everyone when it comes to the diversity of our strains.
GDP auto cannabis seeds are also a sublime choice for anyone who likes to go for high-quality marijuana, top yields, and for those who love fruity purple buds with a sweet undertone.
So marijuana connoisseurs looking for a cannabis plant with a high THC content that offers deep relaxation and many medical benefits, you have found your perfect match!
Granddaddy Purple is one of the absolute best. Have you not grown her yet? We recommend that you buy autoflowering Granddaddy Purple seeds and assure yourself of a personal supply of exceptionally high-quality weed.
Payment & Delivery
You might also like these seeds
Granddaddy Purple autoflower seeds alternatives