GMO Cookies
feminized seeds
If you love weed with a less typical flavor, you don't have to holler, "get me one". Just grow your own, with GMO Cookies feminized seeds.
Jump to description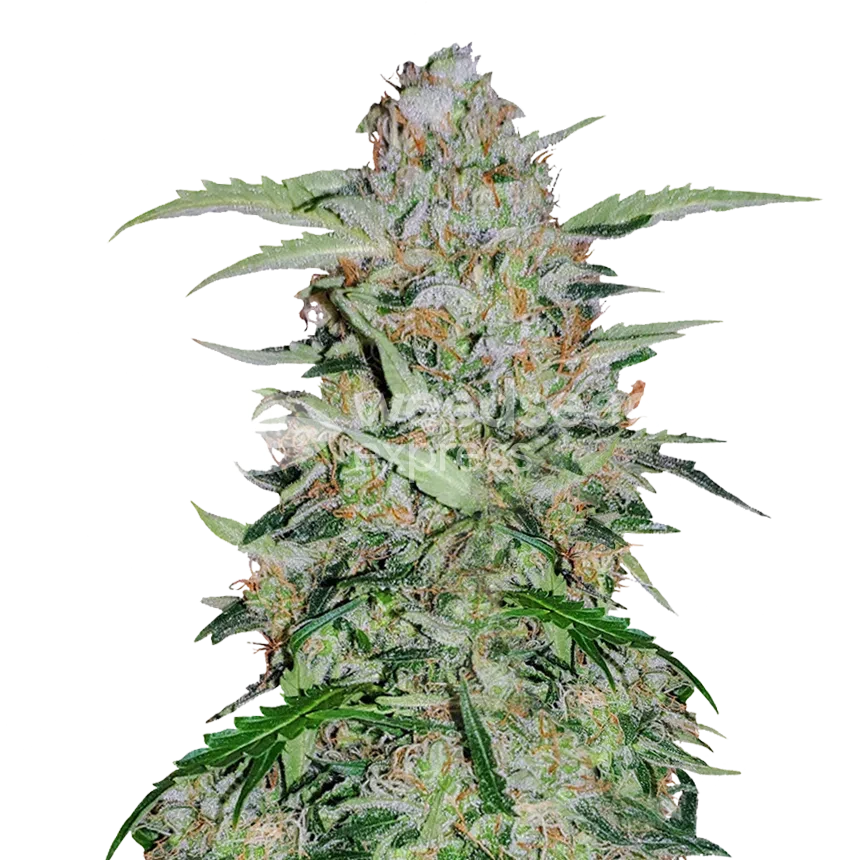 GMO Cookies Strain Info
Genetics
Chemdawg x Girl Scout Cookies
Yield indoor
400-550 grams per m2
Yield outdoor
300-600 grams per plant
Height outdoor
100-180 cm
Flowering time
63-70 days
Cultivation
Indoor, Outdoor, Greenhouse
Climate
Mediterranean, Temperate
Flavors
Sweet, Earthy, Pungent, Diesel, Herbal, Coffee, Garlic
Effects
Relaxed, Euphoric, Happy, Calming, Creative, Uplifting, Powerful
Terpenes
Beta Caryophyllene, Alpha Humulene, Limonene, Myrcene, Linalool, Nerolidol, Beta Pinene, Geranyl Acetate, Alpha Phellandrene, Caryophyllene Oxide, Delta 3 Carene, Terpinolene
GMO Cookies feminized seeds
GMO Cookies, also known as GMO Garlic Cookies or simply Garlic Cookies, is a magical cross between Girl Scout Cookies and Chemdawg, two famous strains of weed seeds beloved among many growers and consumers.
Although cultivating this indica dominant strain might pose a fair challenge, the rewards undoubtedly outweigh the trials. The moment you experience GMO Cookies' complex flavor palette and strong balanced effects, you'll realize that the effort has paid off in spades.
Want to learn more about GMO Cookies feminized seeds? Continue reading and discover why you should reserve a spot in your grow room or garden for this top shelf strain.
Why you should buy feminized GMO Cookies seeds
Strong body buzz mixed with a euphoric head high

A unique blend of flavors

Great yield potential
Growing GMO Cookies feminized seeds (indoor/outdoor)
If you're aiming for the sweet satisfaction of cultivating your own GMO Cookies strain, you're in for a fulfilling journey. Not only does this task reward your hard work with a bountiful yield, but it also offers an aromatic treat for your senses, with the unmistakable fragrance of this strain filling your cultivation space.
The venture may have a medium level of difficulty, but fear not, for the fruits of your labor will make every effort worthwhile. The GMO Cookies seeds are known for their robustness, and they will flourish when provided with the right care, either indoors, outdoors, or in a greenhouse.
Much like a gourmet recipe, the secret to growing this strain lies in the right blend of conditions. You'll want to recreate a warm, inviting environment that's similar to the strain's natural habitat. Think of it as an exotic vacation for your plants, where a balmy climate stimulates their growth and enhances their health.
Another key aspect of growing GMO Cookies is the art of de-leafing. By regularly removing excess foliage, you ensure that all parts of your plant receive adequate light and maintain optimal airflow. This careful act of gardening is akin to sculpting, where each snip brings out the inherent beauty of the plant.
When it comes to indoor cultivation, think creatively about your space. GMO Cookies plants love room to spread out, so broad, vertical spaces work best. With the application of the LST (Low Stress Training) method, you'll encourage your plant to grow in a uniform plane. This method not only gives your plant a pleasing shape, but also boosts the size of the lower flowers, thus ensuring an evenly distributed yield.
Now, let's talk about what goes beneath the surface. Our GMO Cookies feminized seeds are incredibly adaptable and can thrive in rich, nutrient-dense soil or advanced hydroponic systems. This flexibility allows for an impressive increase in bud production, making it a versatile choice for any type of grower.
As the GMO Cookies crop matures, you'll witness an enchanting transformation. The plants come to life with dense olive green buds, coated in frosty trichomes that sparkle under the light. You'll notice vibrant leaves with hues ranging from rich emerald to deep purple, offering a visual feast for the eyes.
Flowering time
When you grow GMO Cookies seeds, you can expect a flowering time of 9 to 10 weeks. This means that when you are farming your cannabis crop outdoors in the Northern Hemisphere, October will be the time for harvest with GMO Cookies feminized seeds.
Plant height
Plants grown from GMO Cookies seeds are not the tallest, yet not the smallest either. Whether she is grown indoors or grown outdoors, this indica dominant hybrid strain grows somewhere between 100 and 180 centimeters.
GMO Cookies feminized yield
Amazing seeds deserve an amazing yield. And you will have something to write home about with our GMO Cookies feminized seeds. Indoors, she is capable of yielding 550 per square meter.
Outdoor growers can harvest up to 600 grams of this Chemdawg x Girl Scout Cookies descendant per plant. That's a lot of unique buds for you to try.
Effects of GMO Cookies feminized weed
If you're in search of the ultimate elixir to wind down and transport your senses into a realm of calm, look no further than the GMO Cookies strain. Just like her namesake, this strain offers the ultimate comfort – a metaphorical warm cookie straight from the oven for your soul.
Indeed, GMO Cookies are imbued with potent indica dominant traits that work like a soothing balm on your weary body and mind. Picture this – the strain's calming prowess wrapping around you like a plush blanket, gently smoothing out the edges of your day, providing relief from any aches and pains.
But there's more to GMO Cookies than just her serene embrace. With a hefty serving of THC, this strain ushers in a state of bliss that will linger with you for a long while. Her therapeutic effects have been reported to be beneficial for a range of conditions like insomnia, depression, and arthritis. She can also be a comforting companion for those dealing with nausea, helping to bring back that sense of normalcy.
When you partake in GMO Cookies, it's not just about the destination, but also the journey. The experience unfolds in two distinct stages, much like a well-composed symphony. It starts with an invigorating burst of sativa-driven euphoria, your mood soaring to a new height, and your mind alight with sparks of creative thinking. Positivity seeps into every corner of your consciousness with this uplifting strain, leaving no room for worries or paranoia.
As the sativa crescendo reaches its peak, the indica undertones step in, harmonizing the high notes with a grounded sense of calm. Your body sinks into a luxurious state of relaxation, every muscle seeming to melt into the surrounding. It's as if you've been set adrift on a gentle river of serenity, carried along by the strain's soothing effects.
And while you're floating in this blissful state, don't be surprised if a pleasant hunger makes itself known. GMO Cookies, after all, are not only about comfort and calm but also about hearty indulgence. So, stock your pantry well because, after a session with this strain, you're bound to crave some late-night munchies!
Side effects
As mentioned, her high THC levels can be intense for some, as it can induce dizziness, anxiety and paranoia. Always start with a lower dose if you are either new to smoking cannabis or sensitive to THC.
Just like any other cannabis strain, GMO Cookies can cause dry mouth and eyes. But that is something that is easy to combat by staying hydrated.
Smell and taste of feminized GMO Cookies weed
Dive into the sensory journey that awaits you with the GMO Cookies strain. This unique variety of cannabis takes your senses on an exhilarating roller coaster ride, beginning with a potent, diesel-like aroma that envelopes your senses, conjuring images of powerful, yet serene natural landscapes.
But beneath this robust, gas-like scent, there's a sweet and earthy undercurrent that brings a soothing balance to the palette. It's this intriguing combination that sets GMO Cookies apart – a yin and yang of the aromatic experience, where the sharpness of diesel gently mingles with a softer, more earthy fragrance.
Your sensory journey doesn't stop there. Tired of the predictable flavors offered by other strains? GMO Cookies' taste offers a refreshing divergence with her intricate taste profile. Imagine the joy of uncovering layers of flavors, each a delightful surprise for your taste buds. One moment, you're met with a unique sweet and earthy flavor, the next, the boldness of diesel comes to the forefront.
As you delve deeper, GMO Cookies introduces a subtle hint of garlic, a taste that adds a certain rustic charm to your experience. This is further complemented by herbal notes, reminiscent of a stroll through a lush garden, as well as the unexpected richness of coffee, adding a depth that leaves a lasting impression.
Each puff of GMO Cookies is a delight, promising a smooth experience from start to finish. With the GMO Cookies strain, each session becomes a thrilling exploration of taste, providing a new sensation, a new discovery, with every draw.
Origin of GMO Cookies seeds
Picture a crossroads where two stellar, and super famous strains meet - the hearty and potent Chemdawg and the iconic, flavorful Girl Scout Cookies. These two legends of the cannabis world came together in a harmonious blend, each contributing its own distinct qualities, to give birth to a unique creation - the GMO Cookies strain.
Contrary to what its name might suggest, GMO Cookies are not genetically modified. The name is an abbreviation for Garlic, Mushroom, and Onion, reflecting the intriguing and layered flavor profile of this strain.
This delightful creation is a testament to the craft and expertise of cannabis cultivators who, much like master chefs, bring together the best ingredients to create a memorable dish. The result of this meticulous blending is a strain that stands out for her uniqueness, marrying an array of sensory delights with potent therapeutic effects.
It's a testament to the vibrant world of cannabis cultivation, where innovation and tradition meet to create unique blends. GMO Cookies is the fruit of such an endeavor, an example of how the old can meld with the new to create something truly extraordinary.
The best feminized GMO Cookies seeds for sale at WeedSeedsExpress
Why order your cannabis seeds at WeedSeedsExpress? We offer only the highest quality seeds, plus a stellar customer support and a germination guarantee on all purchases.
Grow GMO Cookies seeds if you are in for, a harmonious blend of soothing sensations for your mind and body. This indica dominant hybrid is a testament to nature's power, expertly harnessed for your well-being.
It goes beyond mere consumption, inviting you to experience a symphony of unique aromas and flavors. GMO Cookies challenges the ordinary, ready to infuse your cannabis journey with a taste sensation you'll cherish. Order your GMO Cookies feminized seeds today at WeedSeedsExpress!
Payment & Delivery
You might also like these seeds
GMO Cookies feminized seeds alternatives