Girl Scout Cookies
feminized seeds
It's hard to imagine something as tasty and memorable as a real brownie cookie. It is probably one of the reasons why Girl Scout Cookies is one of the most famous and popular types of weed in the world. 
Jump to description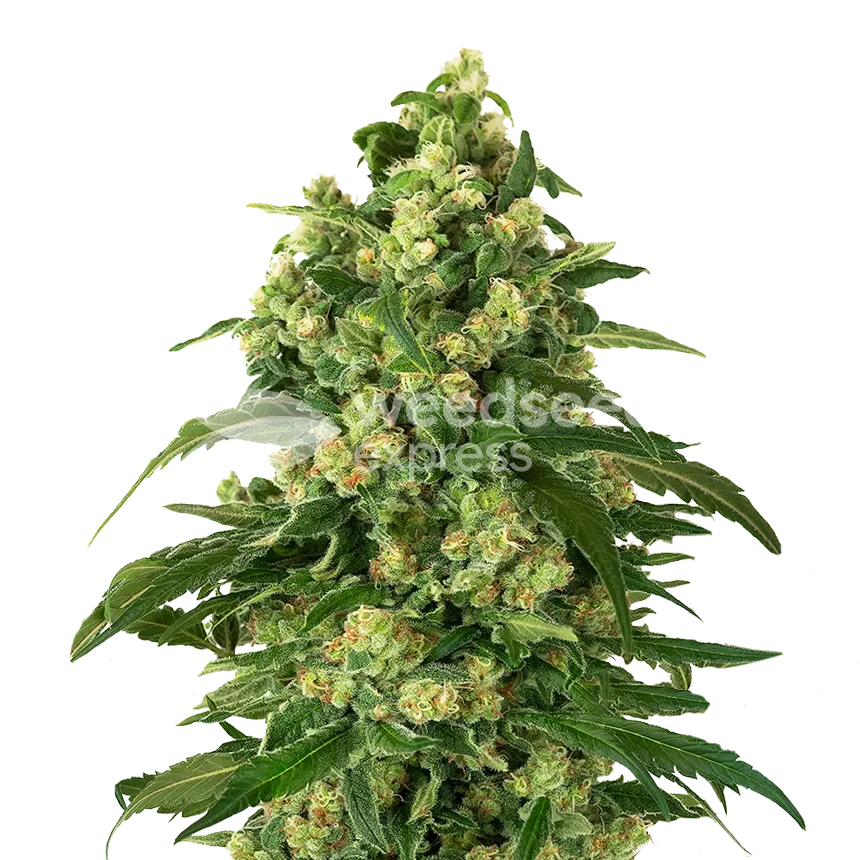 Girl Scout Cookies Strain Info
Genetics
OG Kush x Durban Poison
Yield indoor
450-500 grams per m2
Yield outdoor
550-650 grams per plant
Height outdoor
150-190 cm
Flowering time
56-63 days
Cultivation
Indoor, Outdoor, Greenhouse
Climate
Polar, Temperate, Mediterranean, Arid, Tropical, Mountains
Flavors
Earthy, Fruity, Lemon, Spicy, Sweet, Woody
Effects
Calming, Creative, Euphoric, Happy, Relaxed, Sleepy, Social, Uplifting
Terpenes
Nerolidol, Fenchol, Phytol, Borneol, Camphene, Ocimene, Terpinolene, Alpha Pinene, Beta Caryophyllene, Linalool, Limonene, Eugenol, Cadinene, Citral, Alpha Cedrene, Humulene
Girl Scout Cookies feminized seeds
It is logical and fair that this cannabis strain shares a name with some of the most universally loved cookies. After all, the taste of Girl Scout Cookies weed is fantastic. Yet, that is not the only reason why this plant is so popular and why you should grow this plant with our feminized Girl Scout Cookies strain seeds.
Are you getting curious? Awesome! Read on!
Note: want to grow your own Girl Scout Cookies weed, and is this your first time growing? Ensure yourself of a successful, high-quality harvest by buying Girl Scout Cookies autoflowering seeds. 
Why you should buy Girl Scout Cookies seeds:
Extremely popular in the UK, USA, and Canada
Easy to grow
Ideal for medicinal use
Delicious taste
Growing Girl Scout Cookies seeds (indoor and outdoor)
Our Girl Scout Cookies feminized marijuana seeds (also known as GSC) are the perfect choice for both novice and advanced growers seeking a species with a high THC content.
The GSC cannabis seeds are often used for indoor growing, but they are also used for outdoor growing in many parts of the world. In fact, in regions with optimal growing conditions (mild night-time temperatures), growers even prefer to grow outdoors, especially as this can result in a very impressive yield and the plant's appearance, which takes on beautiful deep dark blue colors. Sometimes even accompanied by purple leaves at the end of the flowering period.
Do you like to use or experiment with growing techniques? You are not the only one! Many growers like to experiment with GSC, and attempt shaping the structure into a spherical shape. Doing so is not just aesthetically pleasing, but by growing in this way, more of the plant can receive optimal light, increasing the yield.
Either way, our Girl Scout Cookies feminized seeds are a perfect choice if you're looking to apply cultivation techniques since the plant develops long winding branches that are also pliable. The plant is also an ideal candidate for various growing techniques such as the "Screen Of Green method" or LST. In addition, the many branches and rapid growth will quickly fill the mesh and result in an optimal harvest.
Grow tip
It is advisable to place poles during the vegetative phase to give the plant direction. During flowering, the poles will fully support the branches,, and this may be necessary as the buds can become quite heavy because of their compact structure!
Flowering time
Indoors, the flowering time is about 7-9 weeks to bloom and ripen well. Outdoors, in the Northern Hemisphere, you can expect to harvest in autumn. In the Southern Hemisphere, most growers harvest around mid-April.
Striking about flowering is the production of resin that is significantly above average. This makes the plant very suitable for making cannabis extractions.
Plant height
Like many other species, our Girl Scout Cookies is a medium-sized plan, which is ideal for filling the growing space! Expect plants between 80 to 100 cm indoors and around 150 to 190 cm outdoors.
Yield
In 25 liter pots, you can place up to 4 plants per m² and optimize your growing space to achieve maximum results. GSC buds are not particularly large, but they weigh quite a bit due to their high density. When growing indoors, 500 grams per m² is not unthinkable! What's more, the weed is top quality!
Do you grow outdoors and plant early in the season in a place with lots of direct sunlight, enough water, and nutrients? Then there is a good chance of a big harvest! Outdoors, one plant can yield between 550 and 650 grams!
Effects
At the first few puffs, you feel a tingling sensation that warns you that the effect will be strong. The effect of Girl Scout Cookies is pronounced, both physically and mentally.
The high is delicious. Cheerful, relaxed, creative, and soothing. Physically you feel wonderfully relaxed, which is a great advantage and relief for many who suffer from chronic pain.
Side effects
Having enough food at hand is advisable, as "munchies" are a common side effect.
Smell and taste
As mentioned before, Girl Scout Cookies is the perfect name for this species.
The aroma resembles that of freshly baked cookies. The smoke is smooth, soft, and pleasant, so excessive coughing is rare.
She has a spicy, sweet taste with mint and earthy undertones. In short: a real treat!
Origin
A group of collectors from San Francisco Bay (California) first developed GSC, which resulted from a cross between Durban Poison x OG Kush. Girl Scout Cookies is now a ruler within the cannabis industry and frequently used as the basis for many award-winning strains. The powerful Gelato is just one of many examples. Nevertheless, the original Girl Scout Cookies strain remains the favorite weed of many connoisseurs.
Girl Scout Cookies strain seeds for sale at Weedseedsexpress
Girl Scout Cookies is a pure classic strain and easy to grow. It is also a beautiful plant!
Her spicy blend of sweetness and earthy notes are delicious, but her buzz is the real reason she won an incredible number of awards. She puts you on a rocket of euphoria combined with a whole-body relaxation without a "couch-lock". That's good because you probably want to make good use of that energy and creativity!
Ready for your next grow? Buy the best Girl Scout Cookies seeds online today!
Payment & Delivery
You might also like these seeds
Girl Scout Cookies feminized seeds alternatives