Critical Jack
feminized seeds
By crossing Critical x Jack Herer, the best qualities of both types are combined.
Jump to description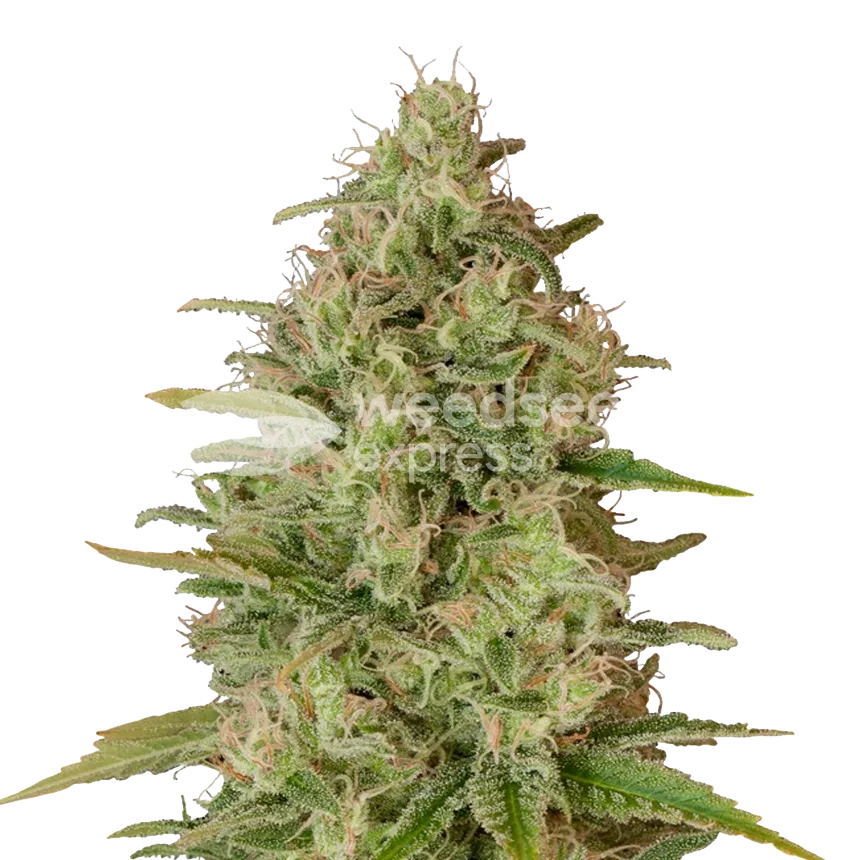 Critical Jack Strain Info
Genetics
Jack Herer x Critical
Yield indoor
500-600 grams per m2
Yield outdoor
900-1200 grams per plant
Flowering time
56-63 days
Cultivation
Indoor, Outdoor, Greenhouse
Climate
Temperate, Mediterranean
Flavors
Pine, Flowery, Lemon, Spicy, Sweet, Pepper
Effects
Energetic, Focused, Happy, Relaxed, Uplifting
Terpenes
Nerolidol, Trans Nerolidol, Alpha Bisabolol, Delta 3 Carene, Terpinolene, Alpha Pinene, Limonene, Eugenol, Alpha Phellandrene, Cymene, Gamma Terpinene
Critical Jack feminized seeds
Our Critical Jack feminized seeds grow into sturdy hybrid plants that abundantly branch out with delicate leaves. She is suitable for novice growers. Her slight Sativa-dominance (60%) is evident in her potent, uplifting, and energetic effects.
Undoubtedly her most interesting feature is her ability to produce massive outdoor yields with just a very short flowering time, adopting the best features of Critical x Jack Herer.
This contributed to the Critical Jack strain winning the 1st prize in the outdoor category during the Cannabis Cup Thai Maria in 2011 and the Copa Humos del Diablo in Uruguay 2017.
Curious what else this amazing strain has to offer? Keep on reading, check the reviews and buy your Critical Jack feminized seeds today! 
Why you should buy feminized Critical Jack seeds
Massive outdoor yields

Suitable cannabis seeds for novice growers

Natural resistance to pests and mold

Delectable flavor and aroma
Growing Critical Jack feminized seeds (indoor/outdoor)
Critical Jack feminized has a hardy growth and natural resistance to pests and mold that allow you to grow indoors and outdoors.
The lime green, delicate leaves have a narrow, typically Sativa structure, which, when temperatures drop, turn purple. Next, add shiny white trichomes, light brown pistils, and excessive resin production on the conical buds.
Using the SOG (Sea of Green) or ScrOG (Screen of Green) method is the best way to achieve optimal results indoors. Consider a smaller pot when space is limited and reduce the vegetative phase. It is advisable to use a proper carbon filter to mask this variety's odor levels.
Because Critical Jack Herer feminized remains relatively short and easy to grow, guerrilla growing is also an excellent option.
All your plants will be female because our Critical Jack seeds are feminized, omitting the painstaking process of removing males from your crop.
Flowering time
Critical Jack is a novice-friendly, very early flowering strain. Our Critical Jack strain features a flowering period of only 8-9 weeks, and therefore, ready to be harvested pretty quickly. On average, your buds will be ready for harvest from late September to mid-October.
Plant height
For a Sativa, she remains relatively short. The strain will reach an average height of 70 cm to 100 cm indoors.
Outdoors, Critical Jack doesn't grow that much taller, somewhere between 80 cm to 140 cm.
Critical Jack Herer feminized yield
Critical Jack produces excellent yields. Under optimum circumstances, this productive plant can yield up to 500-600 grams per m² indoors.
But it is outdoors where Critical Jack shines the brightest. When grown in a Mediterranean or warm temperate climate, this tremendous strain can even achieve yields that reach up to 1200 grams per plant!
Effects of Critical Jack Herer feminized
Because of the THC content, which can be as much as 20%, smokers experience a reasonably intense but balanced high.
The 60% Sativa in this weed provides a stimulating effect suitable for various purposes.
Excessive cerebral stimulation allows you to remain focused and complete chores seemingly effortlessly.
The indica properties, however, offer a blissful feeling of relaxation. Ideal for private conversations in a quiet place.
Medicinal users report an energy boost, which helps with fatigue and instantly lifts spirits.
In addition to its uplifting properties, Critical Jack can significantly reduce stress. Therefore, people suffering from depression may also benefit from it. It may also offer some relief for minor pains and aches as well.
Side effects
Critical Jack weed will cause neither excessive tiredness nor mental overload. Aside from the conventional dry eyes and mouth commonly associated with cannabis use, there are no real adverse effects to this cannabis strain.
Smell and taste
Critical Jack offers an appealing mix of floral and spicy flavors and scents.
While the buds smell utterly delicious when they are still intact, odor levels rise even further when crumbled. When crushed, the buds emit a sweet piney fragrance complemented by a lemony floral undertone and incense typically used in churches.
Its flavor further complements its sublime aromas. It has a spicy, peppery bittersweet taste and acrid lemon aftertaste on inhale. Combined with a touch of fine hardwood and floral hints, it's no surprise that its delightful flavor is a huge contributor to the success of this strain.
Origin
Critical Jack finds its origin in sunny Spain. Dinafem Seeds created Critical Jack by crossing their own Critical with a Jack Herer male from Sensi Seeds to produce a resin-coated, fruity flavor bud with high yields.
By combining Critical, a very early-flowering strain, with the famous Jack Herer, they produced a very homogenous descendant with mainly Jack Herer characteristics. First, however, it has to be said that her fast flowering abilities are entirely thanks to Critical's contribution.
A match made in heaven! Critical Jack quickly gained mass popularity and recently became a household name in the cannabis community, especially in Europe, where it has won numerous prizes and awards.
The best Critical Jack cannabis seeds for sale at Weedseedsexpress
Are you looking for a reliable online store for your Indica, Sativa, or hybrid cannabis seeds? Our customers can count on highly responsive service, and we have the best Critical Jack seeds for sale! We send out free seeds with every order! Are you looking for a good yield on your first harvest? Critical Jack is naturally resilient to molds and pests and thus very suitable for novice growers. Order Critical Jack feminized today at Weedseedsexpress.
Payment & Delivery
You might also like these seeds
Critical Jack feminized seeds alternatives