Chiquita Banana
feminized seeds
Chiquita Banana has the reputation of being one of the most powerful marijuana strains in the world. She certainly has spunk, which should come as no surprise with a THC content of up to 34%.
Jump to description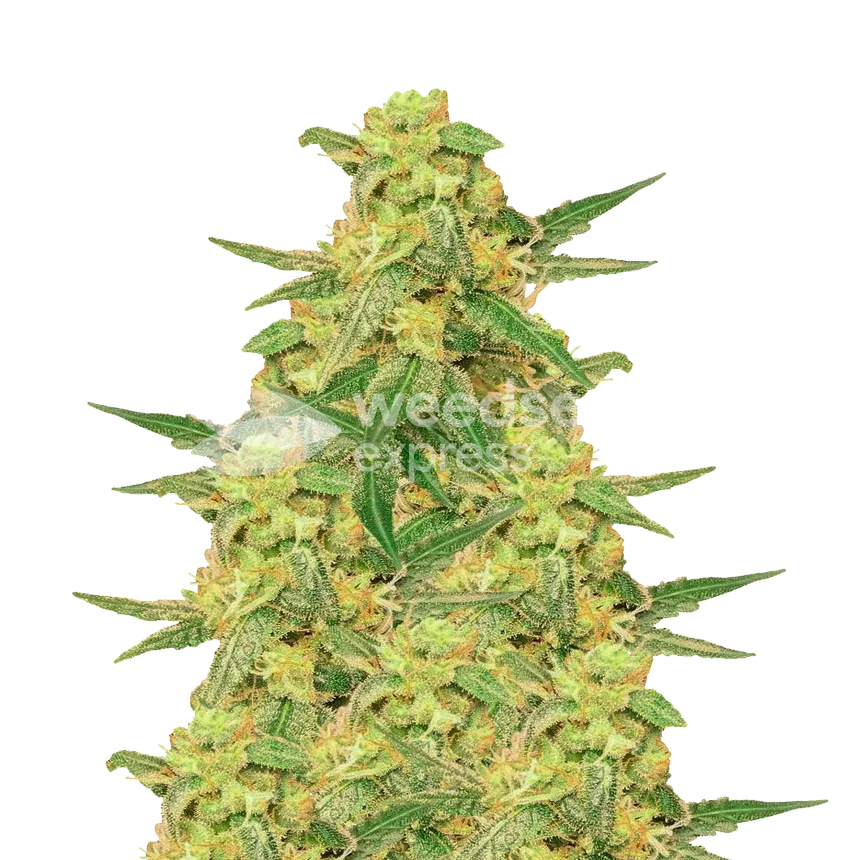 Chiquita Banana Strain Info
Genetics
OG Kush x Banana
Yield indoor
300-400 grams per m2
Yield outdoor
400-600 grams per plant
Height outdoor
130-160 cm
Flowering time
56-70 days
Cultivation
Indoor, Outdoor, Greenhouse
Climate
Temperate, Mediterranean, Arid
Flavors
Sweet, Banana, Earthy, Tropical
Effects
Creative, Euphoric, Happy, Relaxed, Focused
Terpenes
Nerolidol, Fenchol, Phytol, Borneol, Camphene, Terpinolene, Linalool, Limonene, Eugenol, Citral, Alpha Cedrene
Chiquita Banana feminized seeds
Chiquita Banana is a beautiful plant with an alluring color spectrum on the leaves and buds. Moreover, despite its Sativa characteristics, the plant is easy to grow and suitable for novice growers.
Why you should buy feminized Chiquita Banana seeds:
Good yields
High-quality weed
Responds well to SOG or SCROG
Powerful high
Fruity and spicy taste and aroma
Growing Chiquita Banana (indoors and outdoors)
The Chiquita Banana strain seeds will grow into fabulous cannabis plants with high mold resistance, THC levels of 34%, and a CBD percentage of around 0.5%. When fully mature, she is covered in a layer of crystalline trichomes that hint at the promised treasure within.
Chiquita Banana grows well in warm, Mediterranean, and arid climates but can also be grown outdoors during the summers of temperate climates.
Growing Chiquita Banana seeds, it is crucial to have sufficient space. Because Chiquita Banana is 50% Sativa, she will stretch quite a bit at the beginning of the flowering phase. So don't wait too long to start flowering when you're growing indoors, and make sure you have a sufficiently high grow space.
Don't have enough space? Then it is good to know that you can train this plant very well by using methods such as SOG or SCROG.
Flowering time
Although Chiquita Banana is an evenly balanced hybrid, the flowering time she needs is relatively short. As a result, this beauty of a plant is ready for harvest after a flowering period of about 8-10 weeks.
Plant height
Indoors, Chiquita Banana reaches a manageable height of 90 cm to 120 cm (depending on the chosen pot and growing techniques).
Grown outdoors, the plant reaches an average height of 130 cm to 160 cm, with peaks of 200 cm.
Chiquita Banana yield
With a healthy growth phase and completed flowering phase, Chiquita Banana can produce a very substantial amount of weed.
Growing this delectable strain indoors she will provide you with an impressive yield of up to 400 grams per m². Outdoors where she truly flourishes under the warm sun, the yield can add up to as much as 600 grams per plant.
Effects of Chiquita Banana
The effects when consuming Chiquita Banana cannabis are overwhelmingly positive. Users report feeling creative, euphoric, happy, and relaxed. It increases your creativity and activates the brain after a long workday, almost like a real banana.
Side effects
You'll notice that your sinuses start tingling almost immediately when you first smoke the weed. Along with a dry mouth and stinging eyes, this is a temporary and mild side effect.
Although uncommon, some smokers report feelings of paranoia and anxiety at high doses.
Smell and Taste 
The taste and effect of Chiquita Banana make this strain a mouthwatering classic - ripe bananas mixed with cinnamon and nutmeg. Deliciously sweet and tropical but also slightly earthy with just a hint of spice. You could almost imagine yourself eating your mama's banana cake before experiencing waves of energy that promise an unforgettable high.
Origin
Chiquita Banana results from an inspired cross between OG Kush and Banana Kush, making it a perfectly balanced 50/50 hybrid.
The best Chiquita Banana seeds for sale at Weedseedsexpress
Did you know that due to copyright issues from the famous banana company, this weed strain must be known by a different name in some countries, such as Banana OG or C. Banana? Fortunately, this is not the case in most of Europe. And whatever her name, Chiquita Banana is a memorable and delicious tropical cannabis strain with much to offer growers of all abilities. Especially if you enjoy incredibly potent weed, you will not be disappointed because that is precisely what Chiquita Banana is all about.
Grow this beauty yourself and buy our feminized Chiquita Banana seeds today.
Payment & Delivery
You might also like these seeds
Chiquita Banana feminized seeds alternatives