Cherry AK
feminized seeds
Life is just a bowl of cherries, or in this case, Cherry AK. Taste her amazing flavor for yourself, and grow some with Cherry AK feminized seeds.
Jump to description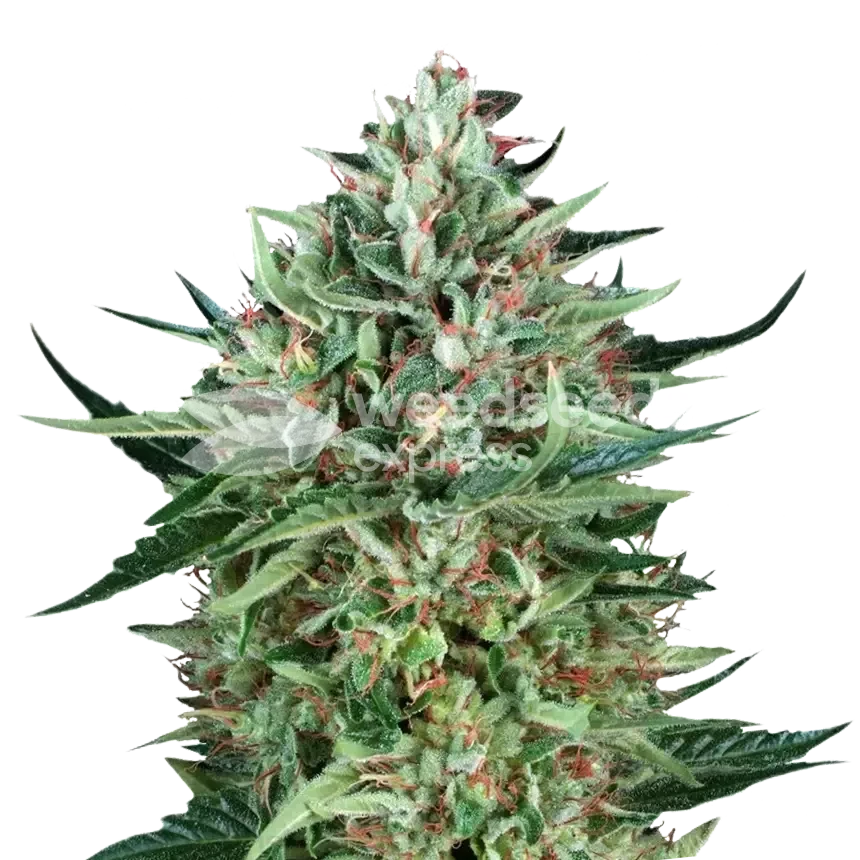 Cherry AK Strain Info
Genetics
Genetics descending from the AK variety
Yield indoor
200-450 grams per m2
Yield outdoor
350-450 grams per plant
Height outdoor
140-200 cm
Flowering time
49-56 days
Cultivation
Greenhouse, Indoor, Outdoor
Climate
Arid, Cold, Mediterranean, Mountains, Polar, Temperate
Flavors
Berry, Earthy, Sweet, Treefruit, Fruity, Diesel, Cherry
Effects
Calming, Creative, Euphoric, Happy, Relaxed, Sleepy
Terpenes
Beta Pinene, Alpha Pinene, Beta Caryophyllene, Linalool, Limonene
Cherry AK feminized seeds
The Cherry AK feminized is a Sativa dominant hybrid created with genetics descending from the world-renowned AK-47 seeds. Always wanted to grow the infamous AK variety but prefer fruitier flavors and aromas? Cherry AK feminized seeds offer the best of both worlds!
Cherry AK feminized marijuana seeds are easy to grow Sativa seeds and produce plants with dense buds and large colas. The sweet and earthy cherry aroma naturally predominating is another reason why this strain is so incredibly seductive.
Are you curious about what more this predominantly Sativa strain has to offer? Continue reading! If you want a version of this stain that is even quicker to harvest, check out our Cherry AK autoflower seeds.
Why you should buy Cherry AK feminized seeds:
High-quality weed with a great cherry taste

Suitable weed seeds for beginners

Great yields

Mood-enhancing, socially uplifting effects

Short flowering time

Sweet and earthy aromas

Descendant of AK-47 with sturdy growth
Flowering time
For a Sativa-dominant cannabis variety, the plant features a relatively short flowering period of just seven to eight weeks. This also makes this strain one of our fast flowering cannabis seeds.
Outdoor growers can harvest their Cherry AK plants by mid to late October (in the Northern Hemisphere).
Yield
As mentioned previously, Cherry AK feminized weed seeds do not disappoint when it comes to yield.
Provided with optimal conditions, indoor growers can expect a maximum yield of up to 450 grams per square meter. Outdoors, where the plants have plenty of space to grow, their taller stature allows you to harvest an impressive maximum of 450 grams per plant!
Effects
Cherry AK, which was initially launched as a medicinal variety, offers a range of powerful physical and cerebral effects. The potent mood-enhancing qualities of this euphoric Sativa-dominant strain can be particularly helpful with mental problems like stress, anxiety, and depression.
At the same time, the profoundly calming Indica components in this strain can be useful when suffering from more bodily discomforts such as chronic physical pain, fatigue, muscular pain, and tension.
Aside from her obvious medicinal benefits, this strain also offers various stand-out qualities for recreational use. The uplifting effects make it a great social weed, while the soothing effects effectively eliminate negative thoughts clouding your mind.
THC Level
With 25% THC content, Cherry AK feminized offers quite the potent high, as one of our high THC weed seeds.
Keep this in mind if you are a novice cannabis consumer, or THC sensitive.
Smell & Flavors
Cherry AK feminized weed produces a sweet cherry scent and flavor with undertones of earth and spices.
Upon exhale, a creamy sandalwood aftertaste or even faint diesel and tree fruit aromas can be detected.
Height
Cherry AK feminized plants can grow significantly after the vegetative stage.
Applying SOG or ScrOG training techniques is ideal when space is limited. However, in most cases this won't be necessary, seeing as the plants will grow to relatively modest heights of 120 cm to 180 cm indoors.
Outdoors, with sufficient space available, you can let them grow without limits and have them reach their full potential, which means they'll grow into plants between 140 cm and 200 cm tall.
Origin
The Cherry AK feminized seeds were created by the man, the myth, the legend: Kyle Kushman.
He designed Kyle's Cherry AK feminized with the intention of creating a cannabis plant that contained the high THC, potent effects, and ease of growth of the AK with a delectable fruity flavor.
To accomplish this, only the very best AK phenotypes were selected and interbred to create Cherry AK, which has a distinct cherry flavor, making her popular among growers looking to buy weed seeds.
Grow Tips
Performs well even in less-than-ideal conditions.

Suitable for both indoor and outdoor cultivation.

Thrives in both colder mountainous and Mediterranean climates.

Plants can grow tall as cultivation progresses.

Use Sea of Green (SOG) for limited spaces.

Consider Super Cropping for horizontal growth (experienced growers).

Plants show purplish-red hues against lime green leaves.

Emits a strong aroma, so odor control is recommended for stealthy grows.

Feminized seeds eliminate worry about male plants.
Why buy feminized Cherry AK seeds at WeedSeedsExpress?
Stellar Customer Support - Our company is built on customer service, and we aim to reply to all emails within 24 hours or less.
Germination Guarantee - We are confident in the quality of our cannabis seeds. That's why we guarantee that they will germinate. If they don't, we'll replace them for free.
Fast Worldwide Shipping - We pride ourselves on our fast shipping. With distribution centers in the US and EU, we can ship seeds to most of our customers as quickly as three days.
Free Seeds - Get FREE seeds included with any order when purchasing five or more seeds.
Payment & Delivery
You might also like these seeds
Cherry AK feminized seeds alternatives