Cherry AK
autoflower seeds
Cherry flavored weed that grows super quick sounds like a pipe dream. But we can assure you, it's reality, with Cherry AK autoflower seeds!
Jump to description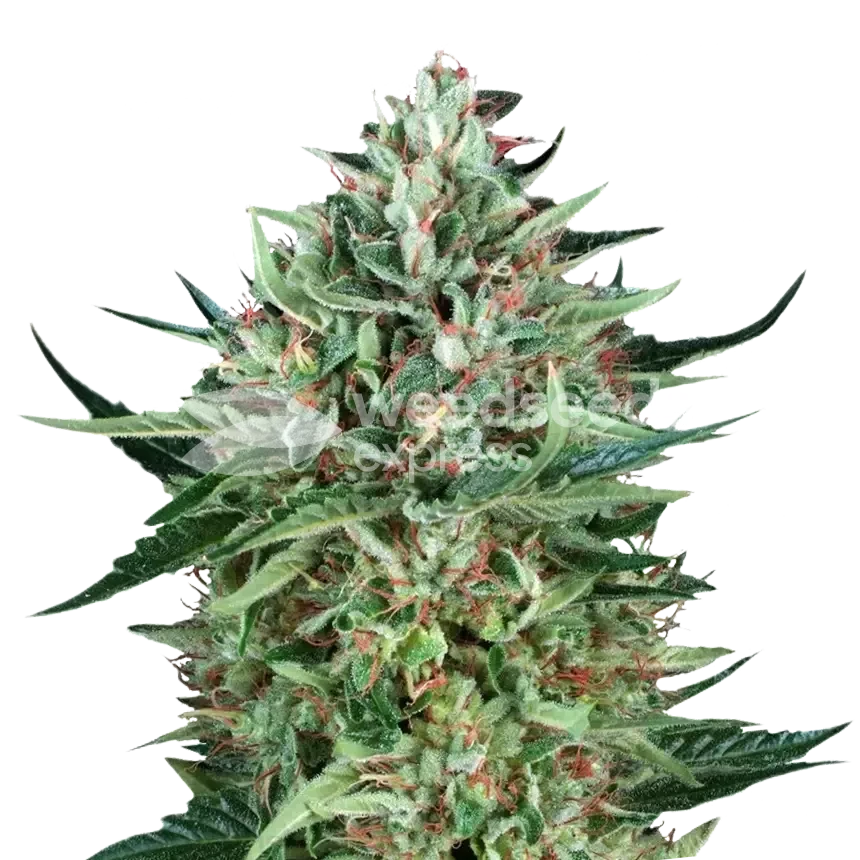 Cherry AK autoflower Strain Info
Genetics
Cherry AK x Ruderalis
Yield indoor
100-400 grams per m2
Yield outdoor
250-350 grams per plant
Flowering time
49-56 days
Cultivation
Greenhouse, Indoor, Outdoor
Climate
Mediterranean, Temperate, Tropical, Arid
Flavors
Berry, Earthy, Sweet, Treefruit, Diesel, Herbs, Cherry
Effects
Calming, Creative, Euphoric, Happy, Sleepy, Relaxed, Cerebral, Social
Terpenes
Beta Pinene, Alpha Pinene, Beta Caryophyllene, Linalool, Limonene
Cherry AK autoflower seeds
Cherry AK autoflower seeds are the autoflowering Sativa dominant hybrid version of the AK-47 descendant Cherry AK.
The above-average THC levels help induce a pleasant high, and the nice blend of earthy, diesel, and sweet cherry flavors is just the cherry on top. Autoflowering Cherry AK seeds are very easy to grow in any growing setting and produce large colas and dense buds.
Find out more about all the amazing benefits this delectable strain has to offer. In case you are a grower that is willing to wait just a bit longer for a bigger yield, make sure to also take a look at our Cherry AK feminized seeds.
Why buy Cherry AK autoflowering seeds:
Easy autoflower seeds, suitable for beginners and experienced growers

Great autoflower yield potential

High-quality weed with amazing cherry flavors and aromas

Very quick to flower

Uplifting, social effects

Compact size, perfect for smaller growing spaces
Flowering time
This autoflowering Sativa dominant marijuana seeds have a short flowering time of just seven to eight weeks.
Due to the very concise vegetative phase and rapid flowering stage of autoflower seeds, outdoor growers can realize multiple harvests of Cherry AK in one growing season.
Just make sure to complete the final harvest of these fast flowering marijuana seeds by late October (in the Northern Hemisphere).
Yield
Despite their modest size, Cherry AK autoflowering weed seeds still produce a nice yield.
On average, indoor growers can expect yields up to 400 grams per m². Outdoor growers will generally harvest up to 350 grams per plant.
Effects
Cherry AK auto offers a range of powerful physical and cerebral effects. The uplifting effects make her an excellent social weed, while the soothing effects effectively eliminate negative thoughts.
The potent mood-enhancing qualities of this euphoric Sativa-dominant strain can also offer medicinal benefits. Many find her a helpful aid to alleviate mental conditions like anxiety, stress, PTSD, and depression.
Her profoundly calming Indica properties can be useful for those suffering from chronic physical pain, fatigue, muscular tension, and pain due to chronic illness.
THC Level
As high THC autoflower seeds, Cherry AK autoflower pot seeds offer buds with THC levels of up to 22%.
This means that novice or very casual cannabis consumers should take it slow on the first try. She can be overwhelming, especially if you are sensitive to THC.
Smell & Flavors
In addition to the sweet cherry scent and flavor, from which her name is derived, Cherry AK autoflower weed also has undertones of earth and spices.
A creamy sandalwood aftertaste may be detected upon exhalation, as well as faint diesel and tree fruit aromas.
Height
Due to the very short vegetative stage, autoflowering Cherry AK cannabis plants remain small, between 70 and 100 cm.
Their modest stature does have its advantages, since these small plant weed seeds lend themselves perfectly for cultivation in smaller spaces or when discretion is of the essence.
Origin
Cherry AK autoflowering cannabis seeds were originally designed by the legendary Kyle Kushman under the name Kyle's Cherry AK feminized.
To create a cannabis plant that contained potent effects, and ease of growth with a delectable fruity flavor, only the very best AK phenotypes were selected and interbred.
As with her progenitor AK-47, this new variety contains the same famous native landrace blend but with a distinct cherry flavor.
Adding potent ruderalis genetics to the mix resulted in even faster-growing plants that remain conveniently short-statured.
Grow Tips
Opt for indoor, outdoor, or greenhouse settings.

Germination is best done as a combination of the glass water and paper towel method.

Recognize her Sativa dominance by the narrow leaves.

Monitor the upward growth pattern characteristic of Sativas.

Admire the contrasting lime-green leaves and purplish-red foliage.

Watch for the appearance of reddish-orange hairs around the buds.

Ensure the right environment for the icy trichomes to thrive.

Anticipate a strong cherry aroma as the plant matures.

No need to separate male plants; seeds are feminized.

Keep the environment stress-free for optimal coloration.

Ensure regular care to maximize yield and quality.

These autoflower seeds are feminized cannabis seeds, no need to remove male plants.
Why buy autoflowering Cherry AK seeds at WeedSeedsExpress?
Stellar Customer Support - Our company is built on customer service, and we aim to reply to all emails within 24 hours or less.
Germination Guarantee - We are confident in the quality of our cannabis seeds. That's why we guarantee that they will germinate. If they don't, we'll replace them for free.
Fast Worldwide Shipping - We pride ourselves on our fast shipping. With distribution centers in the US and EU, we can ship seeds to most of our customers as quickly as three days.
Free Seeds - Get FREE seeds included with any order when purchasing five or more seeds.
Payment & Delivery
You might also like these seeds
Cherry AK autoflower seeds alternatives